Classroom
Today

American English
pronunciation
lesson 24



Today in the classroom you are going to learn to pronounce the sound

d

as in the words

d

en,

d

ip,

d

ime,

d

ial. Remember "practice makes perfect" if you want to improve your English speaking ability.

Hey if you cannot understand something on this page,


then use the Fun Easy English dictionary (opens in a new window)
Pronunciation: American English Lesson 24



Pronounce the sound

d

as in the words

d

en,

d

ip,

d

ime,

d

ial. Watch the following pronunciation videos and learn to pronounce this sound correctly.
Pronunciation Video
Fun Easy English Pronunciation Lessons
More Videos
d

d

en,

d

ot,

d

ell,

d

ip,

d

own,

d

ame,

d

ime,

d

in,

d

am,

d

ial,

d

oor,

d

ine

Note:

the red letters all have the same sound
Sound Type



This is a VOICED sound which means Your Vocal Cords DO vibrate when making this sound.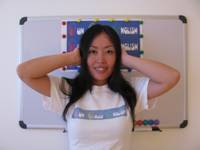 You CAN LISTEN to your Vocal Cords vibrating if you cover your ears with your hands.

Try covering your ears with your hands as Akiko is doing in the picture.

Now make the sound of this lesson. Can you listen to your vocal cords vibrating?
VERY GOOD
You CAN FEEL your Vocal Cords vibrating if you place your hands on your neck.

Try placing your hands on your neck as Akiko is doing in the picture.

Now make the sound of this lesson. Can you feel your vocal cords vibrating?
VERY GOOD
The following diagram shows the most important parts of your head and mouth used for pronouncing the sounds of English. It also shows the location of your Vocal Cords.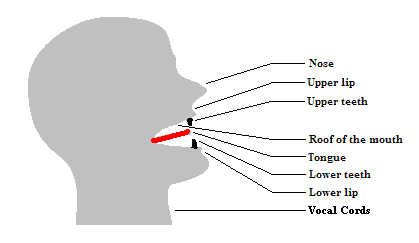 Mouth, lips, and tongue position



The following descriptions explain the proper mouth, lips, and tongue position when you make this sound.


Your mouth releases air which is then quickly stopped.


Your lips should be slightly separated.


The front part of your tongue should be behind your upper teeth.
Practice video



Listen to the video and practice repeating each word.
Pronunciation practice words



Look at your mouth in a mirror and practice pronouncing the following words. Make sure your mouth, lips, and tongue are in their proper positions.
d

en

d

ot

d

ell

d

ip

d

own

d

ame

d

ime

d

in

d

am

d

ial

d

oor

d

ine

Note:

the red letters all have the same sound (watch the video above)
Pronunciation word test

Try saying the following tongue twister as quickly as possible.

From YOUR Teacher:



This is actually a fairly easy sound to pronounce for most non-native English speakers.
Additional Lessons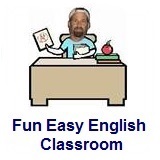 About These Lessons

The following classroom lessons are great for students who want additional listening and reading practice.
Travel America

-

Beginner Level

. Do you love America and American English? Learn before you travel. Facts and other cool stuff about your favorite U.S. state. Great English reading practice.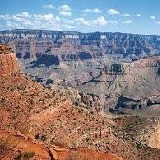 Travel America - Georgia


(

Beginner

- Reading)

Learn some interesting facts and read interesting stories about Georgia.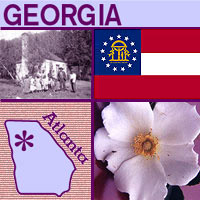 Georgia



Known today as the "Peach State," Georgia, founded in 1733, is one of the original 13 states. It was named in honor of England's King George II. During the Civil War, the fall of Atlanta was a crucial turning point in the defeat of the South. Today, Atlanta, which became Georgia's capital in 1868, is a thriving city with major national corporations, and it is considered the economic and cultural center of the Southeast. The state flower is the Cherokee rose.
Georgia State Flag




Georgia adopted a new state flag in 2003. Georgia's current flag has three bars of equal width - two outer red bars and a white bar in the center. There is a square blue canton the width of two bars in the upper left corner.

Georgia's coat of arms is centered on the canton with the words "In God We Trust" below (both in gold). The state coat of arms is also the central design on the obverse [main face] of Georgia's state seal. Circling the coat of arms are thirteen white stars (symbols of Georgia and the other twelve original states that formed the United States of America).

Georgia leads the nation in the number and variety of different state flags it has flown.
Source: State Symbols USA
Georgia State Facts



Picture:

state seal of Georgia
State Capital
Atlanta
Nickname
Peach State / Goober state/ Empire State of the South
Motto
Wisdom, justice, and moderation
Statehood
January 2, 1788 (4th)
Origin of Name
Named for King George II of England.
Largest Cities
Atlanta, Columbus, Savannah, Macon, Albany
Border States
Alabama, Florida, North Carolina, South Carolina, Tennessee
Area
57,919 sq. mi.; 21st largest
State Bird
Brown Thrasher
State Flower
Cherokee Rose (rosa laevigata)
State Tree
Live oak (quercus virginiana)
State Song
Georgia on My Mind
Travel and tourism site for Georgia - This state travel and territorial tourism site provides ideas for your vacations, meetings, and more.
Georgia Stories
Gold Rush Days / World Open Gold Panning Championship



You've probably heard of the California Gold Rush of 1848. But did you know there was also a gold rush in Georgia?

Gold was discovered in Dahlonega, Georgia, in 1828. Nestled in the mountains of northern Georgia, Dahlonega is home to the Consolidated Gold Mine. At the turn of the 20th century, the mine was reportedly the largest gold mining operation east of the Mississippi River. In 1901, during a cleanup, 54 pounds of gold were recovered from it.

Each October, Dahlonega, which comes from the Indian word "talonaga," meaning "precious metal," celebrates the first big gold rush with a two-day festival that has grown into one of the biggest events in the area. Another festival, called the World Open Gold Panning Championship, began in California in 1961 to remember the 1842 discovery of gold in Los Angeles County. This festival moved to the Consolidated Gold Mine in Dahlonega in the late 1980s. The Championship includes a contest in which the winner is the fastest person to pan eight nuggets of gold from a full pan of sand. How long do you think it would take you to pan gold nuggets?
Westville Yule Log Ceremony



Ever wondered what a Southern country village was like in the 1800s? If you were to visit Westville Village in Georgia, you would get a good idea. Called a "living history museum," Westville Village is a town completely restored to what it was like in 1850 -- with authentic pre-Civil War-era buildings. The entire town is a museum of what life was like in the mid-19th century.

Today, visitors to Westville can observe craftspeople practicing their trades, such as blacksmithing, pottery, basket-making, spinning, weaving, farming, fireplace cooking, candle-making and lye soap-making.

The village also revives old holiday traditions. At Christmastime one of the celebrations is a Yule Log ceremony. On Christmas Eve a large, freshly cut log is decorated and brought to a fireplace. Prayers are then recited while the log is sprinkled with oil, salt, and special wine and then lit. It was believed that the remains of the burned log would protect the house from lightning and evil powers. This custom dates back to the 12th century and was known in most European countries before it became popular in the U.S.
Prater's Mill



Twice a year Northwestern Georgia celebrates its cultural traditions on the grounds of a historic water-powered mill. The Prater Mill, located on the Coahulla Creek, was built by Benjamin Franklin Prater in 1855. During the Civil War, the mill was used as a campsite for soldiers on both sides. Since it was considered an important source of food, it was not destroyed. The Prater family operated the mill until the 1950s.

On Mother's Day and Columbus Day weekends, the mill goes back into operation by grinding yellow and white cornmeal. Other old-time industries are demonstrated during these weekends, such as blacksmithing and the making of furniture and musical instruments. One of these instruments is the dulcimer, a type of stringed instrument on which the strings are beaten with a small hammer rather than plucked.

Traditional Southern foods such as hoecakes and poke salad are served at these festivals, and Appalachian music is performed. Hoecakes are made of cornmeal shaped into a flat cake and baked or fried on a griddle. The hoecake got its name because it was sometimes baked on the blade of a hoe. Poke salad is made of a vegetable that grows wild in the eastern United States.
Georgia Folk Pottery



Have you ever made a pot out of clay? In Georgia the creation of pottery has a long history. The red clay of north Georgia soil is highly suitable for pottery making. American Indians in the area, including the Creeks and Cherokees, created clay wares, and as European immigrants settled in Georgia during the 1700s, they too made pottery.

The European immigrants made pottery by turning clay on a wheel (called "throwing"), using glaze and a fire kiln (oven). Pottery became so widespread in the 1820s through the 1840s in the north and central areas of Georgia that pottery-making centers were called "jugtowns." Today, Georgia pottery is still made, and the skills, techniques, and materials are passed on to each new generation. Several families in this area continue to "turn and burn," preserving a 200-year-old tradition.

With few exceptions, Georgia pottery was produced for practical uses only, and any artistic appeal was secondary. This does not mean Georgia pottery lacks beauty. It is the combination of form and glaze, and technique and innovation that creates a simple beauty.
Swamp Gravy



Why does the woman in the photo have pots and pans balancing on her head? She's performing in Swamp Gravy.

No, it's not a big swamp filled with your mother's turkey gravy! Swamp Gravy: The Gospel Truth is a play. Swamp Gravy tells real-life stories of everyday people in the form of comedies, dramas and even musicals. The stories come from taped interviews, which a writer then adapts into a play. Each year there is a new version of the play with new stories. The stories are about life and death, family, and community.

More than 100 volunteers -- actors and production crew -- produce this play and bring these stories to life. It is of such professional quality that the Georgia General Assembly has called it the "Official Folk Life Play of Georgia."

In addition to performing at the Cotton Hall (a renovated cotton warehouse in Colquitt, Georgia), Swamp Gravy was selected to be performed at the Kennedy Center in Washington, D.C. The crowd was so moved by the performance that the cast was invited to return. Next time Swamp Gravy will have new stories of Georgia life.
Atlanta's Role in the Civil War



Atlanta played an important role during the Civil War. Do you know what it was?

Founded in 1837 as a railway center for northwestern Georgia, Atlanta's original name was "Terminus." By 1852, its population had reached 3,000, including some 500 slaves. Because of its location and commercial importance, Atlanta was used as a center for military operations and as a supply route by the Confederate army during the Civil War. Therefore, it also became a target for the Union army. General William Tecumseh Sherman and his troops captured the city in 1864. In order to weaken the Confederate military organization, Union troops burned Atlanta to the ground before they moved on. Do you think that burning the city was an extreme action?

Today, Atlanta is the capital of Georgia. It is known for its robust economy and as the birthplace of Martin Luther King Jr.
Juliette Gordon Low, Girl Scout National Center



Are you a Girl Scout or a Boy Scout? Do you know where the idea for these troops came from? The original idea came from England, but the first Girl Scout group in the United States began in Savannah, Georgia, and all because one woman had a vision.

Juliette "Daisy" Gordon Low organized the first group of Girl Scouts on March 12, 1912, because she wanted to give girls the opportunity to get out of the house and get involved in their community and the outdoors. She got the idea of starting a girl's group after spending time in England with General Robert Baden-Powell and his sister Agnes, who had founded the Boy Scouts and the Girl Guides.

Low took these ideas back to the U.S. and established the Girl Guides of America. It started out as a group of 18 girls who met regularly with a naturalist to go on nature walks, cook meals over campfires, and do other "scouting" activities. Low was so dedicated to this group that she sold a strand of rare matched pearls for $8,000 to pay for operations in the beginning. Today, Low's birthplace in Savannah is open to the public as a museum and contains information about the early Girl Scouts.
Source: Library of Congress

National Forests and Monuments of Georgia



The following is a description of national forests and monuments in the state of Georgia. There are no national parks in this state. If you plan to visit or live in Georgia for awhile then you should definitely plan to visit some of these fantastic places.
National Forests
Chattahoochee-Oconee



With 430 mi (690 km) of trails, this forest contains the southern terminius of the Appalachian Trail. Georgia's highest point, Brasstown Bald at 4,784 ft (1,458 m) is in the forest, and several Civil War battles were fought in the area.
National Monuments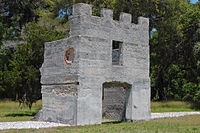 Fort Frederica



Built by James Oglethorpe between 1736 and 1748, these remnants of a fort and town protected the southern boundary of the British colony of Georgia from Spanish raids. It was a few miles from the site of the Battle of Bloody Marsh.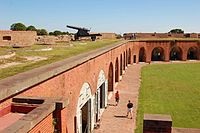 Fort Pulaski



In 1862 during the American Civil War, the Union Army successfully tested a rifled cannon against the defending Confederates, rendering brick fortifications obsolete. Fort Pulaski was also used as a prisoner-of-war camp during the war. The national monument includes most of Cockspur Island (containing the fort) and all of adjacent McQueens Island.
Ocmulgee



Ocmulgee preserves traces of more than 10 millennia of native Southeastern culture, including Mississippian mounds. From Ice Age hunters to the Creek Indians of historic times, there is evidence of at least 10,000 years of human habitation. Between 900 and 1150, an elite society supported by skillful farmers lived on this site near the Ocmulgee River.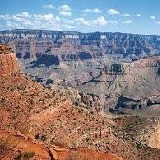 Travel America

Do you love America and American English? Learn before you travel. Facts and other cool stuff about your favorite U.S. state. Visit the Fun Easy English Travel America pages. Read about the beautiful National Forests, Parks, and Monuments. Great English reading practice.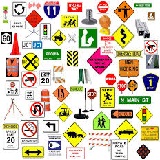 Drive America

Planning to drive in America? Learn the rules and regulations. Great English reading practice.
Additional Information
Study Tips


(

Beginner

- Listening)

Avoid Ineffective Study Methods. An audio lesson to help you study English more effectively. The English is

spoken at 75% of normal speed

. Great English study tips.
Click here to visit the lesson page with the written script for this audio program.