Classroom
Today

Learn about


present progressive



Today you are going to learn about

present progressive

an important part of English grammar.

Hey if you cannot understand something on this page,


then use the Fun Easy English dictionary (opens in a new window)
Grammar:



Definition of

present progressive

.
Present progressive: "I am going." This is used to express what most other languages use the simple present tense for. Note that this form in English can also be used to express future actions, such as in the phrase "We're going to the movies tonight."
tense & aspect
aspect
simple
perfect
progressive
perfect progressive
tense
past
simple
past
past
perfect
past
progressive
past
perfect
progressive
present
simple
present
present
perfect
present
progressive
present
perfect
progressive
future
simple
future
future
perfect
future
progressive
future
perfect
progressive
Examples
Present progressive: "I am going." This is used to express what most other languages use the simple present tense for. Note that this form in English can also be used to express future actions, such as in the phrase "We're going to the movies tonight."
I am painting the house.
I am eating breakfast this morning.
I am going to the bookstore with my best friend.
Fun Easy English Grammar Lessons

From YOUR Teacher:



Present progressive requires a little time to understand fully. This is a difficult concept in English.
Additional Lessons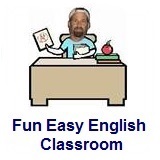 About These Lessons

The following classroom lessons are great for students who want additional listening and reading practice.
Travel America

-

Beginner Level

. Do you love America and American English? Learn before you travel. Facts and other cool stuff about your favorite U.S. state. Great English reading practice.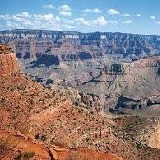 Travel America - New York


(

Beginner

- Reading)

Learn some interesting facts and read interesting stories about New York.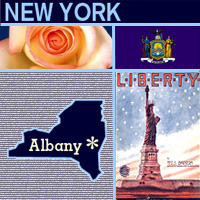 New York



The Dutch West India Company established the first settlement at Fort Orange near present day Albany in 1624 and another in New Amsterdam on the site of present day Manhanttan a year later. After the English took over in the 1660s, the colony was renamed New York, after the Duke of York. One of the original 13 states to join the Union (it entered in 1788), New York is known as the "Empire State." The state includes everything from skyscrapers in Manhattan to rivers, mountains, and lakes in upstate New York. Today, New York has the third largest population (after California and Texas), and remains the financial center of the country. The state flower is the rose, and the capital is Albany.
New York State Flag




The New York state flag features the state's coat of arms on a field of deep blue. Although the state flag wasn't adopted until 1901, New York's coat of arms was officially adopted in 1778 (the state seal also features New York's coat of arms).



Symbols on the Flag



The center shield displays a masted ship and a sloop on the Hudson River river (symbols of inland and foreign commerce), bordered by a grassy shore and a mountain range in the background with the sun rising behind it. A banner below shows New York's state motto ("Excelsior," Latin for "ever upward").

Liberty and Justice support the shield and an American bald eagle spreads its wings above on a world globe. Liberty's left foot treads on a crown (a symbol of freedom from the Kingdom of Great Britain). Justice is blindfolded and holds a sword in one hand and a scale in the other, symbolizing impartiality and fairness.
Source: State Symbols USA
New York State Facts



Picture:

state seal of New York
State Capital
Albany
Nickname
Empire State / Excelsior State
Motto
Excelsior (Ever upward)
Statehood
July 26, 1788 (11th)
Origin of Name
Named after England's Duke of York.
Largest Cities
New York, Buffalo, Rochester, Yonkers, Syracuse
Border States
Connecticut, Massachusetts, New Jersey, Pennsylvania, Vermont
Area
47,224 sq.mi., 30th largest
State Bird
Bluebird
State Flower
Rose (rosa)
State Tree
Sugar Maple (acer saccharum)
State Song
I Love New York
Travel and tourism site for New York - This state travel and territorial tourism site provides ideas for your vacations, meetings, and more.
New York Stories
Immigrant Life in New York



Almost all of us have relatives who came from someplace other than the United States. People who came to America to live are called immigrants.

From the 1850s through the early 1900s, thousands of immigrants arrived in the United States and lived in New York City. They first came from Ireland and Germany and later from Italy, Eastern Europe, and China, among other places. Because most immigrants were poor when they arrived, they often lived on the Lower East Side of Manhattan, where rents for the crowded apartment buildings, called tenements, were low.

The Lower East Side Tenement Museum is in a building that used to be a tenement and it tells the story of immigrants in the City. It was built in the 1860s and could house 20 families, four on each floor. Each apartment had only three rooms: a living or "front" room, a kitchen, and a tiny bedroom. Often seven or more people lived in each apartment. Not only was the tenement crowded, but also, until 1905, there were no bathrooms inside the building. Residents also did not have electric power until after 1918.

The Museum has re-created the apartments to look like they did when families lived there. This photograph shows what the Rogarshevksy family's kitchen looked like in 1918. Abraham and Fannie Rogarshevsky arrived with their four children from Russia in 1901. Later, they had two more children in the United States. While they lived in this tenement, a boarder (someone who pays for food and lodging in another person's home) lived with the family. That would have made nine people living in a three-room apartment!
Montauk Point Lighthouse Museum



You may think that lighthouses are interesting to look at, and they are. But they also serve a very useful purpose.

Lighthouses guide ships sailing near a coast. They are built in different kinds of places: important locations on a coast, harbor entrances, islands, rocky ledges or reefs, and even in the water. They project strong beacons of light at night so ships can see them. Lighthouses help ships identify their locations, warn them of danger, and serve as a marker of nearby land.

The Montauk Point Lighthouse on Long Island, New York, is more than 200 years old. Built in 1796, it is the oldest lighthouse in the state. It has guided whaling ships, fishing boats, steamships, submarines, and sailboats for many years and continues to do so today. The tower is more than 110 feet tall, and a person has to climb 137 steps to get to the top. But the Montauk Point Lighthouse is not just a tower. Attached to it is a house in which the lighthouse keeper lived with his family and assistants. Since the light on top of the tower was automated in 1987, the lighthouse no longer needs a keeper.
One-Room Schoolhouse



Would you like to experience what going to school was like in the late 1800s? To start with, imagine everyone in school sharing only one teacher and one classroom.

In the 19th and early 20th centuries, most American students attended a one-room schoolhouse. A single teacher would typically have students in the first through eighth grades, and she taught them all. The number of students varied from six to 40 or more. The youngest children sat in the front, while the oldest students sat in the back. The teacher usually taught reading, writing, arithmetic, history, and geography. Students memorized and recited their lessons.

The classroom of a one-room schoolhouse probably looked much like your own. The teacher's desk may have been on a raised platform at the front of the room, however, and there would have been a wood-burning stove since there was no other source of heat. The bathroom would have been outside in an outhouse.

In Honeoye Falls, New York, there is a one-room schoolhouse where kids today can experience what it was like to be students in the late 19th century. For a week during the summer, they wear 19th century clothes and learn the way children learned more than a hundred years ago.

What else has changed about school since the 19th century?
Rochester, New York's Lilac Festival



The Netherlands is known for its tulips. Rochester, New York, is known for another type of flower - the lilac.

There are more than 500 varieties of lilacs and more than 1,200 lilac bushes at Highland Park. In 1888, the world's largest nursery, Ellwanger & Barry, owned by George Ellwanger and Patrick Barry, gave Highland Park to the people of Rochester. It was beautifully landscaped with trees and shrubs and was the first municipal arboretum in the United States. An arboretum is a place where trees, shrubs, and plants are specially grown and cultivated. The park's collection of lilacs originally started with 20 varieties in 1892. Since 1898, Rochester has held a Lilac Festival every May. The first event attracted 3,000 visitors; now more than 500,000 people come to see the lilacs and other flowering trees and shrubs.

Lilacs are shrubs and small trees that flower in the spring and early summer. They have large oval clusters of small blossoms and deep green leaves. The blossoms are fragrant and can be lavender, deep purple, white, or pink. Lilacs are originally from Eastern Europe and Asia and were brought to North America by early European settlers. Some of the first lilacs planted at Highland Park are descendants of the flowers from the Balkan Mountains in Eastern Europe.
Little Falls Canal Celebration



The kids in the photo are competing in their town's Youth Fishing Derby to see who can catch the most fish. The event is part of the Little Falls, New York, Canal Celebration -- an annual festival that celebrates the importance of the Erie Canal to the city.

In the early 1800s, there were few roads, so the shipping of goods over land was expensive. The construction of the Erie Canal in the 1820s helped solve this problem for travel through New York state. A canal is a man-made waterway through which boats can navigate. The Erie Canal connected Buffalo on the eastern shore of Lake Erie to Albany on the upper Hudson River, which ran south to New York City. The canal allowed people and supplies to move between New York City and Buffalo and on to the upper Midwest territories. What used to cost $100 to ship by land now cost only $10 by canal. A journey that used to take a few weeks could now be made in less than seven days. The Erie Canal was an important force in the economic development of the area.
Solomon Northup Day



Before the Civil War, if you were black and born a free man you could still be forced into slavery. That's what happened to Solomon Northup.

Northup was born a free man in Minerva, New York, in 1808. He was a carpenter and talented fiddler. In 1834, he and his wife moved to Saratoga Springs, New York, where they had three children. In 1841, Northup met two men who claimed to be from a circus. Because he needed the money, Northup agreed to join them as a fiddler in Washington, D.C. Once they reached Washington, however, the men drugged, chained, robbed, and sold him to a slave trader.

Northup was shipped south to New Orleans, along with other slaves, where he was sold in a slave market. He spent the next 12 years as a slave, working for three masters. Northup worked hard and endured much cruelty, but he was always looking for the chance to escape or contact his family and friends in New York. Finally, in 1852, Northup befriended Samuel Bass, a Canadian carpenter. With his help, Northup sent a letter to his friends in New York. Through the help of his friends, he regained his freedom in 1853. Northup returned to New York, where he was finally reunited with his family.

Northup wrote a memoir, Twelve Years as a Slave, about his experiences. But this book isn't his only legacy. Northup has many descendants, who gathered together in Saratoga Springs on July 24, 1999, for a tribute to their ancestor. The town of Saratoga Springs declared July 24 as Solomon Northup Day to remember the suffering of Northup and other African Americans who lived as slaves.
Walking Onto Ellis Island, New York



Do you know what important activity once took place at Ellis Island?

In the late 19th and early 20th centuries, many immigrants came to New York through an immigration station called Ellis Island, near the southern tip of New York City's Manhattan Island. Immigrants, people who leave their home country to live permanently in a new one, have made up a large part of the population of New York City for several hundred years. Irish, Italian, Jewish, Puerto Rican, and other people have influenced the cultural makeup of this huge city.

Between 1892 and 1954, more than 12 million immigrants passed through Ellis Island in order to start a new life in the United States. They came to escape religious persecution, political oppression, and poverty in their home countries. Getting through Ellis Island, however, was often a long and grueling process. Newly arrived immigrants had to wait in line for many hours, endure medical examinations, and answer questions from the immigration inspectors.
Source: Library of Congress
National Forests and Monuments of New York



The following is a description of national forests and monuments in the state of New York. There are no national parks in this state. If you plan to visit or live in New York for awhile then you should definitely plan to visit some of these fantastic places.
National Forests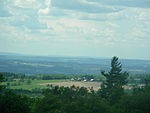 Finger Lakes



Located between Seneca and Cayuga lakes, Finger Lakes National Forest is one of the smallest National Forests. The Gorge Trail enters a small gorge in the forest, and the North Country Trail crosses part of the forest.
National Monuments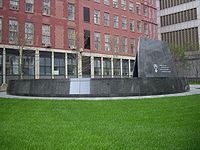 African Burial Ground



Re-discovered in 1991 during excavations for a new federal building, this former burial ground that contains the remains of more than 400 free and enslaved Africans buried during the 17th and 18th centuries was designated a National Historic Landmark memorial in 1993.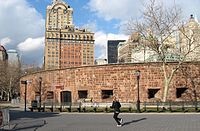 Castle Clinton



A circular sandstone fort built in 1811 at the southern tip of Manhattan to protect New York City from the British, Castle Clinton is now located in Battery Park. It later became a beer garden, a theater, the first immigration station (predating Ellis Island), and a public aquarium.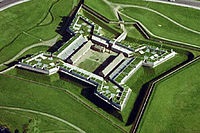 Fort Stanwix



Fort Stanwix guarded a strategic 18th century portage known as the Oneida Carrying Place. It was built during the French and Indian War (1754–1763). The fort successfully resisted the 1777 siege by a British invasion army during the Saratoga campaign of the American Revolutionary War. Erased by the development of Rome, New York, it was rebuilt as a national monument in the late 1970s.
Governors Island



From 1783 to 1966, Governors Island in New York Harbor was an Army post, and from 1966 to 1996 it was a Coast Guard installation. Located on Governors Island are Castle Williams and Fort Jay, which served as outposts to protect New York City from sea attack.
Statue of Liberty



This iconic statue, built in 1886 on Liberty Island and 151 feet (46 m) tall, commemorates the centennial of the signing of the United States Declaration of Independence and is a gesture of friendship from France to the U.S. Liberty Enlightening the World is a symbol of welcoming immigrants to the U.S. and is listed as a World Heritage Site. Ellis Island, where 12 million immigrants entering the U.S. passed through, is included in the monument. This national monument is also partially located in the state of New Jersey.
Stonewall



The Stonewall Inn, often shortened to Stonewall, is a gay bar and recreational tavern in New York City and the site of the Stonewall riots of 1969, which is widely considered to be the single most important event leading to the gay liberation movement and the modern fight for LGBT rights in the United States. Also included in the 7.7 acre site is Christopher Street Park, across the street.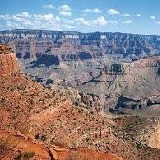 Travel America

Do you love America and American English? Learn before you travel. Facts and other cool stuff about your favorite U.S. state. Visit the Fun Easy English Travel America pages. Read about the beautiful National Forests, Parks, and Monuments. Great English reading practice.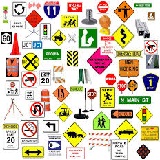 Drive America

Planning to drive in America? Learn the rules and regulations. Great English reading practice.
Additional Information
Study Tips


(

Beginner

- Listening)

Avoid Ineffective Study Methods. An audio lesson to help you study English more effectively. The English is

spoken at 75% of normal speed

. Great English study tips.
Click here to visit the lesson page with the written script for this audio program.