Classroom
Today

American English
pronunciation
lesson 25



Today in the classroom you are going to learn to pronounce the sound

c

as in the words

c

ot,

c

oat,

c

ame,

c

ave. Remember "practice makes perfect" if you want to improve your English speaking ability.

Hey if you cannot understand something on this page,


then use the Fun Easy English dictionary (opens in a new window)
Pronunciation: American English Lesson 25



Pronounce the sound

c

as in the words

c

ot,

c

oat,

c

ame,

c

ave. Watch the following pronunciation videos and learn to pronounce this sound correctly.
Pronunciation Video
Fun Easy English Pronunciation Lessons
More Videos
c

c

ut,

c

ot,

c

oat,

c

ane,

c

age,

c

ollie,

c

ame,

c

ome,

c

ave,

c

oal,

c

ap,

c

ard
k

k

ale
q

q

uit,

q

uiet,

q

uite,

q

ueen
che
a

che

Note:

the red letters all have the same sound
Sound Type



This is an UNVOICED sound which means Your Vocal Cords DO NOT vibrate when making the sound.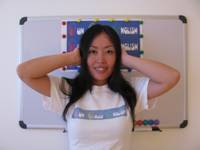 You CANNOT LISTEN to your Vocal Cords vibrating if you cover your ears with your hands.

Try covering your ears with your hands as Akiko is doing in the picture.

Now make the sound of this lesson. You cannot listen to your vocal cords vibrating.
VERY GOOD
You CANNOT FEEL your Vocal Cords vibrating if you place your hands on your neck.

Try placing your hands on your neck as Akiko is doing in the picture.

Now make the sound of this lesson. You cannot feel your vocal cords vibrating.
VERY GOOD
The following diagram shows the most important parts of your head and mouth used for pronouncing the sounds of English. It also shows the location of your Vocal Cords.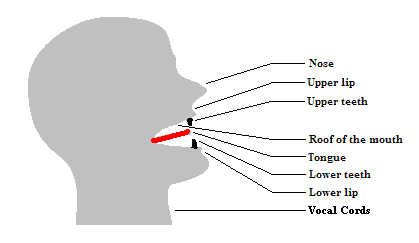 Mouth, lips, and tongue position



The following descriptions explain the proper mouth, lips, and tongue position when you make this sound.


Your mouth releases air which is then quickly stopped.


Your lips should be slightly separated.


The middle part of your tongue should be in the upper part of your mouth.
Practice video



Listen to the video and practice repeating each word.
Pronunciation practice words



Look at your mouth in a mirror and practice pronouncing the following words. Make sure your mouth, lips, and tongue are in their proper positions.
c

ut

c

ot

c

oat

c

ane

c

age

c

ollie

c

ame

c

ome

c

ave

c

ard

c

oal

c

ap

Note:

the red letters all have the same sound (watch the video above)
Pronunciation word test



Try saying the following tongue twisters as quickly as possible.
Crisp crusts crackle crunchily.
I correctly recollect Rebecca MacGregor's reckoning.
Quick kiss. Quicker kiss.
Kris Kringle carefully crunched on candy canes.
Pretty Kitty Creighton had a cotton batten cat. The cotton batten cat was bitten by a rat. The kitten that was bitten had a button for an eye, and biting off the button made the cotton batten fly.

From YOUR Teacher:



This is a very easy sound to make in English.
Additional Lessons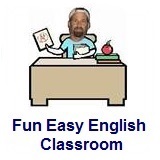 About These Lessons

The following classroom lessons are great for students who want additional listening and reading practice.
Travel America

-

Beginner Level

. Do you love America and American English? Learn before you travel. Facts and other cool stuff about your favorite U.S. state. Great English reading practice.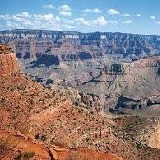 Travel America - Indiana


(

Beginner

- Reading)

Learn some interesting facts and read interesting stories about Indiana.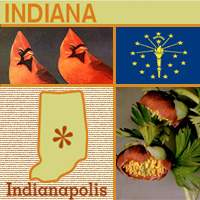 Indiana



Indiana means "land of the Indians." It joined the Union in 1816 as the 19th state. Today, Indiana is a state of mostly small towns and midsize cities. Its largest city and capital is Indianapolis, where the nation's most famous auto race, the Indianapolis 500, is held each year. The state's residents are commonly referred to as "Hoosiers" although no one seems certain just how the name originated. The peony is the state flower.
Indiana State Flag




The blue and gold state flag of Indiana was adopted by the 1917 General Assembly as part of the 1916 Indiana centennial celebration. The original legislation described the flag as the state "banner" (the name was changed to "flag" by the 1955 General Assembly).

The winning design (by Paul Hadley of Mooresville, Indiana) was selected during a competition sponsored by the Daughters of the American Revolution.

The torch is a symbol for liberty and enlightenment; the rays represent their far-reaching influence. Thirteen stars in the outer circle symbolize the original thirteen states; the inner semi-circle of five stars represents the next five states to join the Union; and the large star above the torch is a symbol of Indiana (in 1816 Indiana became the 19th state).
Source: State Symbols USA
Indiana State Facts



Picture:

state seal of Indiana
State Capital
Indianapolis
Nickname
Hoosier State
Motto
The Crossroads of America
Statehood
December 11,1816 (19th)
Origin of Name
"Land of the Indians."
Largest Cities
Indianapolis, Fort Wayne, Evansville, Gary, South Bend
Border States
Illinois, Kentucky, Michigan, Ohio
Area
35,870 sq. mi., 38th largest
State Bird
Cardinal
State Flower
Peony
State Tree
Tulip tree (liriodendron tulipifera)
State Song
On the banks of the Wabash
Travel and tourism site for Indiana - This state travel and territorial tourism site provides ideas for your vacations, meetings, and more.
Indiana Stories
Pekin Fourth of July Parade



Most towns have some kind of celebration on the Fourth of July, but only the town of Pekin in southern Indiana can boast that it has the longest continually running celebration in the country. Can you guess when it first started celebrating Independence Day?

The first Pekin Fourth of July celebration took place in 1830. Back then it was just a few firecrackers and a gunshot in the air. Today, this event is so popular that it draws noted speakers including members of Congress, governors, college presidents, judges, ministers, and teachers. The town has only 1,500 people but it grows tenfold during the celebration, with as many as 15,000 people attending.

Programs in the past have featured entertainment and band music, including the "Spirit of 1776 Martial Band." But the real highlight of the Pekin Fourth of July celebration is the great parade. In early years, when many people came in by train, a group would meet the train and the parade would start there. Now the parade is the main event of the day, with novelty cars and trucks, floats of every kind, bikes and horseback riders.
Elwood Haynes



Have you ever heard of Elwood Haynes? Well, maybe you have heard of some of his inventions: stainless steel, the thermostat, and the horseless carriage.

Born in Portland, Indiana on October 14, 1857, Elwood Haynes invented one of the first successful gasoline-powered automobiles. He also invented stainless steel, the thermostat used in houses, and many other items. As a young boy, Haynes was curious about how things worked. When he was 12 he read his sister's college chemistry book, and by 15 he was experimenting with alloys, metallic substances made of two or more elements.

In 1886, natural gas was found in Haynes's hometown. After this discovery he organized a company to supply it to the town. In 1893, he purchased a gasoline-powered engine and designed a "horseless carriage," or auto. Haynes then went on to invent the muffler and different metal alloys. Specifically, he invented stellite alloy, which may be his most important invention. This metal alloy was the first step in the development of a series of space-age alloys.

Are you interested in science and scientific experiments? Maybe you could be the next Elwood Haynes.
Spirit of Vincennes Rendezvous



Have you ever called someone's bluff? That's when you see if a person meant what he or she said or was just pretending. During the Revolutionary War, the Colonists often had to bluff their way to victory. That's what happened in 1779 in Vincennes, Indiana.

The battle was over the capture of Fort Sackville. Lieutenant Colonel George Rogers Clark, the elder brother of explorer William Clark, led the Colonial forces. Clark relied on two things. First, he counted on his troops' expert marksmanship. Second, he used a classic military bluff. Clark had only 200 buckskin-clad pioneers as troops, but he had his men raise enough flags for 600! Believing himself overwhelmed by so many troops, British Lieutenant Governor Henry Hamilton surrendered the fort. If Hamilton had called Clark's bluff things might have turned out differently.

The Spirit of Vincennes Rendezvous is a Revolutionary War battle re-enactment held annually on Memorial Day weekend. The event celebrates the capture of Fort Sackville in 1779. Today, participants of the Vincennes Rendezvous include artisans, strolling musicians, and re-enactors portraying soldiers and camp followers. Revolution-era food is served, such as buffalo burgers, turkey legs, and homemade pies.
From the Emerald Isle to Little Ireland: The Legacy of Farming in Brownsburg



Have you ever conducted an oral interview? An oral interview documents history by asking someone questions about his or her experiences in order to learn what life was like through that person's eyes. Do you know anyone whom you'd like to interview? There are probably many people you know who could tell you a lot about your community -- your parents, aunts, uncles, grandparents or almost anyone who is a few years older than you.

In Brownsburg, Indiana, Jill Taylor's third-grade class created an oral history project. The children made a list of interview questions for the farmers of Little Ireland, an area settled by Irish immigrants in the mid-1800s. They also took photographs. After conducting the interviews, the children wrote a report on what they learned, selected the photographs, painted a rural Indiana landscape, and hand-stitched a quilt that commemorates the legacy of farming. Mrs. Taylor's project was such a success that she was named runner-up for Indiana Teacher of the Year.

Next time you have to do a project on something, try and think of someone you can interview. That way you will learn first-hand about the subject.
Coca-Cola Circle City Classic



What does Coke have to do with college football? Well, every year since 1984, Indianapolis, Indiana, has celebrated its African American community with the Coca-Cola Circle City Classic, a football game between teams from historically black colleges. The profits from the game go to the Indiana Black Expo Scholarship Program, a fund that gives money to young people for school.

What's a historically black college? It is a college that was established in the United States at a time when African Americans were not allowed to attend college with white students. These institutions of higher learning still exist today, providing Americans of all backgrounds with a college education.

The Indianapolis Black Alumni Council also holds a college fair along with this football game. The fair gives students and parents an opportunity to visit with officials from more than 50 colleges and universities. The events demonstrate African American economic strength and show the importance of education, while awarding annual scholarships with the proceeds of the football game.
Indiana's Indianapolis 500



You've probably heard of the Indianapolis 500, but did you know that this auto race is held in a place that some people call "The Brickyard"?

The Indianapolis Motor Speedway was originally built in 1909 as a place where Indiana automobile manufacturers could test and race their new cars. In its early years, the Speedway was paved with bricks. Even though most of the bricks have now been paved over, people still call it "The Brickyard."

The Speedway was opened to the public in 1911 for the Indy 500, a world-famous automobile race that has taken place there almost every year since then. More than 300,000 people come out to watch the race, making it the biggest single-day sports event in the world. The track is 2.5 miles around. The race itself is 500 miles long, however, so the cars have to make 200 laps around the track to complete the race.
Growing Up on the St. Joseph River



People cannot live without water. So it makes sense that communities are established near significant bodies of water.

In South Bend, Indiana, the St. Joseph River has always been at the heart of the city. The St. Joseph River begins in Michigan, flows into Indiana and then into Lake Michigan. All in all, it travels a 210-mile journey. In fact, the name South Bend comes from the great bend that the river takes there.

The river has been important to Indiana for a long time, encouraging people such as the Miami and Potawatomi Indians to live there. Later, immigrants settled there as well. First it was the French in the 1600s, then the Hispanics and Latinos. The French explorer Sieur LaSalle was the first white man to float on the St. Joseph, in 1679.

The town of South Bend still celebrates its history along the St. Joseph River. Kee-Boon-Mein-Kaa is a huckleberry harvest festival in South Bend that is hosted by the Potawatomi Indian Nation. This festival includes American Indian dance performances, delicious things to eat and crafts to admire.
Source: Library of Congress

National Forests of Indiana



The following is a description of national forests in the state of Indiana. There are no national parks or monuments in this state. If you plan to visit or live in Indiana for awhile then you should definitely plan to visit some of these fantastic places.
National Forests
Hoosier



The Pioneer Mothers Memorial Forest is 88 acres (36 ha) of old-growth forest in Hoosier National Forest. The forest's Charles C. Deam Wilderness is Indiana's only wilderness area.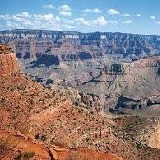 Travel America

Do you love America and American English? Learn before you travel. Facts and other cool stuff about your favorite U.S. state. Visit the Fun Easy English Travel America pages. Read about the beautiful National Forests, Parks, and Monuments. Great English reading practice.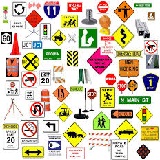 Drive America

Planning to drive in America? Learn the rules and regulations. Great English reading practice.
Additional Information
Study Tips


(

Beginner

- Listening)

Avoid Ineffective Study Methods. An audio lesson to help you study English more effectively. The English is

spoken at 75% of normal speed

. Great English study tips.
Click here to visit the lesson page with the written script for this audio program.