Classroom
Today

Learn about


manner adverbs



Today you are going to learn about

manner adverbs

an important part of English grammar.

Hey if you cannot understand something on this page,


then use the Fun Easy English dictionary (opens in a new window)
Grammar:



Definition of a

manner adverb

.
Examples
She did the work carefully.
She ate her food quickly.
You can sing well.
She sang that song badly.
We watch them closely.
She plays well.
They walk carefully.
The following words are manner adverbs
agilely, badly, busily, carefully, cheerfully, closely, completely, coyly, dramatically, dully, duly, easily, fast, favorably, fully, gaily, greyly, happily, hard, healthy, humbly, inadequately, little, loud, loudly, much, normally, quickly, scientifically, shrilly, shyly, simply, slowly, slyly, solely, specifically, straight, surprisingly, truly, well, wholly
Fun Easy English Grammar Lessons

From YOUR Teacher:



Manner adverbs are pretty easy and basically explain the way things are done.
Additional Lessons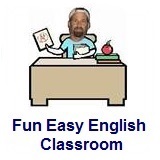 About These Lessons

The following classroom lessons are great for students who want additional listening and reading practice.
Travel America

-

Beginner Level

. Do you love America and American English? Learn before you travel. Facts and other cool stuff about your favorite U.S. state. Great English reading practice.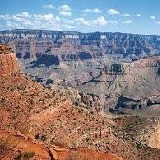 Travel America - Connecticut


(

Beginner

- Reading)

Learn some interesting facts and read interesting stories about Connecticut.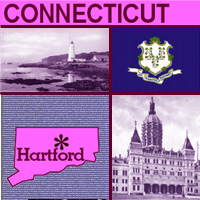 Connecticut



One of the original 13 states, Connecticut is known as the "Constitution State." It gets its name from an Algonquian word meaning "land on the long tidal river." Hartford has been the capital of Connecticut since 1875 and the state flower is the mountain laurel.
Connecticut State Flag




The state flag of Connecticut was inspired by a memorial from a Connecticut chapter of the daughters of the American Revolution. The flag design was already generally accepted as the official flag of the state when it was proposed for adoption in 1895 (the flag was formally described in 1897 Connecticut legislation).

The flag includes a ribbon with the Connecticut state motto on it: Qui transtulit sustinet (he who is transplanted still sustains). The state seal of Connecticut also uses a similar design featuring Connecticut's armorial bearings.
Source: State Symbols USA
Connecticut State Facts



Picture:

state seal of Connecticut
State Capital
Hartford
Nickname
Constitution State / Provision State / Nutmeg State
Motto
Qui transtulit sustinet (He who transplanted still sustains)
Statehood
January 9, 1788 (5th)
Origin of Name
Based on the Mohegan word, Quinnehtukqut, meaning "Long River Place" or "Beside the Long Tidal River"
Largest Cities
Bridgeport, Hartford, New Haven, Stamford, Waterbury
Border States
Massachusetts, New York, Rhode Island
Area
4,845 sq. mi.; 48th largest
State Bird
Robin
State Flower
Mountain laurel (kalmia latifolia)
State Tree
White Oak (quercus alba)
State Song
Yankee Doodle
Travel and tourism site for Connecticut - This state travel and territorial tourism site provides ideas for your vacations, meetings, and more.
Connecticut Stories
Louis' Lunch



Do you love hamburgers? Do you know how they were created?

The first hamburgers in U.S. history were served in New Haven, Connecticut, at Louis' Lunch sandwich shop in 1895. Louis Lassen, founder of Louis' Lunch, ran a small lunch wagon selling steak sandwiches to local factory workers. Because he didn't like to waste the excess beef from his daily lunch rush, he ground it up, grilled it, and served it between two slices of bread -- and America's first hamburger was created.

The small Crown Street luncheonette is still owned and operated by third and fourth generations of the Lassen family. Hamburgers are still the specialty of the house, where steak is ground fresh each day and hand molded, slow cooked, broiled vertically, and served between two slices of toast with your choice of only three "acceptable" garnishes: cheese, tomato, and onion.

Want ketchup or mustard? Forget it. You will be told "no" in no uncertain terms. This is the home of the greatest hamburger in the world, claim the owners, who are perhaps best known for allowing their customers to have a burger the Lassen way or not at all.
The Mark Twain House



Can a house have a heart and soul? Can people love their house even if others think it's odd?

In 1871, writer Mark Twain moved to Hartford, Connecticut, to be closer to his publisher. He rented a home in Nook Farm, a thriving literary community at the western edge of Hartford. In 1873, Twain, whose real name was Samuel Langhorne Clemens, and his family purchased land on Farmington Avenue in Nook Farm and hired a New York City architect to design a house.

As the house was being built, the local newspaper noted that "it is one of the oddest looking buildings in the state ever designed for a dwelling, if not in the whole country."

Twain once said that the house "had a heart, and a soul. ... It was of us, and we were in its confidence and lived in its grace and in the peace of its benediction. We never came from an absence that its face did not light up and speak out its eloquent welcome -- and we could not enter unmoved."

Twain lived and worked in the house from 1874 to 1891. During this time he wrote The Adventures of Tom Sawyer, The Adventures of Huckleberry Finn and A Connecticut Yankee in King Arthur's Court. Do you think his unique house influenced his writing?
Sisu and Creativity-The Essence of Finnish Immigrants in Eastern Connecticut



Do you have sisu? Have you ever even heard of it before? Sisu is a Finnish word that describes someone who works hard and has determination and perseverance.

This word came to America with Finnish immigrants who began to settle in Connecticut in the 1920s. The immigrants were escaping poverty at home and looking for land, which they were able to buy cheaply from Yankee farmers. Because they had sisu they became successful in their new community.

Finnish sisu helped the immigrants farm rocky land and hand-pour cement foundations for their homes and other buildings. Many made a decent living selling chickens and eggs. Their hard work and perseverance also helped them build social halls where immigrants could meet others with similar backgrounds and languages. A group called the Finnish American Education Association bought land and built social halls in various parts of Connecticut.

In 1987, inspired by a desire to prevent the sale of their Finnish hall for unpaid taxes, the Finnish American Heritage Society was formed in Canterbury. To this day their mission is to promote Finnish heritage, culture and language -- all of which they do with a combination of hard work, determination, and perseverance.

The next time you have a very difficult job to do, think sisu!
The Beckley Blast Furnace: East Canaan, Connecticut



The furnace in the picture is a blast, literally. A blast furnace increases combustion with a blast of air.

Blast furnaces contain a hearth at the bottom that is shaped like a melting pot; a middle zone, called a bosh, a vertical shaft (the stack) that extends from the bosh to the top of the furnace; and the furnace top. The bosh is the hottest part of the furnace. Molten iron gathers in the hearth, which has a tap hole to draw off the molten iron and, higher up, a slag (residue) hole to remove the mixture of impurities.

John Adam Beckley built this furnace in 1847 for the production of pig iron, a crude kind of iron that is refined to produce steel or wrought iron. In 1919, after 72 years of operation, the Beckley Furnace closed.

In 1978, the Beckley Blast Furnace in East Canaan, Connecticut, was put on the National Register of Historic Places. Connecticut bought the furnace in 1946 with the intent of preserving the stack but didn't restore it until 1999. The hearth has been completely rebuilt with a cutaway section for visitor viewing. The blast furnace is a significant attraction on the Iron Heritage Trail in Northwestern Connecticut, New York, and Massachusetts.
Monday Night Jazz Series and Greater Hartford Festival of Jazz



If you were to go to Hartford, Connecticut, on a Monday night in the summer, you could attend the oldest continually running jazz series in the country. The kids you see in this photo are practicing, or in jazz lingo, jamming, for the Monday Night Jazz Series.

As the sun goes down and the stars come out, you can listen to the uniquely American musical form of jazz at the Monday Night Jazz Series in Bushnell Park, in Hartford. This summer concert series presents nationally and internationally renowned musicians as well as local talent in celebration of all kinds of jazz music. Many levels of performers -- from cutting-edge artists to youth from local schools -- take part in the series.

Run by volunteers, the series has been held in Bushnell Park since 1966. The Greater Hartford Festival of Jazz, a weekend of free performances, was initiated in 1991by the organizers of the Monday Night Jazz Series, in honor of its 25th anniversary.
Connecticut's State Song



How did a song help the Colonial soldiers win the Revolutionary War?

Connecticut's state song is "Yankee Doodle." This popular song has an unusual history. The words were apparently written by an Englishman during the French and Indian War in 1755. Originally, the tune made fun of the poorly dressed and ill-equipped New England soldiers. During the Revolutionary War with England, however, Americans slightly rewrote the words to make fun of the British soldiers. The song boosted the soldiers' morale (pronounced "more-al"; it refers to a person's enthusiasm or mood) and was a source of pride for the American soldiers. Good morale is important during a war so that people don't get discouraged and give up. Anything that could be done to boost morale was a good idea.
Parade Spectacular



Have you ever seen a parade with floating balloons in the shape of characters like Gumby or Dick Tracy? Do you know why such big balloons float in the air? It's because they are filled with helium, and helium gas is lighter than air so it floats.

Gumby, Dick Tracy, Rocky and Bullwinkle, and many other giant balloon characters float through downtown Stamford, Connecticut, in the annual Parade Spectacular. The festivities include marching bands, dancers, and more. The parade falls at the same time as other holiday events in town, from the lighting of the Christmas tree to a North Pole adventure land in Latham Park.

Stamford's annual holiday balloon parade started in 1993 as a small, hometown affair and has become one of the largest helium balloon parades in the country, with 30 giant helium balloons floating above the city and people coming from all over the region to see them. In 1999, there were an estimated 250,000 spectators.
Source: Library of Congress
Connecticut



There are no national forests, parks, or monuments in this state.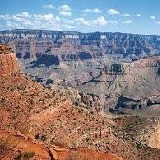 Travel America

Do you love America and American English? Learn before you travel. Facts and other cool stuff about your favorite U.S. state. Visit the Fun Easy English Travel America pages. Read about the beautiful National Forests, Parks, and Monuments. Great English reading practice.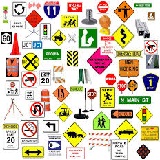 Drive America

Planning to drive in America? Learn the rules and regulations. Great English reading practice.
Additional Information
Study Tips


(

Beginner

- Listening)

Avoid Ineffective Study Methods. An audio lesson to help you study English more effectively. The English is

spoken at 75% of normal speed

. Great English study tips.
Click here to visit the lesson page with the written script for this audio program.