Classroom
Today

Learn about
present participle
adjectives



Today you are going to learn about

present participle adjectives

an important part of English grammar.

Hey if you cannot understand something on this page,


then use the Fun Easy English dictionary (opens in a new window)
Grammar:



Definition of a

present participle adjective

.
The boring teacher.
The confusing class. (the class is difficult to understand)
The following words are present participle adjectives
verb - present participle - past participle
aggravate - aggravating - aggravated
alarm - alarming - alarmed
amaze - amazing - amazed
amuse - amusing - amused
annoy - annoying - annoyed
appall - appalling - appalled
astonish - astonishing - astonished
astound - astounding - astounded
bewilder - bewildering - bewildered
bore - boring - bored
calm - calming - calmed
captivate - captivating - captivated
challenge - challenging - challenged
charm - charming - charmed
comfort - comforting - comforted
compel - compelling - compelled
confuse - confusing - confused
convince - convincing - convinced
depress - depressing - depressed
devastate - devastating - devastating
disappoint - disappointing - disappointed
disgust - disgusting - disgusted
distract - distracting - distracted
distress - distressing - distressed
disturb - disturbing - disturbed
embarrass - embarrassing - embarrassed
enchant - enchanting - enchanted
encourage - encouraging - encouraged
entertain - entertaining - entertained
excite - exciting - excited
frighten - frightening - frightened
humiliate - humiliating - humiliated
infuriate - infuriating - infuriated
inspire - inspiring - inspired
insult - insulting - insulted
interest - interesting - interested
intimidate - intimidating - intimidated
intrigue - intriguing - intrigued
mislead - misleading - misled
mystify - mystifying - mystified
overwhelm - overwhelming - overwhelmed
please - pleasing - pleased
puzzle - puzzling - puzzled
refresh - refreshing - refreshed
relax - relaxing - relaxed
reward - rewarding - rewarded
satisfy - satisfying - satisfied
shock - shocking - shocked
sicken - sickening - sickened
startle - startling - startled
surprise - surprising - surprised
tempt - tempting - tempted
terrify - terrifying - terrified
threaten - threatening - threatened
tire - tiring - tired
welcome - welcoming - welcomed
worry - worrying - worried
Fun Easy English Grammar Lessons
Video: Grammar
Video: Grammar
Video Information: Grammar
The -ing form of the verb expresses the cause of the feeling.
The -ed form of the verb expresses the result.
In the case of the verb "to bore" Akira said she is BORING which means Akira is actually BORING and not the class.
Akira should say because this class is BORING, I am BORED, or simply I am BORED.
The class is the cause of her feeling, so it is described with an -ing form, in this case BORING.
Her feeling, or the result, is described with an -ed form, in this case BORED.
Basically you should remember that things can only be described with the -ing form because things cannot produce feelings.
People can be described with either the -ing or -ed forms because they can produce feelings in other people or experience feelings themselves.

From YOUR Teacher:



Hopefully all the information from Akira and Aleem in the video made understanding

present

participle adjectives a little easier.
Additional Lessons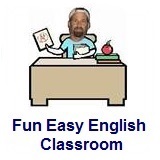 About These Lessons

The following classroom lessons are great for students who want additional listening and reading practice.
Travel America

-

Beginner Level

. Do you love America and American English? Learn before you travel. Facts and other cool stuff about your favorite U.S. state. Great English reading practice.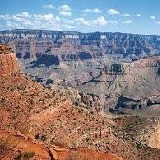 Travel America - Missouri


(

Beginner

- Reading)

Learn some interesting facts and read interesting stories about Missouri.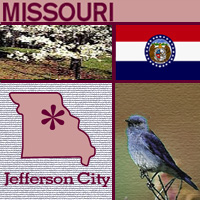 Missouri



Missouri is called the "Show Me State," because its people have a reputation for believing only what they see. Its name is an Algonquin Indian term meaning "river of the big canoes." Originally home to a number of Indian tribes, the state entered the Union in 1821. Today, more than half the population lives in Missouri's two major cities--Kansas City and St. Louis. The dogwood is the state tree, the bluebird is the state bird and the capital is Jefferson City.
Missouri State Flag




The Missouri state flag was officially approved in 1913. The original flag (designed and created by Marie Elizabeth Oliver) is on display at the Secretary of State's office in Jefferson City, Missouri.

The stripes on the flag are symbols for bravery (red stripe), purity (white stripe), and justice (blue stripe). The center of the flag displays Missouri's state seal surrounded by 24 stars (Missouri became the 24th state on August 10, 1821 (although the Roman numerals at the bottom of the seal that acknowledge this date read 1820: "MDCCCXX"). All Dates of Statehood

The two grizzly bears are symbols of courage and strength. They stand on a scroll bearing the state motto: Salus Populi Suprema Lex Esto (Latin for "Let the welfare of the people be the supreme law").

The bears support a shield encircled by the motto: "United We Stand, Divided We Fall (indicating Missouri's advantage as a member of the United States). The shield displays the U.S. coat of arms on the right (a bald eagle clutching arrows and olive branches), and a grizzly bear and crescent moon on the left.

The crescent moon is a symbol that represents Missouri when the state seal was created in 1822 - a state of small population and wealth which would increase like the new or crescent moon. The crescent moon also symbolizes the "second son" (meaning Missouri was the second state formed out of the Louisiana Territory).

Above the shield is a helmet representing Missouri's state sovereignty. The large star above the helmet surrounded by 23 smaller stars represents Missouri's status as the 24th state. The cloud around the stars indicates the problems Missouri had in becoming a state.
Source: State Symbols USA
Missouri State Facts



Picture:

state seal of Missouri
State Capital
Jefferson City
Nickname
Show Me State
Motto
Salus Populi Suprema Lex Esto (The Welfare of the People Shall Be the Supreme Law)
Statehood
August 10, 1821 (24th)
Origin of Name
Named after Algonquin Indian term meaning "river of the big canoes."
Largest Cities
Kansas City, Saint Louis, Springfield, Independence, Columbia
Border States
Arkansas, Illinois, Iowa, Kansas, Kentucky, Nebraska, Oklahoma, Tennessee
Area
68,898 sq. mi., 18th largest
State Bird
Bluebird
State Flower
Hawthorn (crataegus)
State Tree
American Dogwood (cornus florida)
State Song
Missouri Waltz
Travel and tourism site for Missouri - This state travel and territorial tourism site provides ideas for your vacations, meetings, and more.
Missouri Stories
The Annual American Royal: BBQ, Horse Shows and Cattle



Would you like to take part in a rodeo? If so, then the annual American Royal Livestock, Horse Show and Rodeo is the one for you. The Children's Rodeo is just one of many fun things to do at this event that celebrates the importance of livestock to Kansas City, Missouri.

The American Royal Livestock, Horse Show and Rodeo began as a cattle show in a tent at the Kansas City Stockyards in 1899. Today it is one of the Midwest's biggest annual autumn events. There are horse and livestock competitions and one of America's best rodeos.

The American Royal Rodeo invites the best cowboys and cowgirls from across the country to participate in its competition. Plus, there's a barbecue cook-off, featuring some of Kansas City's best grillmasters. The city is famous for its barbecue restaurants, which take big hunks of beef and slowly cook them over wood or charcoal. When you go to the Rodeo you get a real taste of life in the Midwest.
Scientific Creativity: The Legacy of Science Education in Southwest Missouri



Although the famous scientist Madame Curie was a woman, girls have not always been encouraged to study science and math. But that is changing.

Expanding Your Horizons in Science and Mathematics is a program of the Math/Science Network conference held in southwest Missouri. This conference helps to encourage girls' interest in science and math and urges them to consider careers in engineering, computer science, and biology. About 200 to 500 girls attend this conference. There are a variety of workshops led by women scientists, mathematicians, and engineers.

Workshops include activities such as learning about light, vision, and the chemistry of colors while doing experiments. Another workshop teaches how toys work by allowing students to take some toys apart. They learn about magnets, electricity, and air pressure as they are used in toys, and they get to make their own toys to take home. Origami (the art of paper-folding) is used to teach math concepts as students fold paper into models and geometric designs. In other workshops, students learn how to make robots, how to take apart and put together computers, and how to make a Web page.
Max Hunter Collection



Without people like Max Hunter, important pieces of our nation's history would be lost. He alone preserved more than 20 years of music and folk stories from people in the Ozarks. Can you guess how he did it?

Hunter was a traveling salesman from Springfield, Missouri, who went into the hills and backwoods of the Ozark Mountains. He took a reel-to-reel tape recorder with him to record folk songs and stories of the people in this remote area. Thanks to him, 1,600 Ozark Mountain folk songs, recorded between 1956 and 1972, are available for listening at the Springfield-Greene County Library in Springfield, Missouri.

It was a good thing that Hunter recorded these folk tales and songs when he did, because once radio and TV became popular, people in the Ozarks stopped sitting on their porches entertaining themselves with stories and music. Many patterns of Ozark life would have been lost.

Can you imagine what listening to these songs will tell you about life in the Ozarks that you won't find in a history book?
Pony Express



Nowadays, it takes only a few days for a letter to travel from coast to coast, and you can send an e-mail in seconds. But in the mid-19th century, it took six months for a letter to travel from Washington, D.C., to California!

As the United States expanded to the West Coast, communication became very important to the success of the nation and its Western pioneers. The country needed a speedy way to send messages. As a result, the Pony Express was born.

In April 1860, 75 young men were hired and 100 horses were purchased to carry mail on horseback from Pony Express headquarters in the Patee House hotel, in St. Joseph, Missouri, to California. The cost to have the Pony Express carry one letter, which took 10 days, from Missouri to California was $5. Today, that $5 is worth about $90! Can you imagine spending $90 to send a letter?

By October 1861, however, the Pony Express was extinct. The telegraph could send messages much cheaper and faster, and, by 1869, railroads stretched from coast to coast. Today, you can visit the Patee House, which is now a museum dedicated to the history of the Pony Express. The building is a National Historic Landmark.
Versailles Old Tyme Apple Festival



You have probably heard the expression "An apple a day keeps the doctor away." But apples are more than just a healthy food. In fact, people love apples so much that in Missouri there is an entire festival dedicated to them.

The first Old Tyme Apple Festival in Versailles, Missouri, was held in 1980. It included an antiques auction, a dramatic presentation on the courthouse steps, a bareback riding marathon, craft and food vendors, and many contests, including apple-peeling, nail-driving, log-sawing, face-painting and bubble-gum blowing.

Today, if you go to the Old Tyme Apple Festival you can have lots of fun talking to Mickey and Minnie Mouse, seeing puppet shows, taking a pony ride or watching a parade, where you just might see "Smilin' Joe" on his mechanical horse.
St. Louis, Missouri, Home of the First Ice Cream Cone



Do you love ice cream? How about an ice cream cone? Did you know that the first cone was introduced at the St. Louis World's Fair in 1904? Children who attended the fair were the first ones in the world to eat this delicious treat.

The story goes that when the ice cream vendor ran out of paper cups and spoons, he put the ice cream in a rolled up waffle that the man in the next booth was selling -- and an invention was born -- by accident!

How do you like your ice cream cone? With lots of toppings?
National Tom Sawyer Days



What do Tom Sawyer and jumping frogs have in common? Stories about both of them were created by one man: Mark Twain. Born Samuel Clemens (Mark Twain was his pen name), Twain was 4 when his family moved to Hannibal, Missouri, located on the west bank of the Mississippi. Twain grew up there and was fascinated with life along the river -- the steamboats, the giant lumber rafts, and the people who worked on them.

"The Celebrated Jumping Frog of Calaveras County" is one of Twain's best-loved short stories, and The Adventures of Tom Sawyer is one of his most famous novels. Both these works are celebrated by events held during National Tom Sawyer Days every fourth of July. The boy in the photo entered his frog in the jumping contest. There's also a fence-painting contest to see who can paint the fastest. The idea for this contest comes from a scene in Tom Sawyer, in which Tom has been told to paint the fence in front of the house he lives in. It's a beautiful day, and he would rather be doing anything else. As his friends walk by, he convinces them it's fun to paint, and they join in the "fun." By the end of the day, the fence has three coats of paint!

Although the story of Tom Sawyer is fiction, it's based on fact. If you go to Hannibal, you'll see the white fence, which still stands at Twain's boyhood home.
Source: Library of Congress

National Forests, Parks, and Monuments of Missouri



The following is a description of national forests, parks, and monuments in the state of Missouri. If you plan to visit or live in Missouri for awhile then you should definitely plan to visit some of these fantastic places.
National Forests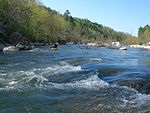 Mark Twain



Missouri's only National Forest, Mark Twain contains seven wilderness areas and the Eleven Point National Wild and Scenic River. There are 19 natural areas in the forest that are managed by the Missouri Department of Conservation.
National Parks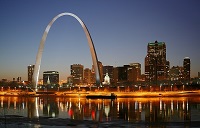 Gateway Arch



The Gateway Arch is a 630-foot (192 m) (both high and wide) catenary arch built to commemorate the Lewis and Clark Expedition, initiated by Thomas Jefferson, and the subsequent westward expansion of the country. The nearby Old Courthouse, across a greenway to the west of the arch, was the first site of the Dred Scott case about slavery. A museum, located in the underground visitor center below the arch, describes the arch's construction and the country's westward expansion.
National Monuments
George Washington Carver



The site preserves Moses Carver's farm, which was the boyhood home of George Washington Carver, a scientist and educator who developed many uses for peanuts. It was the first national monument dedicated to an African-American and first to a non-president.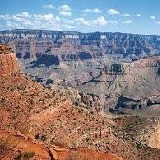 Travel America

Do you love America and American English? Learn before you travel. Facts and other cool stuff about your favorite U.S. state. Visit the Fun Easy English Travel America pages. Read about the beautiful National Forests, Parks, and Monuments. Great English reading practice.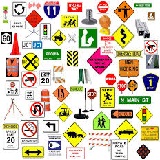 Drive America

Planning to drive in America? Learn the rules and regulations. Great English reading practice.
Additional Information
Study Tips


(

Beginner

- Listening)

Avoid Ineffective Study Methods. An audio lesson to help you study English more effectively. The English is

spoken at 75% of normal speed

. Great English study tips.
Click here to visit the lesson page with the written script for this audio program.