Additional Lessons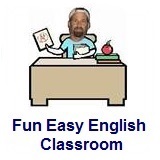 About These Lessons

The following classroom lessons are great for students who want additional listening and reading practice.
Travel America

-

Beginner Level

. Do you love America and American English? Learn before you travel. Facts and other cool stuff about your favorite U.S. state. Great English reading practice.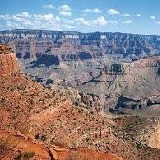 Travel America - Nebraska


(

Beginner

- Reading)

Learn some interesting facts and read interesting stories about Nebraska.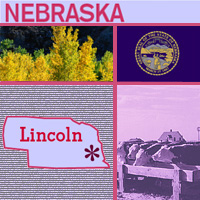 Nebraska



Nebraska gets its name from an Indian word meaning "flat water" after the Platte River that flows through the state. The Nebraska Territory was formed in 1854 at the same time as the Kansas Territory. Nebraska was admitted into the Union in 1867 as the 37th state. Its nickname, "Cornhusker State," refers to the way that corn (a leading product of the state) was commonly harvested, "husking" it by hand, before the invention of husking machinery. Another nickname, the "Beef State," refers to one of Nebraska's main industries, cattle. Omaha has been a major meatpacking center since the 1880s. Although Omaha was the territorial capital, Lincoln, named in honor of the 16th president, is the state capital. The flower is the goldenrod.
Nebraska State Flag




Nebraska was one of the last states to adopt a state flag. Representative J. Lloyd McMaster introduced a bill in 1925 to designate a state banner and the bill was passed. The law describes the banner as: "... a reproduction of the Great Seal of the State charged on the center in gold and silver on a field of national blue."

In 1963 the Legislature finally designated the state banner as the official flag of Nebraska. The symbols on the great seal of Nebraska are described on a bill introduced in 1867:

"The eastern part of the circle to be represented by a steamboat ascending the Missouri River, the mechanic arts to be represented by a smith with a hammer and anvil, in the foreground, agriculture to be represented by a settlers cabin, sheaves of wheat, and stalks of growing corn, in the background a train of cars heading towards the Rocky Mountains, and on the extreme west, the Rocky Mountains to be plainly in view, around the top of the circle, to be in capital letters, the motto: "Equality Before the Law," and the circle to be surrounded with the words, "Great Seal of the State of Nebraska."

The Great Seal of Nebraska is protected by state law (graphic images of the state seal are not in the public domain). The restrictions on the use of the state seal also apply to Nebraska's state flag (the state seal is the flag's centerpiece). Requests for permission to use images of the Nebraska state seal or state flag must be made in writing to the Secretary of State.

Neither this website, nor the information presented on this website is endorsed by the state of Nebraska or Nebraska's Secretary of State.
Source: State Symbols USA
Nebraska State Facts



Picture:

state seal of Nebraska
State Capital
Lincoln
Nickname
Cornhusker State
Motto
Equality before the law
Statehood
March 1, 1867 (37th)
Origin of Name
Based on an Otos Indian word that means "flat water," referring to the Platte River
Largest Cities
Omaha, Lincoln, Grand Island, Bellevue, Kearney
Border States
Colorado, Iowa, Kansas, Missouri, South Dakota, Wyoming
Area
78,878 sq.mi., 15th largest
State Bird
Western Meadowlark
State Flower
Goldenrod (solidago)
State Tree
Eastern Cottonwood (populus deltoides)
State Song
Beautiful Nebraska
Travel and tourism site for Nebraska - This state travel and territorial tourism site provides ideas for your vacations, meetings, and more.
Nebraska Stories
Jacob Friesen and the Blizzard of 1888



How much do you know about your local history? The fourth-graders at the Heartland Community School in Henderson, Nebraska, researched their local history and discovered a hero.

On January 12, 1888, a huge blizzard suddenly hit the state of Nebraska. A fierce northwest wind blew and the temperature fell to 40 degrees below zero in some places! The storm lasted a long time -- 12 to 18 hours. In those days, there weren't any radios or televisions to warn people about severe weather, so everyone was caught off-guard.

That afternoon, three of Jacob and Anna Friesen's children went to visit their older brother a mile and a half away. Later that day, when the blizzard hit, the children decided they had better go home. The blizzard was so harsh that it blinded them. They got lost and ended up digging themselves into a haystack just to keep warm. Meanwhile, their parents were worried about them. Their mother placed a lamp in the window and hoped they would see it and find their way home. Finally, their father went out to find the children. He followed along a barbed wire fence for a half a mile and then started calling their names. Luckily, the haystack was close enough that the children could hear him, and they all found each other. They followed the fence back to the farm and then could see their way safely to the house because of the light in the window. No doubt the children knew their dad was a hero that night.

Why not do some research into your local history? You just might find a hero, too.
Boys Town



You may have heard of Boys Town, but do you know what it is?

In 1917, a priest named Father Flanagan decided to help homeless boys by establishing the community of Boys Town near Omaha, Nebraska. It became a village in 1936. Boys Town continues to help homeless and troubled kids and now has a farm, churches, and a campus where children attend classes. The children themselves govern Boys Town. In fact, they recently voted to change the village's name to Boys and Girls Town, because girls also attend. In 1991, they elected their first female mayor, 12 years after the first girls arrived.

For many years, the symbol for Boys Town has been that of a boy carrying a younger boy. This image comes from an event that Father Flanagan witnessed. One summer day, some of the boys from Boys Town decided to go swimming. One little boy was upset that he couldn't go because he had a brace on his leg and couldn't walk easily. But a boy named Jim Edwards picked him up and started to carry him on his back. Father Flanagan encouraged the other boys to help, but Jim said to the priest, "He ain't heavy, Father, he's my brother." Father Flanagan was very moved by what Jim said and told all the boys about it. He used the story to point out, "Always take care of your fellow men."

A Celebration of Nebraska Mexican Heritage



What traditions does your family have that you'd want to pass along to others? It could be a recipe for a dish you really like to eat, or an activity that you do every year with your relatives.

Between 1900 and 1930, thousands of Mexicans arrived in Midwestern states such as Nebraska. Many came to find jobs in the United States and seek a better life. During the 1990s, the Nebraska State Historical Society started the Mexican American Traditions in Nebraska project to help collect and preserve the history of Mexican Americans in the state. As part of the project, Mexican American volunteers interviewed traditional artists, musicians, and older community members about their history, culture, and traditions.

One example was a woman from Scottsbluff, Nebraska, who told how her father, who was ill and unable to get out of bed, was still able to teach her traditional dances. Her father had a vertical board placed against his feet, and he "sounded out" the steps. His daughter would repeat the steps until they sounded right. Once she learned the dances, her father asked her to promise to teach others. She formed a dance group and she made dresses in the style of her father's birthplace in Mexico. Now many people are able to share in this tradition.
Joslyn Art Museum: Jazz on the Green



The man in the photo is playing a vibraphone. Do you know what that is?

A vibraphone is a jazz instrument that was invented around 1920. It's a percussion instrument, so a musician must beat or strike it to make sounds. It looks a little like a xylophone and has tuned metal bars that a player hits with felt or wool beaters. Striking the bars makes a soft, mellow sound. Underneath the bars are "resonators," which add vibration to the sounds that are made. In addition, small electric fans between the bars and the resonators cause a vibrato, or trembling effect. These fans are what give the instrument its name.

Thousands of people can listen to a vibraphone as they enjoy jazz music every summer at the Joslyn Art Museum in Omaha, Nebraska. Jazz was invented by African American musicians in New Orleans, Louisiana, and Kansas City, Missouri, and other cities in the late 19th and early 20th centuries. What makes it different from other music is something called improvisation. Usually a composer writes music and a musician plays it exactly as it was written. With jazz, the musicians start with a song but then improvise, or start making music up as they go along. That is why many jazz songs never sound the same way twice.
Nebraskaland Days



The man in the photo is about to be thrown off his horse. He is trying very hard to stay on a bucking bronc -- a horse that hasn't been "broken," or made suitable for riding. Bareback bronc riding is an event at the Buffalo Bill Rodeo during a celebration of Nebraskan culture called Nebraskaland Days in North Platte. The idea for the Buffalo Bill Rodeo came from the man himself, Buffalo Bill.

Buffalo Bill was born William Frederick Cody in Iowa in 1846. He became famous for his adventures as a scout and hunter in the West. On the Fourth of July in 1882, Buffalo Bill held an "Old Glory Blowout" in North Platte, Nebraska. It included buffalo riding, bucking bronc riding, steer roping, and horse racing. The town of North Platte claims it as the first rodeo ever held. The show also had a buffalo hunt and events in which people re-enacted, or demonstrated, battles. The "Old Glory Blowout" was such a success that Buffalo Bill took the show, known as "Buffalo Bill's Wild West," on the road throughout the United States and even to Europe. The Wild West show made him world famous, and he toured with it until 1916. Today, the Buffalo Bill Rodeo and Nebraskaland Days is the modern-day version of Buffalo Bill's Wild West show.

You can read more about Buffalo Bill in the "Amazing Americans" section of this Web site.
Winnebago Powwow



Have you ever been to a powwow? If you went to Winnebago, Nebraska, in July, you'd have a chance.

For five days every July, the Ho-Chunk people hold a powwow in Winnebago. A powwow is an Indian social gathering that usually includes dance and music. The Ho-Chunk Nation is a group of Indians, also known as the Winnebago, who originally lived in the Wisconsin area. They farmed and hunted bison. Beginning in the early 19th century, the United States government forced the Ho-Chunk to give up portions of their land, and they were moved to Iowa in 1840. For the next 25 years, the U.S. government made the Ho-Chunk move again and again, from Iowa to Minnesota to South Dakota. Finally, they were allowed to settle in Nebraska, though many eventually returned to Wisconsin.

The Ho-Chunk's annual powwow in Winnebago is held to honor their last war chief, Little Priest. After the Ho-Chunk moved to Nebraska, a group of them, including Little Priest, enlisted in the Army and served in a local unit. In 1866, Little Priest died from wounds he received while in the Army. Today, the powwow remembers his sacrifice and honors all Winnebago war veterans.
The Omaha Indians in Nebraska



Hundreds of years ago, the Omaha Indians lived in the middle and south Atlantic regions of the United States. They gradually migrated west with other Plains Indians until they split off in South Dakota and ended up in what is now Nebraska. In 1854 the Omaha tribe gave way to the pressure of incoming white settlers and sold the majority of the land they held to the U.S. government. Today, the Omaha Reservation is located in the northeastern corner of Nebraska on 31,148 acres.

The Omaha were traditionally farmers and hunters. Their structured class system included chiefs, priests, physicians, and commoners. Groups with common goals and duties -- called clans -- performed various functions for the tribe. The earth clan was responsible for ceremonies of war and food, and the sky clan was responsible for ceremonies relating to the supernatural. Today, music and oral tradition play important roles in the preservation and perpetuation of Omaha culture. The state's largest city, Omaha, is named after the tribe.
Source: Library of Congress

National Forests and Monuments of Nebraska



The following is a description of national forests and monuments in the state of Nebraska. There are no national parks in this state. If you plan to visit or live in Nebraska for awhile then you should definitely plan to visit some of these fantastic places.
National Forests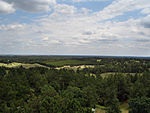 Nebraska



This forest was created in 1902 by Charles E. Bessey as an experiment to see if a forest could be created in treeless areas of the Great Plains for use as a national timber reserve. The Bessey Nursery is located in the northwest corner of the forest's Bessey Ranger District.
Samuel R. McKelvie



Located in the Sandhills of Nebraska, Samuel R. McKelvie National Forest is a combination of prairie and trees planted since 1903, of which ponderosa pine has been most successful.
National Monuments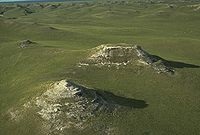 Agate Fossil Beds



The valley of the Niobrara River is known for its large number of well-preserved Miocene mammal fossils which date from about 20 million years ago.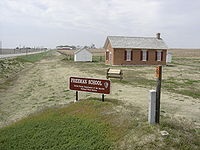 Homestead



Daniel Freeman's homestead was recognized by the United States Congress as the first homestead in the nation obtained through the Homestead Act of 1862. The monument contains a visitor center, a tract of tallgrass prairie, and the Freeman School.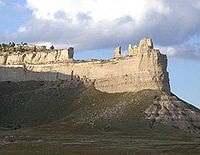 Scotts Bluff



Scotts Bluff is an important 19th century geologic formation and landmark on the Oregon Trail and Mormon Trail. It contains multiple bluffs on the south side of the North Platte River, but it is named after a prominent bluff called Scotts Bluff which rises more than 830 feet (250 m) above the plains at its highest point. The monument is composed of five rock formations named Crown Rock, Dome Rock, Eagle Rock, Saddle Rock, and Sentinel Rock.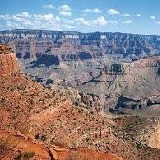 Travel America

Do you love America and American English? Learn before you travel. Facts and other cool stuff about your favorite U.S. state. Visit the Fun Easy English Travel America pages. Read about the beautiful National Forests, Parks, and Monuments. Great English reading practice.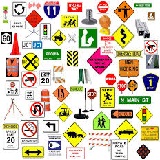 Drive America

Planning to drive in America? Learn the rules and regulations. Great English reading practice.