Classroom
Today

Learn American
English slang
beginning with
letter L



Today in the classroom you are going to learn some slang beginning with the letter L.

Hey if you cannot understand something on this page,


then use the Fun Easy English dictionary (opens in a new window)
Slang: American English Slang - Letter L



Today learn slang beginning with the letter L.
| | | |
| --- | --- | --- |
| Slang | Definition | Usage |
| lame | an inadequate | That is really a lame excuse. |
| later | See you later | We can eat dinner together tonight. Later. |
| line | story | I have heard that line a million times. |
| lip | disrespectful talk | The students are usually giving the teacher lip. |
| loser | annoying and useless | John is a loser. |
| love handles | fat around my waist | I exercise every day, but I can't get rid of these love handles. |
More Slang

From YOUR Teacher:

Loser



This slang term is used very often in casual conversations, television, movies, and in American music. Watch the following video featuring comedian Jim Carrey using loser several times in the "Ace Ventura Pet Detective" movies.
Video: Jim Carrey "Ace Ventura Pet Detective"
Additional Lessons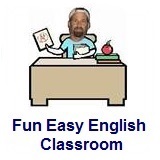 About These Lessons

The following classroom lessons are great for students who want additional listening and reading practice.
Travel America

-

Beginner Level

. Do you love America and American English? Learn before you travel. Facts and other cool stuff about your favorite U.S. state. Great English reading practice.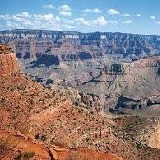 Travel America - Arkansas


(

Beginner

- Reading)

Learn some interesting facts and read interesting stories about Arkansas.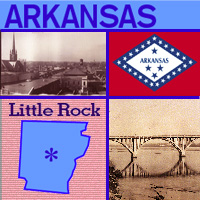 Arkansas



Arkansas, which joined the Union in 1836, was the 25th state. The early French explorers of the state gave it its name, which is probably a phonetic spelling for the French word for "downriver" people, a reference to the Quapaw Indians and the river along which they settled. Arkansas is the only state in which diamonds have been mined, although today the mine operates only as a tourist attraction. The state flower is the apple blossom. The current state nickname is the Natural State but in the past it was also known as the Land of Opportunity and the Wonder State.
Arkansas State Flag




The state flag of Arkansas is red, white, and blue to signify that Arkansas is one of the United States. The large diamond represents the only diamond producing state in the USA - Arkansas. 25 white stars show Arkansas as the 25th state to join the Union. Three blue stars below the word ARKANSAS are symbols for the three nations which ruled Arkansas before it became a state (Spain, France, and the United States), and also signify that Arkansas was the third state created out of the Louisiana Purchase. The fourth lone star above the word ARKANSAS represents the Confederacy.

In 1912 the battleship Arkansas was to be commissioned, and the Pine Bluff chapter of The Daughters of the American Revolution (DAR) promised to present the ship with an Arkansas state flag for the occasion. However, when they wrote to the Secretary of State to learn more about the flag, he replied that Arkansas had no State flag!

The DAR went into action and held a contest in Arkansas for a state flag design. Miss Willie Hocker from Wabbaseka, AR submitted the winning entry (the Confederate star was not part of this original design, but added later by legislature).



Salute To The State Flag



"I Salute the Arkansas Flag With Its Diamond and Stars. We Pledge Our Loyalty to Thee."
Source: State Symbols USA
Arkansas State Facts



Picture:

state seal of Arkansas
State Capital
Little Rock
Nickname
The Natural State / Land of Opportunity / Wonder State
Motto
Regnat Populus (The people rule)
Statehood
June 15, 1836 (25th)
Origin of Name
French interpretation of a Sioux word "acansa," meaning "downstream place."
Largest Cities
Little Rock, Fort Smith, North Little Rock, Pine Bluff, Jonesboro
Border States
Louisiana, Mississippi, Missouri, Oklahoma, Tennessee, Texas
Area
52,075 sq. mi.; 27th largest
State Bird
Mockingbird
State Flower
Apple blossom
State Tree
Pine (pinus)
State Song
Arkansas Oh, Arkansas
Travel and tourism site for Arkansas - This state travel and territorial tourism site provides ideas for your vacations, meetings, and more.
Arkansas Stories
Mountains of Arkansas



The Ozark Mountains of Arkansas are the largest mountain range between the Appalachian Mountains in the East and the Rocky Mountains in the West.

The Ozark Mountains of Arkansas may have been named for Aux Arc, a French trading post located there in the 1700s. In French, Aux Arc means "at the bow." The limestone that is found there wears away easily and is responsible for many unusual geographic features, such as caves, sinkholes and underground streams. The Ozarks region is also known for its folk crafts and outdoor recreation.
Tribute to Louis Jordan



You might have heard of Louis Armstrong and Bing Crosby, two well-known and popular musicians, but it's very possible that you've never heard of Louis Jordan, who was just as popular when he was alive.

Arkansas-born Louis Jordan (1908-1975) is considered the father of rhythm & blues, rock 'n' roll, and even rap. During the 1940s and 1950s he was one of the few African American musicians who had "crossover" appeal - that is he was popular with both black and white audiences. Jordan and his band, the Tympany Five, were one of the most popular recording acts in the country by 1942. As a result of his popularity, he starred in many Hollywood short films and received equal billing with performers like Louis Armstrong and Bing Crosby. He was even rapping decades before modern-day rap was born.

Many of his songs are still popular. "Barnyard Boogie" is featured in the movie "Babe: Pig in the City." Other songs of his that you might recognize include "Ain't Nobody Here But Us Chickens" and "Let the Good Times Roll." Louis Jordan is such an important figure in the history of rock and rap music that he is in the Rock and Roll Hall of Fame.
Little Rock Air Force Base Air Show



Have you ever been inside a fighter jet? Many cities have air shows in which different kinds of planes are flown and displayed, and if you go to one, you just might get the chance to see one of these jets up close.

Every year since 1955, the Little Rock Air Force Base has had an Air Show, where people can view U.S. Air Force aircraft, look into the cockpits of fighter jets, watch parachutists tumble from the sky, and see the aerial acrobatics of fighter jets, like the USAF Thunderbirds, the U.S. Navy Blue Angels, and the Canadian Air Force Snowbirds.

All of these fighter jets are flown by extremely skilled pilots -- only the best of the best. There is no room for error when the Thunderbirds F-16 fighter jets, the Blue Angels F/A-18 Hornet fighter/attack aircraft and the Snowbirds CT-114 Tutor aircraft scream across the sky. They all fly a mix of formation maneuvers and solo routines, sometimes flying just inches past each other. Each squadron has a set of loops, rolls, climbs and other maneuvers it performs going as fast as 1,000 mph.
Arkansas Folk Festival



The Ozark Mountains used to be an isolated place to live. Situated in northern Arkansas and parts of Illinois, Missouri, and Kansas, the Ozarks were covered by forests. The first people to live there were the Indians who were nicknamed "bluff dwellers" because they lived in the shelter of the mountains. The settlers who arrived in the 1800s were self-supporting, which means they grew their own food, hunted and raised free-range animals. Because it was isolated, a unique culture developed.

The Arkansas Folk Festival is an annual celebration of traditional Ozark culture which began in 1963. It's held the third weekend in April in Mountain View, Arkansas. Highlights are a parade, folk music concerts and workshops, a blacksmith shop, and demonstrations of such crafts as making soap, brooms, candles, pottery, dolls and toys.

The Ozark region is characterized by many underground streams and springs. Tourism is one of the region's chief industries and was given a boost by Harold Bell Wright's novel The Shepherd of the Hills (1907), which romanticized the Ozarks.
Toad Suck Daze



Have you ever seen toads race? You can at the Toad Suck Daze in Conway, Arkansas -- a yearly celebration of local culture and history. In addition to regular festivity events such as music, arts and crafts, a business and professional exposition, foot races, dancing, and a fire fighter's competition, the toad race competition takes place on an 8-foot course. And there are strict rules for the race:

No frogs -- only toads are allowed to race. What's the difference between a frog and a toad? See below.

The toad cannot be prodded, pushed or shoved.

Toads may not be thrown, or otherwise propelled other than by their own power, over the finish line.

You may touch your toad only to place it back in its lane once it has jumped out of bounds.

Although related, a toad is not the same as a frog. Toads do not spend as much time in the water as frogs; they are generally squatter, shorter and have weaker limbs; and they are rough, dry and warty rather than smooth and moist-skinned.
Quapaw Quarter Spring Tour of Homes



Do you think it's important to save historic houses? Some people in Little Rock, Arkansas, do. In 1961 the name "Quapaw Quarter" was established to provide a special term for the oldest and most historic section of Little Rock. The creators of the name borrowed "Quapaw" from the Quapaw Indians, who once inhabited central Arkansas. The Quapaw Quarter Association was founded in 1968 to preserve, protect, and enhance the historic buildings, sites, and neighborhoods of Quapaw Quarter and central Arkansas.

Many homes and churches were built in the Quapaw Quarter from 1870 to 1920. Unfortunately, many of these structures were destroyed during the urban development of the 1950s and '60s. The few local residents who protested these demolitions met with little success. So in 1963 they decided to establish an event that would focus attention on the great loss to the city's character and offer tours of these houses. One historic house that was not destroyed was the Villa Marre house, which was saved and restored by the Quapaw Quarter Association. This house was used in the TV show "Designing Women," and has become a nationally recognized symbol for the quality of Little Rock's historic resources. Although the show has been canceled, you can still see reruns. Pay special attention to the house. It's a beauty.
World Championship Duck Calling Contest



Most people think about turkey for Thanksgiving, but in Stuttgart, Arkansas, the World Championship Duck Calling Contest takes place Thanksgiving week. More than 60,000 people attend the festival, which is the oldest in the state. The first duck-calling contest, held in 1936, had 17 contestants, with the first prize of a hunting coat valued at $6.60. Today the contest is held in six divisions, including junior, intermediate, and women, and the prize package is worth more than $15,000.

There are four basic types of duck calls. The "hail call" is a series of loud, pleading quacks that attract a flock's attention. Once you see ducks react to the hail, either by turning or slowing down, stop hailing them. As the ducks get closer, switch to a "greeting call," a series of five excited quacks. Then you use the "feed call" when they get close. Done properly, it mimics a group of contented ducks on the water. If the ducks are leaving, try the "come-back call." It's similar to the greeting call, but with louder, longer, pleading quacks. If your come-back call makes the ducks turn around, go back to the feed call. All of this quacking may sound easy, but it isn't. Just try it and see!
Source: Library of Congress

National Forests and Parks of Arkansas



The following is a description of national forests and parks in the state of Arkansas. There are no national monuments in this state. If you plan to visit or live in Arkansas for awhile then you should definitely plan to visit some of these fantastic places.
National Forests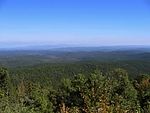 Ouachita



Including the namesake Ouachita Mountains, this forest has nearly 800,000 acres (320,000 ha) of old-growth forest. The forest has two wilderness areas: Black Fork Mountain and Upper Kiamichi River. This national forest is also partially located in the state of Oklahoma.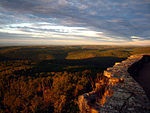 Ozark-St. Francis



Ozark-St. Francis National Forest has more than 400 mi (640 km) of trails, including the Ozark Highlands Trail. Blanchard Springs Caverns is a three level cave system that is open for public tours.
National Parks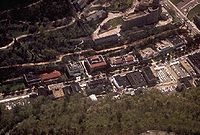 Hot Springs



Hot Springs was established as a federal reserve by Congress on April 20, 1832—the oldest area managed by the National Park Service. Congress redesignated Hot Springs as a national park on March 4, 1921. Natural hot springs flow out of the Ouachita Mountains, providing opportunities for relaxation in a historic setting. Bathhouse Row preserves numerous examples of 19th-century architecture.[66] Hot Springs is the first national park in a city and was the smallest national park until February 22, 2018 when the Jefferson National Expansion Memorial was redesignated Gateway Arch National Park.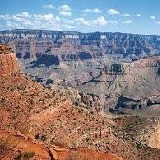 Travel America

Do you love America and American English? Learn before you travel. Facts and other cool stuff about your favorite U.S. state. Visit the Fun Easy English Travel America pages. Read about the beautiful National Forests, Parks, and Monuments. Great English reading practice.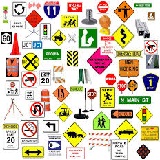 Drive America

Planning to drive in America? Learn the rules and regulations. Great English reading practice.
Additional Information
Study Tips


(

Beginner

- Listening)

Avoid Ineffective Study Methods. An audio lesson to help you study English more effectively. The English is

spoken at 75% of normal speed

. Great English study tips.
Click here to visit the lesson page with the written script for this audio program.