Additional Lessons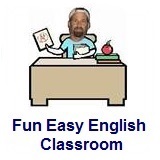 About These Lessons

The following classroom lessons are great for students who want additional listening and reading practice.
Travel America

-

Beginner Level

. Do you love America and American English? Learn before you travel. Facts and other cool stuff about your favorite U.S. state. Great English reading practice.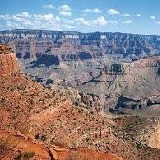 Travel America - Massachusetts


(

Beginner

- Reading)

Learn some interesting facts and read interesting stories about Massachusetts.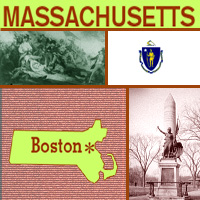 Massachusetts



One of the six New England states, and one of the first 13 states in the Union (it entered in 1788), Massachusetts is known as the "Bay State" or as the "Old Colony State." The Pilgrims established their settlement at Plymouth in 1620, arriving on the Mayflower. They were followed shortly by the Puritans, who established the Massachusetts Bay Colony. The Puritans named their colony after a local Indian tribe whose name means "a large hill place." The birthplace of many of the ideals of the American Revolution, Massachusetts attracted people who believed in self-government. It's appropriate that the state flower is the mayflower, also known as the trailing arbutus.
Massachusetts State Flag




The flag of Massachusetts features the state's coat of arms against a field of white (on both sides of the flag).

The Massachusetts state flag was approved in its final form in 1971 (previously a green pine tree adorned the obverse side of the flag). The coat of arms includes the state's Latin motto: "Ense petit placidam sub libertate quietem" ("By the sword we seek peace, but peace only under liberty").
Source: State Symbols USA
Massachusetts State Facts



Picture:

state seal of Massachusetts
State Capital
Boston
Nickname
Bay State / Old Colony State
Motto
Ense Petit Placidam Sub Libertate quietem (By the Sword We Seek Peace, But Peace Only Under Liberty)
Statehood
May 16, 1788 (6th)
Origin of Name
Named after local Indian tribe whose name means "a large hill place."
Largest Cities
Boston, Worcester, Springfield, Lowell, New Bedford
Border States
Connecticut, New Hampshire, New York, Rhode Island, Vermont
Area
7,838 sq. mi.; 45th largest
State Bird
Black-capped Chickadee (Penthestes atricapillus)
State Flower
Mayflower (epigaea regens)
State Tree
American Elm (ulmus americana)
State Song
Hail Massachusetts
Travel and tourism site for Massachusetts - This state travel and territorial tourism site provides ideas for your vacations, meetings, and more.
Massachusetts Stories
Feast of the Blessed Sacrament



Have you ever heard of a place named Madeira?

Madeira is a semi-tropical island in the Atlantic Ocean approximately 600 miles southwest of Portugal. As far back as the late 1700s, whaling ships from New Bedford, Massachusetts, visited Madeira for supplies and to hire skilled crews for long whaling voyages. Whale ships returning to New Bedford brought the Madeiran sailors with them, and many settled in the area. Today, New Bedford has the largest population of people with Madeiran ancestry in the United States.

Because of this connection to Madeira, New Bedford is home to the largest Portuguese feast in the world. The Feast of the Blessed Sacrament is an annual four-day event that begins with the Benediction of the Blessed Sacrament, a medieval rite of devotion, followed by a parade that lasts two and a half hours. Traditional Portuguese food is served and music is performed. The original feast was a strictly religious celebration begun in 1915 by four immigrants from Madeira as a re-creation of the feast celebrated in their home villages.
The Boston Massacre

Do you know who is considered to be the first hero of the American Revolution?

The Boston Massacre was a struggle that took place in Boston, Massachusetts, on March 5, 1770, just before the start of the American Revolution. Late that day, a crowd of colonists gathered to shout at and bother some British troops. Boston residents were resentful of the presence of the troops in their city. As tension mounted, the soldiers suddenly fired their muskets. Five colonists were shot and killed. Crispus Attucks, a black sailor and former slave, was shot and became the first person to die in the American Revolution.

The violent incident became a rallying point for American patriots, led by Samuel Adams. Crispus Attucks's body was laid out at Faneuil (pronounced fan-yule) Hall in Boston. Patriot leaders organized a funeral procession for the five who were killed. Paul Revere produced the engraving shown here of the Boston Massacre. It was used as propaganda (something used to help or harm a cause or individual) to demand the removal of British troops from Boston. Due to the increasing tension in the city, British troops temporarily withdrew from Boston to Fort William on Castle Island. The British solders involved in the Boston Massacre were also brought to trial. Two of them were found guilty of manslaughter, punished, and discharged from the army.
The Jackson Homestead -- Station on the Underground Railroad



If you were an escaped slave before the Civil War the best way to travel was along the Underground Railroad. This wasn't a real railroad but a secret system located throughout the Northern states. The system helped escaped slaves from the South reach places of safety in the North or in Canada, often called the "Promised Land," because U.S. slave laws could not be enforced there. The slaves often wore disguises and traveled in darkness on the "railroad." Railway terms were used in the secret system: Routes were called "lines," stopping places were called "stations," and people who helped escaped slaves along the way were "conductors." One of the most famous "conductors" on the Underground Railroad was Harriet Tubman (an "Amazing American"), a former slave who escaped from Maryland.

William Jackson's house in Newton, Massachusetts, was a "station" on the Underground Railroad. The Jacksons were abolitionists, people who worked to end slavery. Today, the Jackson House is a museum with a large collection of historical objects and documents that are used for research into Newton's past.
World's Largest Pancake Breakfast



When you think of pancakes you might think of the kind served in America, hot with melted butter and maple syrup. But in reality, people around the world love pancakes. As a result, there are lots of different kinds. In America, pancakes are made with buttermilk and served for breakfast. In Russia, pancakes are called blinis, and are made from buckwheat flour and often served with caviar and sour cream. The Chinese use wheat flour and hot water to make pancakes in dozens of ways. In France, pancakes come in the form of a lacy crepe. In India, there's the Gujarati pancake. Crispy and wafer-thin, it comes stuffed with spicy potatoes and yogurt. Did you know there were so many ways to make and serve pancakes?

In 1986, an event that bills itself as the World's Largest Pancake Breakfast was revived for the 350th anniversary of Springfield, Massachusetts. The breakfast has been held every year since then. Hundreds of volunteers help with the event. In 1999, more than 71,233 servings of pancakes were served to more than 40,000 people. If you stacked up all those pancakes, they'd be more than 2 miles high!
The Holyoke St. Patrick's Day Parade



When you think of St. Patrick's Day you probably think of four-leaf clovers and leprechauns, right? But how much do you know about St. Patrick himself?

According to legend, St. Patrick drove the snakes from Ireland. No one really knows if this story is true, since chances are there never were any snakes in Ireland to begin with. Ireland is an island nation that was separated from the rest of the European continent during the Ice Age -- more than 1.6 million years ago. Different tales tell of St. Patrick standing upon a hill, using a wooden staff to force the serpents into the sea, and driving them away from Ireland forever.

Whether or not this is true, March 17 is celebrated as St. Patrick's Day in many parts of the world. Many Irish people immigrated to the United States during the Great Potato Famine of the mid-19th century. Holyoke, Massachusetts, is home to one of the largest St. Patrick's Day parades in North America. It attracts hundreds of thousands of spectators with 15,000 marchers. You don't have to be Irish to participate in or enjoy the parade, but it just so happens that Massachusetts is home to the descendants of many Irish Immigrants.
New England Confectionery Company (NECCO)



Have you ever eaten a NECCO wafer? Even if you have, you probably don't know that they are very tough! In the 1930s, Admiral Byrd took 2 1/2 tons of NECCO Wafers to the South Pole -- almost a pound a week for each of his men during their two-year stay in the Antarctic. During World War II, the U.S. government ordered a major portion of the production of the wafers. Since the candy doesn't melt and is "practically indestructible" during transit, it was the perfect food to ship overseas to the troops.

Established in 1847, the New England Confectionery Company (NECCO) is the oldest continuously operating candy company in the United States. NECCO's delicious beginnings date back to the mid-19th century, when brothers Oliver and Daniel Chase of Boston invented and patented many candy-making devices. Oliver invented a lozenge cutter, the first American candy machine, and in 1850, he invented a machine for crushing sugar into a dust.

In 1866, Daniel Chase invented the Lozenge Printing Machine, creating "conversation candies," which had instant and widespread popularity. Do you know what the most famous "conversation candies" are? NECCO is the number one maker in the United States of the famous Valentine conversation hearts with romantic words and messages stamped on them. About 8 billion a year are produced!
Fenway Lives: Baseball Culture



Baseball is known as America's favorite pastime and Fenway Park in Boston, Massachusetts, is major league baseball's oldest ballpark. Bostonians have come to love the park as much as they do the team that plays there. Fenway Park, which opened on April 20, 1912, got its name because it was in an area of Boston known as the Fens.

Fenway Park has played a big role in American baseball legend. The largest baseball crowd ever at Fenway was 47,627, for a Yankees doubleheader on September 22, 1935. The longest measurable home run ever hit inside Fenway Park landed in the right-field bleachers. The seat is painted red to mark the spot. Ted Williams hit the home run on June 9, 1946, off Fred Hutchinson of the Detroit Tigers. The blast was measured at 502 feet. Legend says that the ball crashed through the straw hat of the man sitting in the seat -- Section 42, Row 37, Seat 21!

Today, Fenway is one of major league baseball's few remaining old ballparks. There has been talk of replacing it with a more modern structure, but many people in Boston want to restore, rather than replace, their beloved Fenway. In 1998, they organized Save Fenway Park! to promote ways to preserve the old ballpark.
Source: Library of Congress

Massachusetts



There are no national forests, parks, or monuments in this state.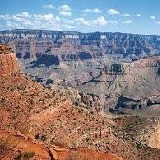 Travel America

Do you love America and American English? Learn before you travel. Facts and other cool stuff about your favorite U.S. state. Visit the Fun Easy English Travel America pages. Read about the beautiful National Forests, Parks, and Monuments. Great English reading practice.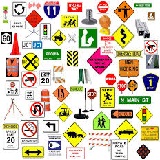 Drive America

Planning to drive in America? Learn the rules and regulations. Great English reading practice.