Classroom
Today

Learn American
English slang
beginning with
letter K



Today in the classroom you are going to learn some slang beginning with the letter K.

Hey if you cannot understand something on this page,


then use the Fun Easy English dictionary (opens in a new window)
Slang: American English Slang - Letter K



Today learn slang beginning with the letter K.
| | | |
| --- | --- | --- |
| Slang | Definition | Usage |
| K | thousand dollars | His salary is thirty K. |
| kegger | beer party | There is supposed to be a kegger at John's house tonight. |
| kick back | relax | I think that we should kick back at the park today. |
| kickback | money paid illegally for favorable treatment | The company received a kickback from the politician during the recent elections. |
| kick off | die | It looks like the old parrot is ready to kick off. |
| killer | great | Your new handbag is killer. |
| klutz | clumsy person | He is a real klutz. |
| knock | criticize | Don't knock it until you have tried it. |
| knockout | stunning person | Who was that knockout I saw you with last Friday? |
| knuckle sandwich | punch in the mouth | Shut up or I'll give you a knuckle sandwich. |
| kook | strange person | That guy is a real kook. |
More Slang

From YOUR Teacher:

Klutz



A klutz, a word often associated with the Yiddish language, is a clumsy person. For example someone who is always knocking things over or dropping things.
Additional Lessons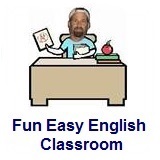 About These Lessons

The following classroom lessons are great for students who want additional listening and reading practice.
Travel America

-

Beginner Level

. Do you love America and American English? Learn before you travel. Facts and other cool stuff about your favorite U.S. state. Great English reading practice.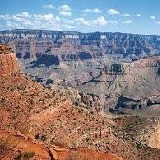 Travel America - Arizona


(

Beginner

- Reading)

Learn some interesting facts and read interesting stories about Arizona.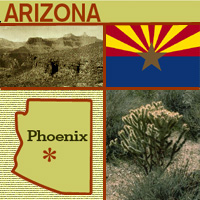 Arizona



The "Grand Canyon State," Arizona, was the 48th state to join the U.S. in 1912-- the last of 48 contiguous (connected) states to join the Union. The state's name comes from arizonac, from two Papago Indian words meaning "place of the young spring." Arizona has a very dry climate and is known for its cactus plants. In fact, the state flower is the saguaro cactus blossom.
Arizona State Flag




The state flag of Arizona "represents the copper star of Arizona rising from a blue field in the face of a setting sun" (quote from legislation).

In 1911 a rifle team from the Arizona Territory was scheduled for a competition match in Ohio and needed a flag to represent their team. Charles Harris (the Adjutant General of the territory) quickly designed what was to become the Arizona state flag (Arizona was admitted to the Union in 1912 - this flag became the official flag of Arizona in 1917).

The 13 gold and red "beams" or "rays" on Arizona's flag represent the sun setting over the western desert and the original 13 colonies (red and gold colors were also carried by Coronado's Spanish expedition in search of the Seven Cities of Cibola in 1540).

The center star signifies copper production (Arizona produces more copper than any other state in the country). The field of blue is the same "liberty blue" as the United States flag. Blue and "old gold" are also Arizona's official state colors.
Source: State Symbols USA
Arizona State Facts



Picture:

state seal of Arizona
State Capital
Phoenix
Nickname
Grand Canyon State
Motto
Ditat Deus (God enriches)
Statehood
February 14, 1912 (48th)
Origin of Name
Spanish interpretation of "arizuma," an Aztec Indian word meaning "silver-bearing." Also based on Pima Indian word "arizonac" for "little spring place."
Largest Cities
Phoenix, Tucson, Mesa, Glendale, Scottsdale
Border States
California, Colorado, Nevada, New Mexico, Utah
Area
113,642 sq. mi., 6th largest
State Bird
Cactus Wren
State Flower
Saguaro cactus blossom (carnegiea gigantea)
State Tree
Palo verde (cercidium)
State Song
Arizona
Travel and tourism site for Arizona - This state travel and territorial tourism site provides ideas for your vacations, meetings, and more.
Arizona Stories
The Annual Waila Festival



Would you ever guess that 'waila' was a kind of social dance music? Also known as "chicken scratch" music, waila music is featured at the Annual Waila Festival in Tucson.

Waila music comes from the Tohono O'odham, the native people of the Sonoran desert and the largest Indian nation of southern Arizona. Waila (pronounced why-la) is an O'odham word that comes from the Spanish word "baile," which means "to dance." There are no words to waila music -- it is only instrumental, and is played on a button accordion, alto saxophone, electric six-string and bass guitars, and drums.

Waila began from the music of early fiddle bands that adapted European and Mexican tunes heard in northern Sonora. The dances performed in the waila tradition are the waila (which is similar to a polka), the chote (based on a folk dance from Scotland or Germany), and the mazurka (based on a Polish folk dance). Regardless of the beat, all waila dances are performed while moving around the floor in a counterclockwise direction.
Arizona's Grand Canyon



The Grand Canyon is an immense steep valley in northwestern Arizona. Do you know what led the first European to go there?

García López de Cárdenas, a Spanish explorer, was the first European to see the Grand Canyon, in 1540. He stumbled across it in his search for fabled cities thought to be filled with treasure and riches -- the Seven Golden Cities of Cibola. His journey was considered a failure because he never found the gold he sought.

Native Americans, called the Anasazi, lived along the Grand Canyon long before Europeans ever set eyes on it. The Anasazi, who are thought to be the ancestors of the present-day Hopi, lived in caves and pit houses along the edges of the canyon in pueblos (towns). The Hopi believe the Grand Canyon is a Sipapu, a place from which all people emerged from another world into this one.
Grand Canyon Mule Trail Rides



Would you like to take a trip into the Grand Canyon? Then, hold on to your horses -- or better yet, your mule. That's right, mule. Mules are well suited for traversing the Grand Canyon. They are three times as strong as a horse, more sure-footed, intelligent, and trainable. They are known for having a stubborn nature, but this is due to their strong sense of self-preservation.

Riding into the canyon, "is not a pony ride at Disneyland," according to Ron Clayton, manager of the Grand Canyon Mule Operation. He prepares people who want to take the trip for a tough, yet satisfying, experience. Riders have a choice of two separate trips leaving the South Rim of the Canyon: the first is a one-day ride down Bright Angel Trail to Plateau Point, where the mule riders can look out over the Colorado River. The second is an overnight ride that ends at Phantom Ranch, where riders can spend one or two nights exploring the bottom of the Canyon. Are you ready to saddle up?
Hashknife Pony Express



If you thought the pony express was a thing of the past, think again. Did you know you can still have mail delivered by horses?

Arizona has the only pony express that still delivers mail for the U.S. Postal Service. The Hashknife Pony Express makes its ride every January during the Parada del Sol festival, traveling 200 miles from Holbrook, Arizona, to Scottsdale, Arizona, and delivering 20,000 first-class letters by horseback. The ride is led by the Navajo County Hashknife Sheriff's Posse, which was organized as a search-and-rescue group in 1955. More than two dozen riders in authentic cowboy clothing carry the mail, relaying the bags along the route. As the word has spread about the ride, public participation has increased, with many letters arriving in the Holbrook Post Office the week before the ride, marked "via Pony Express." Each letter is stamped with a special mark, or cachet. The arrival of the Hashknife Pony Express in Scottsdale kicks off the annual Parada del Sol.
Arizona Book Festival



What do you need to have a book festival? Authors, readers, and, of course, books! One component of books is paper, and in this photo you can see kids at the Arizona Book Festival, learning how to make paper.

The Arizona Book Festival started in 1998 when the Arizona Humanities Council decided to feature the many good writers from the South and West and to sponsor book-related events that take place in libraries, bookstores, community centers, and other educational and cultural spaces. The authors invited to the Arizona Book Festival represent different cultures, literary styles, and subject matter.

Barbara Kingsolver is one of the authors from the Southwest who is honored at the festival. Born in Kentucky, Kingsolver moved to Arizona, and her first novel, The Bean Trees, is about a young woman who leaves rural Kentucky and finds herself living in Tucson, Arizona. Many of her other novels also take place in Kentucky and Arizona.

Other events at the festival include characters from books, who make special appearances, like Clifford the Big Red Dog.
The Bill Williams Mountain Men of Williams, Arizona



What would you do to keep a legend alive? Would you dress up in old-fashioned clothing and follow old trails, sleeping under the stars? That's exactly what the Bill Williams Mountain Men do as they explore the mountains, canyons, and deserts of Arizona during their annual spring 200-mile Rendezvous Ride.

The group is named after "Old Bill Williams," a legendary fur trapper who was born in North Carolina and traveled to the mountains of the West for adventure and to preach. It is believed Old Bill was killed in Southern Colorado in 1849.

The Bill Williams Mountain Men wear buckskin outfits, hats and moccasins. They sleep under the stars and re-enact the rides of the early trappers who made their trips in the spring to sell their furs. These "Mountain Men" are businessmen, doctors, judges, and ranchers who do this to raise money for charities and scholarships for students. They also visit schools and hospitals to bring the story of Arizona's Western heritage to youth. They often take part in parades or presidential inaugurations, all in the effort to keep alive the memory and romance of an adventurous group of mountain men, particularly Old Bill Williams.
Gold Rush Days in Wickenburg, Arizona



How would you like to strike gold? There is a gold rush going on in Wickenburg, Arizona. You just have to get in and muck about! Every year, the Wickenburg Chamber of Commerce sponsors a festival to celebrate the town's mining and ranching heritage, and participants get to shovel and pan for gold!

Wherever gold is discovered, there is usually a large rush of people who are hoping to get rich quick, which is why it is called a "gold rush." When Henry Wickenburg, an adventurer, discovered gold along the Hassayampa River in 1863, it caused a gold rush, and the town was founded.

In 1948, the Wickenburg Chamber of Commerce decided to hold a festival in honor of this discovery. Contests include a drilling and mucking contest and a gold-panning contest. Drilling and mucking is the way that gold is taken from the ground. A mucker is a machine that gets the rock out of the ground and moves broken rock onto a conveyor belt. A hand mucker is a man who shovels ore and unwanted rock out of a mine. Gold panning is the way in which gold dust and flecks are removed from streams and rivers. It takes a lot of work to strike gold!
Source: Library of Congress

National Forests, Parks, and Monuments of Arizona



The following is a description of national forests, parks, and monuments in the state of Arizona. If you plan to visit or live in Arizona for awhile then you should definitely plan to visit some of these fantastic places.
National Forests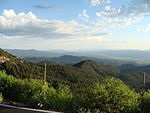 Apache-Sitgreaves



Encompassing the Mogollon Rim and White Mountains, this forest includes 34 lakes and over 680 miles (1,090 km) of rivers and streams, more than any other National Forest in the arid Southwest. This national forest is also partially located in the state of New Mexico.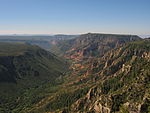 Coconino



The San Francisco Peaks, Mogollon Rim, and Oak Creek Canyon can be found in Coconino National Forest. The forest's Sycamore Canyon is the second largest canyon in Arizona's redrock country. The forest also contains Humphreys Peak, which at 12,637 ft (3,852 m) is the highest point in Arizona.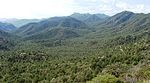 Coronado



Covering the sky islands of the Southwest, Coronado National Forest also includes Mount Wrightson and the birding destination of Madera Canyon. There are eight wilderness areas in the forest as well as observatories on Mount Hopkins and Mount Lemmon. This national forest is also partially located in the state of New Mexico.
Kaibab



Located on the Colorado Plateau to both the north and south of Grand Canyon National Park, elevations in Kaibab National Forest reach 10,418 ft (3,175 m) on Kendrick Mountain in the Kendrick Mountain Wilderness. There are over 300 mi (480 km) of trails in the forest, including through the Kanab Creek Wilderness.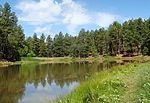 Prescott



Vegetation in Prescott National Forest ranges from that characteristic of the Sonoran Desert at lower elevations to Ponderosa pine at higher elevations. There are eight wilderness areas and 450 mi (720 km) of trails in the forest.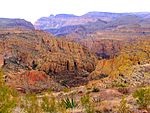 Tonto



Tonto National Forest stretches from the Sonoran Desert to the pine forests at the Mogollon Rim. There are eight wilderness areas and several lakes and reservoirs in the forest.
National Parks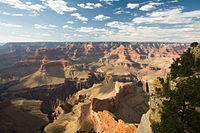 Grand Canyon



The Grand Canyon, carved by the mighty Colorado River, is 277 miles (446 km) long, up to 1 mile (1.6 km) deep, and up to 15 miles (24 km) wide. Millions of years of erosion have exposed the multicolored layers of the Colorado Plateau in mesas and canyon walls, visible from both the north and south rims, or from a number of trails that descend into the canyon itself.
Petrified Forest



This portion of the Chinle Formation has a large concentration of 225-million-year-old petrified wood. The surrounding Painted Desert features eroded cliffs of red-hued volcanic rock called bentonite. Dinosaur fossils and over 350 Native American sites are also protected in this park.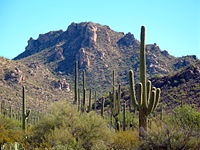 Saguaro



Split into the separate Rincon Mountain and Tucson Mountain districts, this park is evidence that the dry Sonoran Desert is still home to a great variety of life spanning six biotic communities. Beyond the namesake giant saguaro cacti, there are barrel cacti, chollas, and prickly pears, as well as lesser long-nosed bats, spotted owls, and javelinas.
National Monuments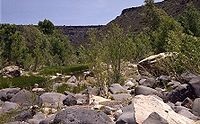 Agua Fria



Located around the canyon of the Agua Fria River, it contains more than 450 distinct Native American structures, including large pueblos with more than 100 rooms.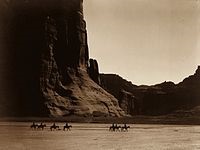 Canyon de Chelly



Located within the boundaries of the Navajo Nation, it preserves the valleys and rims of the canyons of de Chelly, del Muerto, and Monument, all of which are Navajo Tribal Trust Lands.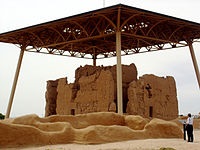 Casa Grande Ruins



This monument preserves a group of structures surrounded by a compound wall in the Gila Valley that were built in the early 13th century. They were inhabited by the Hohokam people until they were abandoned in the mid-15th century.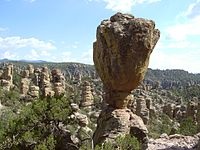 Chiricahua



These pillars of rhyolite tuff are the eroded remains of an immense volcanic eruption that shook the region some 27 million years ago. It was called the Land of the Standing-Up Rocks by the Apache.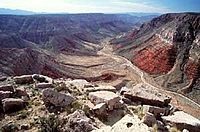 Grand Canyon-Parashant



Located on the northern rim of the Grand Canyon, this diverse landscape includes an array of scientific and historic resources. About 20,000 of the monument's 1,017,000 acres (4,120 km2) are also within Lake Mead National Recreation Area; Grand Canyon-Parashant is not considered an official NPS unit. There are no paved roads or visitor services.
Hohokam Pima



Hohokam Pima is part of the Gila River Indian Community and not open to the public. The monument preserves the Snaketown-Settlement, archeological remains of the Hohokam culture, which lived in the area until 1500.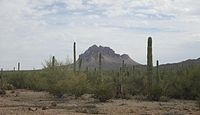 Ironwood Forest



Located within the Sonoran Desert, significant concentrations of ironwood (Olneya tesota) trees and two endangered animal and plant species are found within the monument. More than 200 Hohokam and Paleoindian archeological sites have been identified from between 600 and 1450 AD.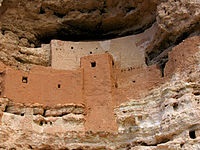 Montezuma Castle



Montezuma Castle features cliff dwellings built by the Pre-Columbian Sinagua people between 1100 and 1400 AD. The site's name is a misnomer as is it has no connection to Montezuma. However, some modern day native tribes that do have connections to the site include the Yavapai, Hopi, and Zuni. The monument also includes Montezuma Well, which has been used for irrigation since the 8th century.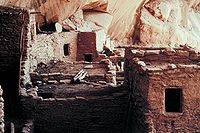 Navajo



This monument preserves three of the most intact cliff dwellings of the Ancestral Puebloan people. The monument is high on the Shonto plateau, overlooking the Tsegi Canyon system on the Navajo Nation in Northern Arizona.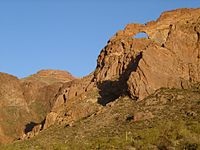 Organ Pipe Cactus



This monument is the only place in the United States where the organ pipe cactus grows wild. There are many other types of cacti and desert flora native to the Sonoran Desert. The Bates Well Ranch and Dos Lomitas Ranch are also within the monument.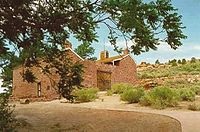 Pipe Spring



Rich with Native Americans, early explorer and Mormon pioneer history, this site shows Ancestral Puebloans and Kaibab Paiute Indian and pioneer life in the Old West, including the cabin where explorer John Wesley Powell's survey crew stayed in 1871. The water of Pipe Spring, discovered in 1858, made it possible for plants, animals, and people to live in this dry desert region.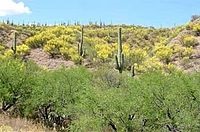 Sonoran Desert



This monument protects a small portion of the Sonoran Desert. It is home to several federally listed endangered species and also has three wilderness areas, many significant archeological and historic sites, and remnants of several important historic trails.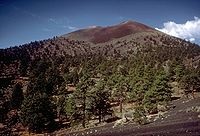 Sunset Crater Volcano



Sunset Crater is the youngest in a string of volcanoes in the San Francisco volcanic field that is related to the nearby San Francisco Peaks. Final volcanic activity in the 13th century painted the upper portion of the cone with bright red and orange rocks, giving the volcano its name.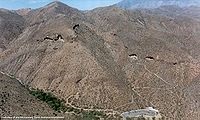 Tonto



Lying on the northeastern edge of the Sonoran Desert along the Salt River, Tonto preserves two cliff dwellings that were occupied by the Salado culture during the 13th to 15th centuries. The monument is surrounded by Tonto National Forest.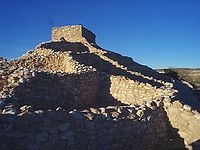 Tuzigoot



Tuzigoot preserves a two- to three-story pueblo ruin on the summit of a limestone and sandstone ridge in the Verde Valley. It was built by the Sinagua people between 1125 and 1400.
Vermilion Cliffs



Steep eroded escarpments consisting primarily of sandstone, siltstone, limestone and shale rise as much as 3,000 feet (910 m) above their base. These sedimentary rocks have been deeply eroded for millions of years, exposing hundreds of layers of richly colored rock strata. The monument protects Paria Plateau, Vermilion Cliffs, Coyote Buttes and Paria Canyon.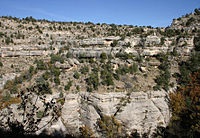 Walnut Canyon



Walnut Canyon protects 25 cliff dwelling rooms constructed by the Sinagua people. It lies on the Colorado Plateau and cuts through the Permian Kaibab Limestone, which exposes the Toroweap Formation and Coconino Sandstone.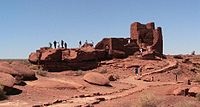 Wupatki



Many settlement sites built by the Sinagua, Cohonina, and Ancestral Puebloans are scattered throughout the monument. About 2000 Ancient Pueblo People moved here to farm after an 11th century eruption of Sunset Crater.
Travel America
Saguaro National Park


(

Beginner

- Listening, reading)

A video lesson which shows you an interesting place in America.
The English is

spoken at 75% of normal speed

.
Great English listening and reading practice.
This video is all about Saguaro National Park.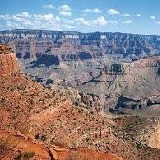 Travel America

Do you love America and American English? Learn before you travel. Facts and other cool stuff about your favorite U.S. state. Visit the Fun Easy English Travel America pages. Read about the beautiful National Forests, Parks, and Monuments. Great English reading practice.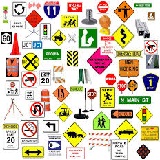 Drive America

Planning to drive in America? Learn the rules and regulations. Great English reading practice.
Additional Information
Study Tips


(

Beginner

- Listening)

Avoid Ineffective Study Methods. An audio lesson to help you study English more effectively. The English is

spoken at 75% of normal speed

. Great English study tips.
Click here to visit the lesson page with the written script for this audio program.