Classroom
Today

Learn American
English vocabulary
beginning with
letter K

American English Vocabulary

Today in the classroom you are going to learn some words you should know beginning with the letter K.

Hey if you cannot understand something on this page,


then use the Fun Easy English dictionary (opens in a new window)
American English Vocabulary - Letter K



The words on this page came from the VOA, Voice of America, Special English Word Book. Use the Fun Easy English dictionary for a more detailed explanation of each word.
keep

- v. to possess; to have for oneself

kick

- v. to hit with the foot

kidnap

- v. to seize and take away by force

kill

- v. to make dead; to cause to die

kind

- n. sort ("What kind of dog is that?"); ad. gentle; caring; helpful

kiss

- v. to touch with the mouth to show love or honor

knife

- n. a tool or weapon used to cut

know

- v. to understand something as correct; to have the facts about; to recognize someone because you have met and talked together before

knowledge

- n. that which is known; learning or understanding

From YOUR Teacher: Words You Should Know



Fun Easy English Words You Should Know comes from the VOA, Voice of America, Special English Word Book Vocabulary. Special English, now called Learning English, consists of 1,500 essential words which anyone learning English should know.
News Words - Letter K



The videos on this page came from the VOA, Voice of America, News Words program. Use the Fun Easy English dictionary for a detailed explanation of words you do not understand.

Click the full screen button on the video

to make it easier to watch and to read the video script.
Word
Video
Kickoff
Additional Lessons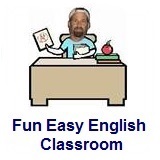 About These Lessons

The following classroom lessons are great for students who want additional listening and reading practice.
Travel America

-

Beginner Level

. Do you love America and American English? Learn before you travel. Facts and other cool stuff about your favorite U.S. state. Great English reading practice.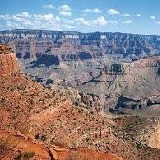 Travel America - Colorado


(

Beginner

- Reading)

Learn some interesting facts and read interesting stories about Colorado.
Colorado



Called the "Centennial State," because it became the 38th state when the U.S. turned 100 in 1876, Colorado is most closely associated with the Rocky Mountains and has numerous peaks over 14,000 feet. The state's name comes from a Spanish word meaning "red" or "ruddy," the color of much of the state's terrain. Today, Colorado is known for its vast cattle ranges, agricultural acreage, and snow-covered mountains that are ideal for winter sports. Its capital is Denver and state flower is the Rocky Mountain columbine.
Colorado State Flag




The Colorado state flag consists of three equally sized stripes; the outer stripes are the same color blue as the national flag, separated by a white center stripe. There is a large semi-circular "C" on the flag, which is the same shade of red as the U.S. national flag. In the opening of the letter "C" there is a gold disc.

The colors in Colorado's flag represent the environmental features of the state. White symbolizes the snow on her mountains, gold acknowledges the abundant Colorado sunshine, red represents Colorado's red soil, and blue is a symbol of her clear blue skies. Colorado has flown many flags - three countries and eight Territories have laid claim to (and flown their flags over) what is now the state of Colorado.
Source: State Symbols USA
Colorado State Facts



Picture:

state seal of Colorado
State Capital
Denver
Nickname
Centennial State
Motto
Nil Sine Numine (Nothing without Providence)
Statehood
August 1, 1876 (38th)
Origin of Name
From the Spanish for the color red, which was applied to the Colorado River.
Largest Cities
Denver, Colorado Springs, Aurora, Lakewood, Fort Collins
Border States
Arizona, Kansas, Nebraska, New Mexico, Oklahoma, Utah, Wyoming
Area
103,730 sq. mi.; 8th largest
State Bird
Lark Bunting
State Flower
Rocky Mountain Columbine (aquilegia caerules)
State Tree
Colorado Blue Spruce (picea pungens)
State Song
Where the Columbines Grow
Travel and tourism site for Colorado - This state travel and territorial tourism site provides ideas for your vacations, meetings, and more.
Colorado Stories
Cinco de Mayo



Did you know that Colorado used to be owned by Spain? In the early 1700s the area that is now Colorado was claimed by Spain, and eventually France controlled most of it. Later, in 1803, the Eastern part of Colorado became part of the Louisiana Purchase (a deal between France and the U.S.), with the rest remaining in Spanish, and later, Mexican, control until 1848.

In Denver, Colorado, and many other cities, people of Hispanic and Mexican descent have a Cinco de Mayo festival with storytelling, parades, food, and dancing to the beat of salsa and mariachi music. Cinco de Mayo is Spanish for the Fifth of May. On this day in 1862 Mexican peasants won a battle against French invaders in Puebla, Mexico. Many people mistake Cinco de Mayo for Mexican Independence Day, but that happened on September 16, 1810 -- more than 50 years earlier.

This Hispanic celebration began in Denver in 1987 as a small neighborhood street festival. By 1996 the weekend event had become so large -- attracting a half-million festival-goers -- that it moved to its new home in Denver's Civic Center Park. Does your city have a Cinco de Mayo celebration? The next time you have the opportunity, go and help celebrate!
The Denver March Powwow



Every year American Indians have a powwow in Denver, Colorado, that attracts people from all 50 states and 14 countries. A powwow is a social gathering of Indian peoples to honor their heritage that has been passed down through generations. More than 80 Indian tribes come to the Denver March Powwow to celebrate their history and culture through arts and crafts, storytelling, music and dance.

There are many different types of powwow dances. During InterTribal dancing, everyone from all the different tribes and all age groups dance together. Even though they are dancing as a group, each dancer moves independently to the beat of the drum - expressing his or her own feelings and creating a unique style.

Other dances include the Men's Traditional Dance. This is the oldest form of Indian dancing, and historically only the warriors were allowed to dance in a circle. This dance is a form of storytelling in which the men act out things they have done in battles or on a hunt. In the Women's Jingle Dress Dance, women wear dresses with "jingles" on them and dance in a sort of side-step around a sick person in order to help cure him.
Bolder Boulder Race in Boulder, Colorado



Just like the story about the little train that could, if you think you can, you can. If you can walk, run or wheel, you can take part in the "Oh Yes You Can" race in Boulder, Colorado.

Every year on Memorial Day, Boulder, Colorado, hosts the Bolder Boulder 10K road race. This race is open to everyone and includes a wheelchair race and a walkers' race. It also includes Marine Corps units who march to honor fallen American soldiers. This is the fourth largest road race in the world and the one of the largest tributes to American veterans in the U.S. on Memorial Day.

Because the race is so big, organizers needed to figure out a way to include everyone and still have an official race. So they came up with the idea of the "wave." Runners are placed in "waves," groups of up to 900 people, with staggered start times. Faster runners are put in the first waves and slower ones are placed in the following waves. A new wave is started every one to two minutes, and the start and finish times for the runners in each race are recorded. This way everyone gets to race without the slower runners getting in the way of faster ones. Have you ever been in a race that had "waves"?
Colorado's Rocky Mountains



Many people know that the Rocky Mountains make up an enormous chain of mountains in western North America that extends 3,000 miles from Canada through the United States to Mexico. But did you know that the tallest mountain in Colorado, part of the Rocky Mountains, is called Mount Elbert, which is 14,433 feet high?

The Rocky Mountains form the Continental Divide, the mountainous ridge that runs north to south along North America and causes water to drain in separate rivers flowing to different sides of the continent. Eventually, these rivers lead to the Atlantic and Pacific Oceans as well as the Gulf of Mexico.

In 1915, Congress designated some of this mountainous area in Colorado as Rocky Mountain National Park. The tallest mountain in this park is Longs Peak, which is 14,256 feet high.
Olathe Sweet Corn Festival in Colorado



Can sweet corn save a town? It can if that town is Olathe, Colorado!

The town of Olathe used to grow sugar beets and barley, but by the late 1970s those crops weren't in much demand anymore. The town fell on hard times because it depended upon the success of the farmers to survive. Then a farmer named Dave Galinet, who had developed several varieties of sweet corn, decided to move his business to the Olathe area. Olathe had the ideal climate for growing sweet corn - hot days and cool nights. Soon after that, many of the other farmers started to grow sweet corn too, and before long the town was prosperous again.

Olathe decided to celebrate the fact that it was thriving, and what better way than to have a sweet corn festival? The first festival was on a rainy day in August 1992. And guess what? More than 800 people showed up. Nowadays about 20,000 people come to the festival. And you know what they get to do? Eat all the sweet corn they want. In 1999, participants ate 70,000 ears of "Olathe Sweet" donated by the growers. Can you imagine how many people there were to eat that many ears of corn?
Western Welcome Week in Littleton, Colorado



Whether or not the clown in the picture lives in Littleton, Colorado, or is just visiting, he will always be welcome there. That's because if you have ever lived in or visited Littleton you are invited every year to come back for a "homecoming."

The people of Littleton like their community so much they have a big party each year that they call Western Welcome Week. About 1,200 volunteers help organize a circus, parade, fireworks, and more for families and the community to enjoy during this 10-day event.

Houstoun Waring, the longtime editor of the Littleton Independent, founded Western Welcome Week in 1929 as a way to promote the city. His idea was to celebrate the 100th birthday of city founder Richard S. Little with a "Homecoming." Originally Homecoming was set for May 12, 1929, Little's birthday, but when it was pointed out that railroad rates dropped in August and people could come from far away for less money, they changed the date to August, which is when the event is held today.
The 4th of July in Colorado



Many American cities have rodeos but Greeley, Colorado, has the "Worlds' Largest Fourth of July Rodeo." The city was named after Horace Greeley, a well-known newspaperman for the New York Tribune. One of his famous sayings was "Go west, Young Man, go west." In 1869, he sent one of his reporters west to Colorado to write a story about farming. The reporter, Nathan C. Meeker, liked the area so much he stayed and started a town named after his boss. It was Meeker's vision that helped establish a successful community based on, among other qualities, cooperation, agriculture, irrigation, and education.

Every year the people of Greeley celebrate Independence Day with a rodeo. In the early days, the rodeo was a small local event, but it grew more and more popular. In 1922, more than 10,000 people came to the rodeo, and the town officially named the event the "Greeley Fourth of July Celebration and the Spud Rodeo and Horseshow." They called it the spud rodeo because spuds (another name for potatoes) are an important crop grown around Greeley. A few years later, even more people came to the rodeo, when famous cowboys started competing with the local ranch hands. Today, the rodeo lasts for two weeks and is called the Greeley Independence Stampede.
Source: Library of Congress
National Parks, National Forests, Parks, and Monuments of Colorado



The following is a description of national forests, parks, and monuments in the state of Colorado. If you plan to visit or live in Colorado for awhile then you should definitely plan to visit some of these fantastic places.
National Forests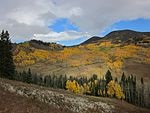 Arapaho



Arapaho National Forest is in the high Rockies and includes six wilderness areas. It is currently managed jointly with Roosevelt National Forest and Pawnee National Grassland. The highest paved road in North America ascends Mount Evans at an elevation of 14,265 ft (4,348 m).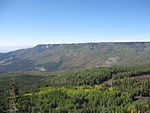 Grand Mesa



In western Colorado, Grand Mesa National Forest covers part of Battlement Mesa and most of Grand Mesa, the largest flattop mountain in the world with an average elevation of 10,500 ft (3,200 m). There are over 300 lakes in the forest. It is managed together with Gunnison National Forest and Uncompahgre National Forest.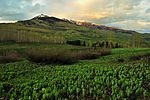 Gunnison



Gunnison National Forest is located in the Rocky Mountains near Gunnison, Colorado. Among the seven wilderness areas in the forest are the Maroon Bells-Snowmass Wilderness. The Slumgullion Slide is a giant landslide due to the mineral montmorillonite.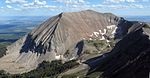 Manti-La Sal



Including the La Sal and Abajo mountains of eastern Utah, elevations in this forest reach 12,721 ft (3,877 m) on Mount Peale. The Dark Canyon Wilderness is the only wilderness area in the forest. This national forest is also partially located in the state of Utah.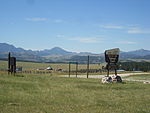 Medicine Bow – Routt



This forest contains many ranges of the Rocky Mountains with elevations ranging from 5,500 ft (1,700 m) to 12,940 ft (3,940 m). There are ten wilderness areas and Rob Roy Reservoir, which covers 500 acres (200 ha). This national forest is also partially located in the state of Wyoming.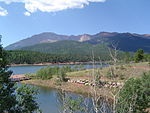 Pike



Pike National Forest includes Pikes Peak at an elevation of 14,115 ft (4,302 m) and three wilderness areas. Since 1975 the forest has been managed together with San Isabel National Forest.
Rio Grande



The headwaters of the Rio Grande are in the San Juan Mountains in the western part of the forest, while the Sangre de Cristo Mountains form the eastern boundary. Elevations reach 14,345 ft (4,372 m) at the summit of Blanca Peak, overlooking the San Luis Valley and Great Sand Dunes National Park.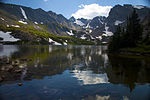 Roosevelt



Located in the Rocky Mountains of northern Colorado, Roosevelt National Forest has part of six wilderness areas. It is managed together with Arapaho National Forest and Pawnee National Grassland.
San Isabel



There are 19 of Colorado's 54 fourteeners in San Isabel National Forest, including the highest point, Mount Elbert at 14,440 ft (4,400 m). The forest includes the Sawatch Range, Collegiate Peaks, and Sangre de Cristo Range and is managed together with Pike National Forest.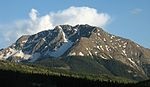 San Juan



San Juan National Forest includes Chimney Rock National Monument and elevations that range from 5,000 ft (1,500 m) to over 14,000 ft (4,300 m). The forest's Weminuche Wilderness is the largest in Colorado at 499,771 acres (202,250 ha).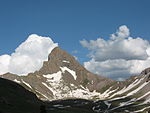 Uncompahgre



The northern portion of the San Juan Mountains and the Uncompahgre Plateau are located in this National Forest. The forest also contains Uncompahgre Gorge and three wilderness areas.
White River



White River National Forest has eight wilderness areas, twelve ski resorts, four large reservoirs, 2,500 mi (4,000 km) of trails, 1,900 mi (3,100 km) of roads, and ten peaks higher than 14,000 ft (4,300 m) in elevation.
National Parks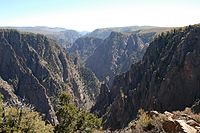 Black Canyon of the Gunnison



The park protects a quarter of the Gunnison River, which slices sheer canyon walls from dark Precambrian-era rock. The canyon features some of the steepest cliffs and oldest rock in North America, and is a popular site for river rafting and rock climbing. The deep, narrow canyon is composed of gneiss and schist which appears black when in shadow.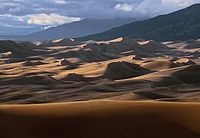 Great Sand Dunes



The tallest sand dunes in North America, up to 750 feet (230 m) tall, were formed by deposits of the ancient Rio Grande in the San Luis Valley. Abutting a variety of grasslands, shrublands, and wetlands, the park also has alpine lakes, six 13,000-foot mountains, and old-growth forests.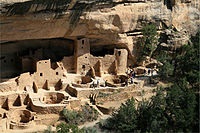 Mesa Verde



This area constitutes over 4,000 archaeological sites of the Ancestral Puebloan people, who lived here and elsewhere in the Four Corners region for at least 700 years. Cliff dwellings built in the 12th and 13th centuries include Cliff Palace, which has 150 rooms and 23 kivas, and the Balcony House, with its many passages and tunnels.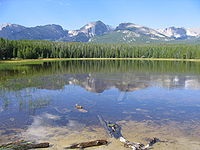 Rocky Mountain



Bisected north to south by the Continental Divide, this portion of the Rockies has ecosystems varying from over 150 riparian lakes to montane and subalpine forests to treeless alpine tundra. Wildlife including mule deer, bighorn sheep, black bears, and cougars inhabit its igneous mountains and glacial valleys. Longs Peak, a classic Colorado fourteener, and the scenic Bear Lake are popular destinations, as well as the historic Trail Ridge Road, which reaches an elevation of more than 12,000 feet (3,700 m).
National Monuments
Browns Canyon



Protects 21,500 acres of steep cliffs and colorful rock outcroppings overlooking the Arkansas River in Chaffee County, Colorado, as well as the area's rich native history.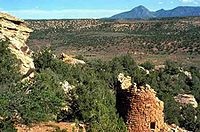 Canyons of the Ancients



Surrounding Hovenweep National Monument, it preserves and protects more than 6,000 archeological sites, the largest concentration in the U.S.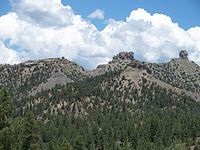 Chimney Rock



The jewel of San Juan National Forest, the site was once home to the ancestors of the modern Pueblos. Roughly 1,000 years ago, the Ancestral Pueblo People built more than 200 homes and ceremonial buildings high above the valley floor.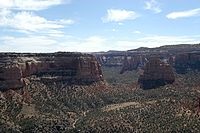 Colorado



Monument Canyon runs the width of the park and includes rock formations formed by erosion. The monument includes 20,500 acres (83 km2) of semi-desert land high on the Colorado Plateau and has a wide range of wildlife including pinyon pines, juniper trees, ravens, jays, desert bighorn sheep, and coyotes as well as a range of recreational activities.
Dinosaur



This sandstone and conglomerate bed, known as the Morrison Formation, was formed in the Jurassic Period and contains fossils of dinosaurs including Allosaurus and various long-neck and long-tail sauropods. This national monument is also partially located in the state of Utah.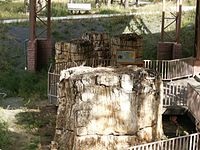 Florissant Fossil Beds



Huge petrified redwoods and incredibly detailed fossils of ancient insects and plants reveal a very different landscape in Colorado of almost 35 million years ago in the Eocene age.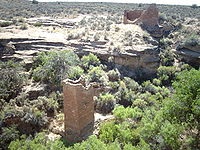 Hovenweep



Hovenweep contains six clusters of Native American ruins. Holly Canyon, Hackberry Canyon, Cutthroat Castle and Goodman Point are in Colorado and Square Tower and Cajon are in Utah. Ancient Pueblo Peoples lived in the Hovenweep area from 1150 to 1350. This national monument is also partially located in the state of Utah.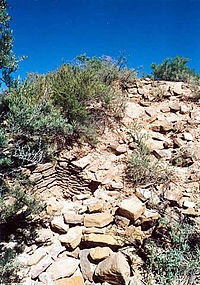 Yucca House



Designated a research national monument, it is a large, unexcavated Ancestral Puebloan archeological site. The site is one of many Ancestral Puebloan village sites located in the Montezuma Valley occupied between AD 900 and 1300.
Travel America
Black Canyon National Park


(

Beginner

- Listening, reading)

A video lesson which shows you an interesting place in America.
The English is

spoken at 75% of normal speed

.
Great English listening and reading practice.
This video is all about Black Canyon National Park.
Great Sand Dunes National Park


(

Beginner

- Listening, reading)

A video lesson which shows you an interesting place in America.
The English is

spoken at 75% of normal speed

.
Great English listening and reading practice.
This video is all about Great Sand Dunes National Park.
Rocky Mountain National Park


(

Beginner

- Listening, reading)

A video lesson which shows you an interesting place in America.
The English is

spoken at 75% of normal speed

.
Great English listening and reading practice.
This video is all about Rocky Mountain National Park.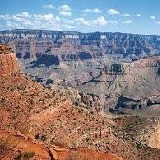 Travel America

Do you love America and American English? Learn before you travel. Facts and other cool stuff about your favorite U.S. state. Visit the Fun Easy English Travel America pages. Read about the beautiful National Forests, Parks, and Monuments. Great English reading practice.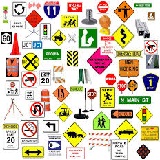 Drive America

Planning to drive in America? Learn the rules and regulations. Great English reading practice.
Additional Information
Study Tips


(

Beginner

- Listening)

Avoid Ineffective Study Methods. An audio lesson to help you study English more effectively. The English is

spoken at 75% of normal speed

. Great English study tips.
Click here to visit the lesson page with the written script for this audio program.