Additional Lessons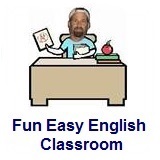 About These Lessons

The following classroom lessons are great for students who want additional listening and reading practice.
Travel America

-

Beginner Level

. Do you love America and American English? Learn before you travel. Facts and other cool stuff about your favorite U.S. state. Great English reading practice.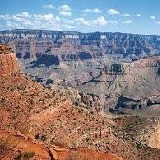 Travel America - Wyoming


(

Beginner

- Reading)

Learn some interesting facts and read interesting stories about Wyoming.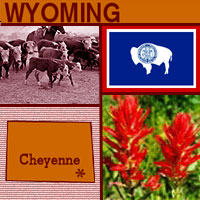 Wyoming



Wyoming gets its name from the Algonquin words for "land of vast plains." After the Union Pacific Railroad reached the town of Cheyenne, the capital, in 1867, the population began to grow steadily in the Wyoming Territory, established in 1868. Wyoming was admitted as the 44th state in 1890. The constitution of the "Equality State" was the first in the world to grant voting rights to women. Wyoming was also the first state to elect a woman governor. People are spread out across the state in small farming and ranching towns, and millions of visitors come to enjoy the Yellowstone and Grand Teton national parks each year. The state flower has the poetic name of Indian paintbrush. Wyoming is the smallest state in the Union in population.
Wyoming State Flag




Wyoming was one of the last states to ratify an official state flag in 1917.

In 1916 an open competition was held by Wyoming's DAR (Daughters of the American Revolution) for the design of an official Wyoming flag. Between 37 entries, Verna Keays won the $20 first-place prize with her design of a bison (Wyoming's official state mammal) with the state seal branded at its center. Her design was made official by legislature in 1917.

In Verna's original design, the bison faced away from the staff as a symbol of the freedom with which the bison had once roamed over the Wyoming plains. Dr. Grace Raymond Hebard (state regent for the DAR at the time), felt the design would be more balanced with the bison facing the staff. The first flags were printed this way, and though Wyoming legislation has not officially recognized this change, Wyoming flags have been printed with the bison facing the staff since 1917.

The red, white, and blue colors of the state flag are the same as those of the national flag. The red on the border is a symbol of the native Americans who inhabited Wyoming long before settlers came, and also represents the blood of pioneers who gave their lives to claim the soil. White is a symbol for the purity and uprightness of Wyoming. Blue is for Wyoming's sky and mountains, and is also a symbol of fidelity, justice and virility.
Source: State Symbols USA
Wyoming State Facts



Picture:

state seal of Wyoming
State Capital
Cheyenne
Nickname
Equality State / Cowboy State
Motto
Equal Rights.
Statehood
July 10, 1890 (44th)
Origin of Name
Based on an Algonquin Indian word meaning "large prairie place"
Largest Cities
Cheyenne
Border States
Colorado, Idaho, Montana, Nebraska, South Dakota, Utah
Area
97,105 sq. mi., 9th largest
State Bird
Western Meadowlark
State Flower
Indian Paintbrush (castilleja linariaefolia)
State Tree
Cottonwood (populus sargentii)
State Song
Wyoming
Travel and tourism site for Wyoming - This state travel and territorial tourism site provides ideas for your vacations, meetings, and more.
Wyoming Stories
Cheyenne Frontier Days



A bull named Mr. T was one mean bull!

In the 1920s bull riding was added as an event to Frontier Days, a celebration of cowboy culture that was first held in 1897 in Cheyenne, Wyoming. Bulls had names like Bad to the Bone and Mr. T. More than 180 cowboys tried to ride Mr. T, but he threw them all off. The longest any of them was able to stay on was eight seconds!

In the period following the Civil War, cowboys came to Wyoming looking for adventure and opportunity. They were skilled and fearless horsemen who herded longhorn cattle up the trails from Mexico and Texas to provide beef to various military posts in the Wyoming territory. The town of Cheyenne, located along the Union Pacific Railroad in the heart of ranch land, was trying to attract business and people. So, in 1896, a group of cowboys decided to hold a contest.

The following year, the first Frontier Days celebration took place. The cowboys roped steers and demonstrated rope tricks. They also challenged each other in the activity that is a true test of a cowboy's skill -- riding a bucking bronco (a wild horse that has a tendency to buck, or throw, its rider).

Cheyenne no longer has a problem attracting people. The Frontier Days celebration attracts more than 180,000 visitors!
Wyoming's Old Faithful



What is Old Faithful and why have millions of people traveled to Wyoming to see it?

Yellowstone National Park, part of which is in Wyoming, is home to more geysers than any other place in the world. The most famous geyser is Old Faithful, which got its name because its eruptions can be so reliably predicted. A geyser is a spring that sprays out blasts of heated water and steam. The park has plenty of hot springs. In a geyser, steam and water build pressure beneath a narrow passageway in the ground. Steam forces the water up, and sudden changes in underground water temperature create violent explosions of water and steam on the surface. Some geysers erupt in bursts, some at angles, and some from cone-shaped rock formations, such as Castle Geyser, pictured here. Yellowstone's hot springs also form steam vents, mudpots, and vividly colored pools. The park's geysers, like Steamboat and Old Faithful, however, are far more famous.
Source: Library of Congress

National Forests, Parks, and Monuments of Wyoming



The following is a description of national forests, parks, and monuments in the state of Wyoming. If you plan to visit or live in Wyoming for awhile then you should definitely plan to visit some of these fantastic places.
National Forests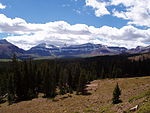 Ashley



Ashley National Forest manages the Flaming Gorge National Recreation Area and the High Uintas Wilderness. Kings Peak at 13,528 ft (4,123 m) is the highest point in Utah and is located in the Uinta Mountains. This national forest is also partially located in the state of Utah.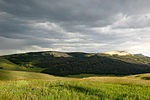 Bighorn



In the Big Horn Mountains of north-central Wyoming, Bighorn National Forest has eight lodges, several reservoirs, and 1,500 mi (2,400 km) of trails. Elevation reach 13,167 ft (4,013 m) at Cloud Peak in the Cloud Peak Wilderness, which is also the location of the Cloud Peak Glacier.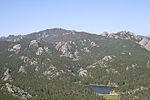 Black Hills



Consisting predominately of Ponderosa pine, this forest is located in the namesake Black Hills. There are 11 reservoirs, 353 mi (568 km) of trails, and 1,300 mi (2,100 km) of streams in this forest. Black Elk Peak is the highest point in South Dakota and the highest point in the United States east of the Rocky Mountains at 7,244 ft (2,208 m). This national forest is also partially located in the state of South Dakota.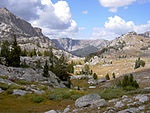 Bridger-Teton



As part of the Greater Yellowstone Ecosystem, Bridger-Teton National Forest has 27 glaciers in its portion of the Wind River Range. The Gros Ventre landslide formed a dam on the Gros Ventre River in 1925 before failing in 1927.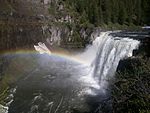 Caribou-Targhee



The forest's Jedediah Smith Wilderness has many caves and the Winegar Hole Wilderness protects grizzly bear habitat in the Greater Yellowstone ecosystem. The Upper and Lower Mesa Falls are on Henrys Fork of the Snake River and tours of Minnetonka Cave are available. This national forest is also partially located in the state of Wyoming.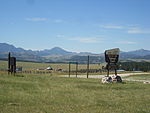 Medicine Bow – Routt



This forest contains many ranges of the Rocky Mountains with elevations ranging from 5,500 ft (1,700 m) to 12,940 ft (3,940 m). There are ten wilderness areas and Rob Roy Reservoir, which covers 500 acres (200 ha). This national forest is also partially located in the state of Colorado.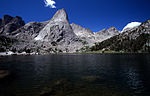 Shoshone



Located in the Greater Yellowstone Ecosystem, this forest includes part of the Absaroka, Beartooth, and Wind River mountain ranges. Five wilderness areas make up 56% of the forest, and elevations reach 13,804 ft (4,207 m) at Gannett Peak, the highest point in Wyoming.
Uinta-Wasatch-Cache



There are nine wilderness areas in the forest, which occupies part of the Wasatch and Uinta mountains. Mount Nebo and Mount Timpanogos are located in wilderness areas at the edge of the Wasatch Front. This national forest is also partially located in the states of Idaho and Utah.
National Parks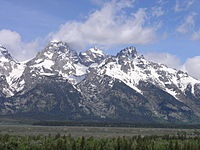 Grand Teton



Grand Teton is the tallest mountain in the Teton Range. The park's historic Jackson Hole and reflective piedmont lakes teem with endemic wildlife, with a backdrop of craggy mountains that rise abruptly from the sage-covered valley.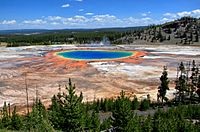 Yellowstone



Situated on the Yellowstone Caldera, the park has an expansive network of geothermal areas including boiling mud pots, vividly colored hot springs such as Grand Prismatic Spring, and regularly erupting geysers, the best-known being Old Faithful. The yellow-hued Grand Canyon of the Yellowstone River contains several high waterfalls, and four mountain ranges traverse the park. More than 60 mammal species including gray wolves, grizzly bears, black bears, lynxes, bison, and elk, make this park one of the best wildlife viewing spots in the country. This national park is also partially located in the states of Idaho and Montana.
National Monuments
Devils Tower



The tower is a monolithic igneous intrusion of volcanic neck rising dramatically 1,267 feet (386 m) above the surrounding terrain. Proclaimed by Theodore Roosevelt, this was the first national monument.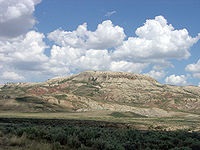 Fossil Butte



Fossil Butte preserves the 50-million-year-old Green River lake beds, the best paleontological record of tertiary aquatic communities in North America. Fossils including fish, alligators, bats, turtles, dog-sized horses, insects, and many other species of plants and animals suggest that the region was a low, subtropical, freshwater basin when the sediments accumulated, over about a 2-million-year period.
Travel America
Grand Teton National Park


(

Beginner

- Listening, reading)

A video lesson which shows you an interesting place in America.
The English is

spoken at 75% of normal speed

.
Great English listening and reading practice.
This video is all about Grand Teton National Park.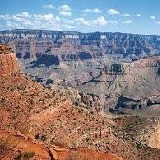 Travel America

Do you love America and American English? Learn before you travel. Facts and other cool stuff about your favorite U.S. state. Visit the Fun Easy English Travel America pages. Read about the beautiful National Forests, Parks, and Monuments. Great English reading practice.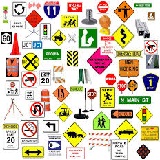 Drive America

Planning to drive in America? Learn the rules and regulations. Great English reading practice.