Classroom
Today

American English
pronunciation
lesson 29



Today in the classroom you are going to learn to pronounce the sound

th

as in the words

th

ink,

th

ought, me

th

od, mon

th

. Remember "practice makes perfect" if you want to improve your English speaking ability.

Hey if you cannot understand something on this page,


then use the Fun Easy English dictionary (opens in a new window)
Pronunciation: American English Lesson 29



Pronounce the sound

th

as in the words

th

ink,

th

ought, me

th

od, mon

th

. Watch the following pronunciation videos and learn to pronounce this sound correctly.
Pronunciation Video
Fun Easy English Pronunciation Lessons
More Videos
th

th

irsty,

th

ink,

th

umb,

th

ought,

th

atch,

th

ree,

th

ousand,

th

ick,

th

in, heal

th

y, au

th

or, me

th

od, wor

th

less, ari

th

metic, ear

th

, ba

th

, mon

th

, mou

th

, too

th

Note:

the red letters all have the same sound
Sound Type



This is an UNVOICED sound which means Your Vocal Cords DO NOT vibrate when making the sound.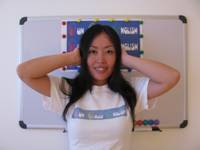 You CANNOT LISTEN to your Vocal Cords vibrating if you cover your ears with your hands.

Try covering your ears with your hands as Akiko is doing in the picture.

Now make the sound of this lesson. You cannot listen to your vocal cords vibrating.
VERY GOOD
You CANNOT FEEL your Vocal Cords vibrating if you place your hands on your neck.

Try placing your hands on your neck as Akiko is doing in the picture.

Now make the sound of this lesson. You cannot feel your vocal cords vibrating.
VERY GOOD
The following diagram shows the most important parts of your head and mouth used for pronouncing the sounds of English. It also shows the location of your Vocal Cords.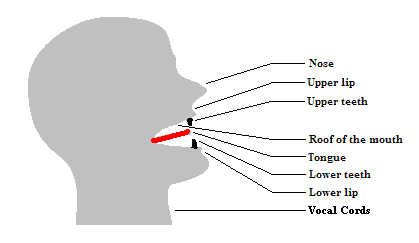 Mouth, lips, and tongue position



The following descriptions explain the proper mouth, lips, and tongue position when you make this sound.


Your mouth releases air continuously.


Your lips should be slightly separated.


The front part of your tongue should be between your upper teeth and your lower teeth.
Practice video



Listen to the video and practice repeating each word.
Pronunciation practice words



Look at your mouth in a mirror and practice pronouncing the following words. Make sure your mouth, lips, and tongue are in their proper positions.
th

ink

th

umb

th

ought

th

ousand

th

ick

th

in
au

th

or
me

th

od
ari

th

metic
mon

th

mou

th

too

th

Note:

the red letters all have the same sound (watch the video above)
Pronunciation word test



Try saying the following tongue twisters as quickly as possible.
Six thick thistle sticks. Six thick thistles stick.
Three free throws.
I thought a thought. But the thought I thought wasn't the thought I thought I thought.
They both, though, have thirty-three thick thimbles to thaw.
The Leith police dismisseth us.
The seething seas ceaseth and twiceth the seething seas sufficeth us.

From YOUR Teacher:



This sound is particularly difficult for students coming from Japan or other countries where showing your tongue is considered bad manner. To pronounce this sound correctly though you need to allow your tongue to stick out of your mouth and rest between your upper and lower front teeth at the beginning of the sound.
Additional Lessons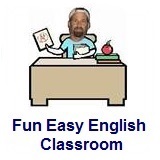 About These Lessons

The following classroom lessons are great for students who want additional listening and reading practice.
Travel America

-

Beginner Level

. Do you love America and American English? Learn before you travel. Facts and other cool stuff about your favorite U.S. state. Great English reading practice.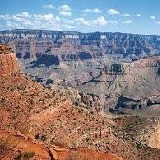 Travel America - Wisconsin


(

Beginner

- Reading)

Learn some interesting facts and read interesting stories about Wisconsin.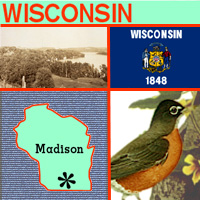 Wisconsin



In 1634, Frenchman Jean Nicolet became Wisconsin's first European explorer. The French controlled the area until 1763, when it was ceded to the British. The state's name is an English version of a French adaptation of an Indian name said to mean "the place where we live." The Wisconsin Territory was formed in 1836 and was admitted into the Union as the 30th state in 1848. With the nickname "America's Dairyland," it's no surprise that Wisconsin is one of the top producers of milk, cheese, and butter in the country. In fact, the loyal fans of the Green Bay Packers football team call themselves "cheeseheads." Milwaukee, the state's largest city, helps make Wisconsin one of the largest manufacturing states in the nation. The state capital, Madison, is home to the University of Wisconsin. The flower of the "Badger State" is the wood violet and the state bird is the robin.
Wisconsin State Flag




The Wisconsin state flag features the state coat of arms on both sides against a field of blue, with the the state name; "WISCONSIN" above and "1848" below (the year Wisconsin was admitted to the Union). The coat of arms, which includes the state motto, is also used on Wisconsin's state seal.
Source: State Symbols USA
Wisconsin State Facts



Picture:

state seal of Wisconsin
State Capital
Madison
Nickname
Badger State / America's Dairyland
Motto
Forward
Statehood
May 29, 1848 (30th)
Origin of Name
Based on an Indian word "Ouisconsin" believed to mean "grassy place" in the Chippewa tongue
Largest Cities
Milwaukee, Madison, Green Bay, Kenosha, Racine
Border States
Illinois, Iowa, Michigan, Minnesota
Area
54,314 sq.mi., 25th largest
State Bird
Robin
State Flower
Wood Violet (viola papilionacea)
State Tree
Sugar Maple (acer saccharum)
State Song
On Wisconsin
Travel and tourism site for Wisconsin - This state travel and territorial tourism site provides ideas for your vacations, meetings, and more.
Wisconsin Stories
Experimental Aircraft Association's AirVenture



Have you ever wanted to fly a plane?

If you want to learn about flying a plane, how to make one, or if you just enjoy being around airplanes, come to the Experimental Aircraft Association's AirVenture Show in Oshkosh, Wisconsin. You'll be able to see daredevils like the man on the airplane. A group of people interested in building their own airplanes started the Experimental Aircraft Association (EAA) in 1953 and organized an air show. Over the years, the organization expanded its mission to include antiques, helicopters and other types of planes.

At the AirVenture Show visitors can see planes up close -- an old plane like the Spirit of St. Louis (the first plane to fly with a solo pilot nonstop across the Atlantic), a Stealth fighter or maybe even the supersonic Concorde. If you want to learn about flying, check out the Young Eagles. The goal of the Young Eagles Pilot Program is to give 1 million people ages 8 to 17 a free introductory airplane ride. These rides are provided through the generosity of volunteer EAA pilots. If you'd like to be a pilot some day, you've found the right place!
The Wisconsin Dells



Have you ever heard of a dell?

The Wisconsin Dells are dramatic rock formations found along the Wisconsin River. They were shaped by strong currents of water from melting glaciers. About 500 million years ago, this area was a lot different than it looks today. It used to be covered by shallow seas. For about 80 million years the seas flowed back and forth over the land, leaving sand on the sea bottom. Over time, the sand kept building up until it rose above the seas. The huge sand formations that rose out of the water are the tall sandstone cliffs you see today in the Wisconsin Dells. These unique cliffs can be found in only three other areas in the world, Switzerland, Germany and parts of New York.

The Wisconsin Dells got their name from the French term "dalles." It means "slab-like rock." Some of the more distinctive rock formations are named for objects they resemble, such as Chimney Rock. During the 1800s, the Dells grew to be a popular tourist attraction in Wisconsin. Visitors still enjoy exploring the area's caves and arches.
Harley-Davidson: "Coming Home"



Have you ever seen someone ride a hog? No, not a pig, a Harley-Davidson motorcycle!

In 1903, this little one-room building was the birthplace of the world's most famous motorcycle company -- Harley-Davidson. On its 95th anniversary in 1998, more than 100,000 Harley-Davidson fans gathered in Milwaukee to celebrate. Many riders took part in five fund-raising rides, which left from Spokane, Washington; Riverside, California; Dallas, Texas; Orlando, Florida; and York, Pennsylvania. They left on June 3, 1998, and arrived in Milwaukee 10 days later. Along the way they held fundraising events for the Muscular Dystrophy Association.

Harley-Davidson is the premier American-based manufacturer of heavyweight motorcycles. In 1903 the company built only three motorcycles, but 10 years later, it built more than 12,000 a year. In 1995, Harley-Davidson built 105,104 motorcycles. Harley-Davidson motorcycles are also called "hogs." One possible explanation for this dates back to the 1920s when the Harley-Davidson factory had a racing team that brought their mascot with them to every race. Their mascot was a pig. So whenever the Harley-Davidson team came to a race people would say, "Here comes the Harley team and their hogs."
The Circus Parade (Circus World Museum)



Isn't the circus wagon in the photo beautiful? It dates from 1935 and it is part of the Circus Parade in Milwaukee, Wisconsin.

Every year in July more than 100 clowns, 1,000 musicians, 700 horses and lots of animals, including elephants and camels, take part in a re-creation of a circus street parade from the beginning of the 20th century. Before the days of radio and television, "Circus Day" was a time to escape the normal routine and enjoy the entertainment provided by the traveling performers.

The historic circus wagons have elaborate woodcarvings, mirrored surfaces, and colorful wheels. These wagons are brought on the Great Circus Train from the Circus World Museum in Baraboo, Wisconsin, which has a collection of more than 150 wagons. At one time Wisconsin was known as the "Mother of Circuses," and was the home or winter quarters for more than 100 traveling tent shows.

Today, the parade route starts near the shores of Lake Michigan. It winds its way through the streets of downtown Milwaukee. But a few changes must be made along the route. The open metal gratings on Milwaukee's bridges have to be covered so the animals won't be afraid to cross. And the oxen refuse to step on manhole covers. Don't ask why. No one knows.
Source: Library of Congress

National Forests of Wisconsin



The following is a description of national forests in the state of Wisconsin. There are no national parks or monuments in this state. If you plan to visit or live in Wisconsin for awhile then you should definitely plan to visit some of these fantastic places.
National Forests
Chequamegon-Nicolet



There are 2,020 lakes, 440 spring ponds, and 347,000 acres (140,000 ha) of wetlands in this National Forest. There are also 493 mi (793 km) of non-motorized trails, 292 mi (470 km) of motorized trails, and 9,000 mi (14,000 km) of roads alongside five wilderness areas.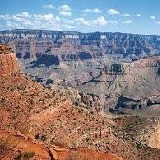 Travel America

Do you love America and American English? Learn before you travel. Facts and other cool stuff about your favorite U.S. state. Visit the Fun Easy English Travel America pages. Read about the beautiful National Forests, Parks, and Monuments. Great English reading practice.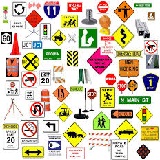 Drive America

Planning to drive in America? Learn the rules and regulations. Great English reading practice.
Additional Information
Study Tips


(

Beginner

- Listening)

Avoid Ineffective Study Methods. An audio lesson to help you study English more effectively. The English is

spoken at 75% of normal speed

. Great English study tips.
Click here to visit the lesson page with the written script for this audio program.