Additional Lessons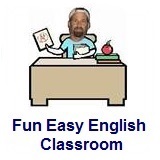 About These Lessons

The following classroom lessons are great for students who want additional listening and reading practice.
Travel America

-

Beginner Level

. Do you love America and American English? Learn before you travel. Facts and other cool stuff about your favorite U.S. state. Great English reading practice.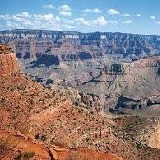 Travel America - North Dakota


(

Beginner

- Reading)

Learn some interesting facts and read interesting stories about North Dakota.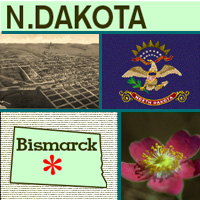 North Dakota



Both rural and agricultural, with grain farms and cattle ranches, North Dakota gets its name from the Dakota division of the Sioux Indians who lived on the plains before the Europeans arrived. "Dakota" means "friend." French-Canadian soldier and fur trader Pierre Gaultier de Varennes was the first known white explorer to visit the home of the Dakota in 1738. North Dakota was one of the last areas of the frontier to be settled by non-Native Americans, and even today, it's not a highly populated state. North Dakota, whose capital is Bismarck, joined the Union in 1889 as the 39th state. Appropriately, the state flower is the wild prairie rose.
North Dakota State Flag




Adopted in 1911, the state flag of North Dakota features a bald eagle holding an olive branch and a bundle of arrows in its talons. The eagle carries a ribbon in its beak saying "E Pluribus Unum" (Latin for "out of many, one") symbolizing one nation made up of many states. A shield with thirteen stripes on the eagle's breast represents the original thirteen states.

The fan-shape with thirteen stars above the bald eagle is a symbol for the birth of a new nation, the United States. The name of the state - North Dakota - appears below the eagle on a red scroll. The design is centered on a field of dark blue.

The state flag conforms to the color, design, and size of the regimental flag that was carried by North Dakota Infantry in the Spanish-American War in 1898 and Philippine Island Insurrection in 1899 (the only difference are the words "North Dakota" on the scroll below the eagle).

In 1951 a state flag commission concluded that the flag "too closely resembled the coat of arms of the United States and that the flag was not symbolic of North Dakota," but this conclusion was widely challenged and suggested changes to the flag were rejected by North Dakota Legislature in 1953.
Source: State Symbols USA
North Dakota State Facts



Picture:

state seal of North Dakota
State Capital
Bismarck
Nickname
Peace Garden State / Flickertail State/ Sioux State
Motto
Liberty and Union, Now and Forever, One and Inseparable
Statehood
November 2,1889 (39th or 40th -- Admitted the same day as South Dakota)
Origin of Name
Dakota is the Sioux Indian word for "friend."
Largest Cities
Fargo, Bismarck, Grand Forks, Minot, Dickinson
Border States
Minnesota, Montana, South Dakota
Area
68,994 sq. mi., 17th largest
State Bird
Western Meadowlark
State Flower
Wild Prairie Rose (rosa arkansana)
State Tree
American Elm (ulmus americana)
State Song
North Dakota Hymn
Travel and tourism site for North Dakota - This state travel and territorial tourism site provides ideas for your vacations, meetings, and more.
North Dakota Stories
United Tribes Powwow



Powwows are a way for Indian tribes to preserve their culture and hand down traditions. They are Indian ceremonies or social gatherings that include dance competitions and music. The United Tribes Powwow in Bismarck, North Dakota, has been held every year since 1969. The United Tribes are the five tribes in North Dakota: the Spirit Lake, the Sisseton-Wahpton Sioux, the Standing Rock Sioux, the Turtle Mountain Band of Chippewa, and the Three Affiliated Tribes of Fort Berthold. Performers wear colorful outfits of their tribe.

More than 1,500 traditional dancers perform to more than 40 drum groups at the United Tribes Powwow. Women might perform the fancy shawl dance. Dancers wear beautifully decorated shawls as they do kicks and twirls. This dance is challenging because it requires fast movements. Male dancers might perform the grass dance. A grass dancer wears an outfit with long strands of fabric hanging off it. He would also wear a roach, a kind of headdress with two feathers that rock or twirl as he dances.

There is also an Indian Art Expo and Market at the powwow where Indian artists gather to show their traditional work, such as pottery, jewelry, beadwork, and paintings.
Dakota Cowboy Poetry Gathering in Medora



When you think of cowboys, do you think of cattle drives, rodeos, horses and -- poetry? Although poetry is not usually associated with cowboys, in the 19th century, when cowboys worked on cattle drives in the West, they would sit around the campfire at night and entertain each other. They sang songs, told stories -- and recited poetry. Cowboy poetry is usually about the work they do and their connection with the land and animals. Some poems even tell a story. They can be funny, sweet, or sad.

There are still cowboy poets today. Since 1987, cowboy poets have met at the Dakota Cowboy Poetry Gathering in Medora, North Dakota. The 50 or so participants who gather together every year keep the tradition of cowboy poetry alive.
North Dakota Winter Show



Are you a member of a club? If you were interested in farming and agriculture, you might want to join the Future Farmers of America or a local 4-H Club. Since the early 20th century, kids, such as those in the photo, from rural or farming communities have often joined one of these organizations. Even if you didn't know anything about farming, you would learn a lot in these clubs because they believe in "learning by doing." This means that students learn about agriculture through doing such activities as growing a crop, raising a calf, and using a tractor.

Members of 4-H Clubs and Future Farmers of America participate in state fairs and other events and agricultural shows. The North Dakota Winter Show started in 1937. The show is a major event in the state -- 70,000 people attend each year. There are livestock shows, competitions, and sales, as well as home-grown food and home-made crafts. The North Dakota Winter Show is a great place for students to learn about agriculture.
Fort Seward Wagon Train



Do you know what a wagon train is?

During the 19th century, settlers in the United States who wanted to move out West usually traveled by covered wagons in large groups. People would meet in the early spring to hire guides, elect leaders, and gather supplies before leaving on their journey as a wagon train.

Every summer, more than 100 people meet at Fort Seward, near Jamestown, North Dakota, to re-enact the wagon train experience and live like pioneer families. For a week, they travel in canvas-covered wagons pulled by mules or workhorses. A "chuck" wagon provides their meals. Everyone dresses in late-19th century-style clothing. Women wear long dresses, aprons, and bonnets, and men wear vests and suspenders. Every night, the wagons circle around a campsite, and trail riders share stories, music and crafts, just as the early American pioneers did over a century ago.
The Story of Sacagawea



Do you know the story of Sacagawea, the woman who is on the new $1 gold-colored coin?

Sacagawea belonged to the Shoshone tribe. In 1800, when she was 12 years old, Hidatsa warriors raided her tribe and captured many young people, including Sacagawea. The Hidatsa, an American Plains Indian tribe related to the Sioux, were traditionally a sedentary people, meaning they established villages rather than travel around from place to place. They lived in earthen lodges and traded with other Plains tribes and English and French traders. Hidatsa men and women each had clearly defined tasks and responsibilities. Men hunted bison and other game and went to war. Along with maintaining the lodges, women did most of the farming and grew corn, squash, and beans. During the 19th century, Hidatsa warriors often went on raiding parties like the one where they captured Sacagawea.

Sacagawea lived with the Hidatsa for a few years, but, by 1804, she had been sold or gambled away to a French-Canadian trapper and trader, Toussaint Charbonneau. Sacagawea became one of Charbonneau's wives and gave birth to their son, Jean Baptiste. When explorers Meriwether Lewis and William Clark passed through what is now North Dakota in 1805, Charbonneau and Sacagawea joined their expedition. Sacagawea went on to become the explorers' celebrated guide and interpreter on their journey to the Pacific Ocean.
Fort Ransom Sodbusters Association: Pioneer Life



If you've ever wondered what it would have been like to live on a farm in the early 1900s, you could get a good idea by going to Sodbuster Days, a two-day event held at Fort Ransom State Park in North Dakota.

The Fort Ransom Sodbusters Association, an organization that celebrates and preserves pioneer life in Fort Ransom, North Dakota, organizes Sodbuster Days and an annual rodeo.

During Sodbuster Days visitors can see what farm life was like before electricity. They can watch demonstrations of elevating grain, sawing wood, grinding corn, and pumping water. They can also watch blacksmiths at work and see how a rim is put on a wagon wheel. Traditional arts, crafts and foods from pioneer life are also exhibited. Visitors can learn about quilting and soap-making.

In the rodeo, cowboys and cowgirls participate in calf roping, bull or bronco riding, and steer wrestling. In calf roping, the contestant has to rope up three of a calf's feet as fast as he or she can. In the riding events, one has to stay on the bull or bronco (an "unbroken" horse that resists training and bucks, or throws, its rider) for eight seconds. That's what the rider in the photograph is attempting to do!
100th Annual Celebration by Icelanders



If the United States government offered you free land, would you take it? Thousands of people did when the government passed the Homestead Act in 1862. This act offered settlers 160 acres of free public land in the Midwest if they lived on and cultivated it for at least five years. This law was one of the reasons why so many immigrants moved as far west and north as North Dakota in the last half of the 19th century.

The immigrants who moved west came from many parts of Europe. Most of them were Norwegian and German, but they also came from such countries as Sweden, Ukraine, England, Finland, and Iceland. By 1915, 79 percent of all people living in North Dakota were either immigrants or the children of immigrants.

North Dakota residents like to celebrate their diverse ethnic heritage. For instance, in 1999, the town of Mountain honored its Icelandic cultural legacy by throwing its 100th Annual Celebration by Icelanders. More than 10,000 people from the United States, Canada, and Iceland, including the President of Iceland, came to celebrate. The festival's parade included a replica of a Viking ship.
Source: Library of Congress
National Parks of North Dakota



The following is a description of national parks in the state of North Dakota. There are no national forests or monuments in this state. If you plan to visit or live in North Dakota for awhile then you should definitely plan to visit some of these fantastic places.
National Parks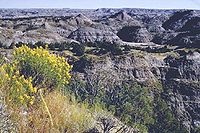 Theodore Roosevelt



This region that enticed and influenced President Theodore Roosevelt consists of a park of three units in the northern badlands. Besides Roosevelt's historic cabin, there are numerous scenic drives and backcountry hiking opportunities. Wildlife includes American bison, pronghorn, bighorn sheep, and wild horses.
Travel America
Theodore Roosevelt National Park


(

Beginner

- Listening, reading)

A video lesson which shows you an interesting place in America.
The English is

spoken at 75% of normal speed

.
Great English listening and reading practice.
This video is all about Theodore Roosevelt National Park.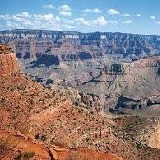 Travel America

Do you love America and American English? Learn before you travel. Facts and other cool stuff about your favorite U.S. state. Visit the Fun Easy English Travel America pages. Read about the beautiful National Forests, Parks, and Monuments. Great English reading practice.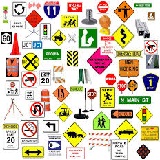 Drive America

Planning to drive in America? Learn the rules and regulations. Great English reading practice.