Classroom
Today

Learn about
coordinate
conjunctions



Today you are going to learn about

coordinate conjunctions

an important part of English grammar.

Hey if you cannot understand something on this page,


then use the Fun Easy English dictionary (opens in a new window)
Grammar:



Definition of a

coordinate conjunction

.
A coordinate conjunction is a word used to connect:
words
Coordinate Conjunction Examples
She wants a new shirt and new pants.
I need to work but I want to go hiking.
The following words are coordinate conjunctions
for, and, nor, but, or, yet, so
you can remember these with the mnemonic FANBOYS
Fun Easy English Grammar Lessons
Video: Grammar
More Videos

From YOUR Teacher:



Coordinate conjunctions are used throughout the English language and should be one of the first grammar concepts you learn when beginning to study English.
Test:

Grammar



Study the examples of coordinate conjunctions listed above. For each test question, fill in the blank (________) with the correct coordinate conjunction.
1. We went to the park ________ to the restaurant.

a. and
b. but
c. or
d. so
2. I cannot meet you on Thursday ________ I can meet you on Friday.

a. and
b. but
c. or
d. so
3. They went on vacation ________ they could forget about work for awhile.

a. and
b. but
c. or
d. so
4. Do you want to eat lunch now ________ do you want to eat later?

a. and
b. but
c. or
d. so
5. I tried to call you many times ________ you were not home.

a. and
b. but
c. or
d. so
6. She is looking for a new job ________ she can make more money.

a. and
b. but
c. or
d. so
7. Do you understand ________ should I tell you again?

a. and
b. but
c. or
d. so
8. I really like these flowers ________ those flowers.

a. and
b. but
c. or
d. so
9. We should finish this project ________ then go home.

a. and
b. but
c. or
d. so
10. You can come in ________ you cannot bring food or drink in the room.

a. and
b. but
c. or
d. so
More Tests
Additional Lessons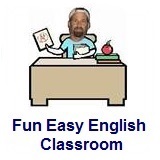 About These Lessons

The following classroom lessons are great for students who want additional listening and reading practice.
Travel America

-

Beginner Level

. Do you love America and American English? Learn before you travel. Facts and other cool stuff about your favorite U.S. state. Great English reading practice.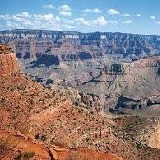 Travel America - Washington


(

Beginner

- Reading)

Learn some interesting facts and read interesting stories about Washington.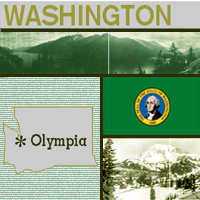 Washington



In 1853, the Washington Territory was formed from part of the Oregon Territory. Named in honor of George Washington, Washington was the 42nd state to join the Union, in 1889. Its coastal location and Puget Sound harbors give it a leading role in trade with Alaska, Canada, and the Pacific Rim. The state has two major mountain ranges--the 7,000-foot Olympic Mountains surrounded by temperate rain forest on the peninsula west of Puget Sound, and the more majestic Cascade Range, which boasts the 14,410-foot Mount Rainier and the volcanic Mount St. Helens, which erupted twice in the 1980s. Although the capital is Olympia, most people live in the metropolitan areas of Seattle-Everett and Tacoma. The state tree of the "Evergreen State" is the western hemlock, and the flower is the western rhododendron.
Washington State Flag




Washington's flag is the only state flag on a field of green; an appropriate color for the evergreen state (Washington's unofficial nickname).

Washington also has the only state flag displaying an image of an actual person (George Washington, our first president).



Legal Description of the Washington state flag:



The official flag of the state of Washington shall be of dark green silk or bunting and shall bear in its center a reproduction of the seal of the state of Washington embroidered, printed, painted or stamped thereon. The edges of the flag may, or may not, be fringed. If a fringe is used the same shall be of gold or yellow color of the same shade as the seal. The dimensions of the flag may vary.

Washington is the only state that is named in honor of a United States president.
Source: State Symbols USA
Washington State Facts



Picture:

state seal of Washington
State Capital
Olympia
Nickname
Evergreen State
Motto
Alki (By and By)
Statehood
November 11, 1889 (42nd)
Origin of Name
Named after George Washington
Largest Cities
Seattle, Spokane, Tacoma, Bellevue, Everett
Border States
Idaho, Oregon
Area
66,582 sq. mi., 20th largest
State Bird
Willow Goldfinch
State Flower
Western Rhododendron (rhododendron macrophyllum)
State Tree
Western Hemlock (tsuga heterophylla)
State Song
Washington, My Home
Travel and tourism site for Washington - This state travel and territorial tourism site provides ideas for your vacations, meetings, and more.
Washington Stories
The Centennial Trail



What's the longest nature trail you have ever been on?

The Centennial Trail in eastern Washington state is a paved trail that runs for 37 miles along the Spokane River -- from Nine Mile Falls to the Idaho state line. Nine Mile Falls is also the site of Riverside State Park, where visitors can camp and explore on foot or horseback the many historic sites and natural features of the area. Hikers or bicyclists can cross the Spokane River on the swinging bridge, watch for a blue heron in the marshlands or read petroglyphs (inscriptions on rocks) at the Indian rock paintings area.

If you head upriver along the Centennial Trail, it gets very hilly. No motorized vehicles are allowed on the trail, so be ready to walk, run or bike hard. The trail then passes through the city of Spokane and continues through Riverfront Park, which has additional attractions such as the Gondola, a chair-lift that takes passengers on a 2,240-foot round trip to the bottom of the Spokane Falls and into the heart of downtown Spokane.
Mount Rainier, Washington



Do you know who Mount Rainier is named after? Or, do you know its Indian name?

The mountain, a part of the Cascade Range, is a volcano that has not erupted for 2,000 years. It is also the highest mountain in the state of Washington. English explorer George Vancouver named Mount Rainier in honor of another navigator, Peter Rainier. Some people, however, prefer to call the mountain by its Indian name, Mount Tacoma. The park's wildlife, waterfalls, lakes, and especially its many glaciers have drawn more than 90 million visitors in the more than 100 years since the park was created. Each year more than two million people visit Mount Rainier National Park, many to see the dramatic views of Mount Rainier.
Northwest Folklife Festival



Would you like to see the Dance of the Killer Whales?

Then come see the Cape Fox Dancers perform at the Northwest Folklife Festival in Seattle, Washington.

The Cape Fox Dancers are members of the Tlingit Indian tribes. Sixty members strong, they drum, chant and dance. Traditional performances include the Dance of the Killer Whale and the Welcoming of the Chiefs. The Cape Fox Dancers wear colorful fringed blankets, white fur caps with ermine (a small weasel) tails, and wooden masks of ravens, eagles, bears, and wolves.

Held during Memorial Day weekend, the Northwest Folklife Festival is one of the largest events in the country focusing on folk, ethnic, and traditional art. This annual celebration promotes the culture and traditions of the region's Jewish, Native American, African American, Polynesian, Filipino American, Chicano and Mexican communities.
Washington State International Kite Festival



Not only is a kite fun to fly, but it is also beautiful to watch.

There are many different kinds of kites -- some much more complex than others. One of the simplest kinds is the diamond kite. It has a flat surface formed by two sticks tied into a cross and a tail that helps keep it stable. It flies nicely in light to medium winds.

Throughout history kites have been used for many different purposes, including to deliver messages, catch fish, spy on enemies, measure the weather and send radio signals. Today, kites are mostly flown for pleasure.

Every August, the Washington State International Kite Festival takes place in the southwest corner of Washington on the Long Beach Peninsula. There are workshops that teach people how to build, decorate and fly kites. There are also competitions for kids, adults and seniors. On the last day of the festival, everyone is welcome to fly a kite at the same time, creating a colorful, beautiful sight!

If you fly a kite, make sure you have clear, wide open spaces away from roads, trees, power lines and airports. And never fly in rain or storms. So go out and fly a kite!
Reflections from the Heart of a Small Community



What will you remember about your school once you have left it?

In the spring of 1999, Maple Falls Grade School in Washington closed. Nicholas Jacoby and other children in the area would attend the newly constructed Kendall Elementary School. But Nicholas's mom didn't want him to forget about the old Maple Falls Grade School, so she made him a "memory book." As it turned out, it became a memory book for the whole community. With the help of her friends, Mrs. Jacoby published Reflections from the Heart of a Small Community: Mount Baker Foothills and Maple Falls Schools 1889-1999. The book included photos, stories, and memories of community members.

Nicholas's great-grandfather, Galen Biery, also helped create the memory book. Even though he died before the book was produced, the photographs that Biery collected were the inspiration for the book. He began collecting old photographs of the area in the 1940s and he interviewed people about life in the town. When he died in 1994, his family donated his collection of more than 35,000 images to the Whatcom Museum of History and Art.

Why not make a "memory book" of your school? Ask your teacher for help.
Suquamish Tribe



Can you guess how a boarding school nearly wiped out the traditions of the Suquamish Indians of Washington state?

From the 1880s until the 1920s, children from the Suquamish Tribe were sent to boarding school in order to make them "good citizens." The idea was to take them away from tribal life and include them in the modern world.

Suquamish children from the ages of 4 to 18 were sent to a boarding school, where they were forbidden to speak their native language, Lushootseed. Because they were missing from the tribe during the winter months, when storytelling, basket making, and songs were taught, these children lost an important link to tribal life. In addition to not being allowed to speak their native language, they could not practice any of their traditions and they were punished if they did.

By the 1920s the practice of sending the children to boarding school had ended. And, by the 1980s, the Suquamish were entering a period of new hope for the future. Tribal businesses were created in order to gain financial independence. Cultural centers were established where tribal elders could pass on their knowledge of language, traditional skills, and religious customs. And the Suquamish Museum opened with exhibits on Suquamish culture and way of life, making sure that the tribal life of the Suquamish Indians would be preserved.
Seafair



There are lots of things you can make with empty milk cartons, but would you ever think to make them into a boat? That's exactly what the clown in the photo is riding on!

If you come to Seattle's annual Seafair, you will probably see this clown in the Milk Carton Derby. Seafair is a 10-day celebration of Washington state's Puget Sound, a 100-mile-long inlet of the Pacific Ocean. Since 1950, Seafair has sponsored a number of different activities, including parades, high-dive acts, comedy skits, and the Milk Carton Derby.

The Milk Carton Derby is a lot of fun! Both kids and adults put their imaginations to work and build milk carton boats to compete in five race categories. Almost any design is acceptable, so long as milk cartons are the primary means of flotation. A half-gallon carton will float about four pounds of weight, so for every 100 pounds of weight on your vessel, you will need 25 half-gallon milk cartons. A minimum of 50 milk cartons is required for each boat and motors are not allowed.

So whoever wants to enter the race will have to drink lots of milk!
Source: Library of Congress

National Forests, Parks, and Monuments of Washington



The following is a description of national forests, parks, and monuments in the state of Washington. If you plan to visit or live in Washington for awhile then you should definitely plan to visit some of these fantastic places.
National Forests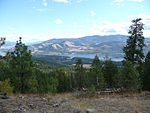 Colville



With 486 mi (782 km) of hiking trails, Colville National Forest has elevations that range up to 7,300 ft (2,200 m) in the Kettle River and Selkirk mountains. Part of the Salmo-Priest Wilderness is in the forest along with part of the Pacific Northwest National Scenic Trail.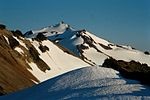 Gifford Pinchot



Gifford Pinchot National Forest includes Mount St. Helens National Volcanic Monument and parts of seven wilderness areas. There are 1,475 mi (2,374 km) of trails and 4,104 mi (6,605 km) of roads in the forest.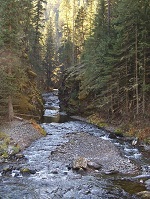 Idaho Panhandle



There are two wilderness areas, Cabinet Mountains and Salmo-Priest, and numerous recreation opportunities in Idaho Panhandle National Forest. This forest ranges from the Canada–US border to the Saint Joe River, which is the highest navigable river in the world. This national forest is also partially located in the states of Idaho and Montana.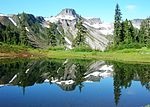 Mount Baker-Snoqualmie



In the Cascade Range, this forest includes Mount Baker, at an elevation of 10,781 ft (3,286 m), a glaciated stratovolcano. Mount Baker National Recreation Area, the Pacific Crest Trail, Pacific Northwest National Scenic Trail, and portions of ten wilderness areas are in the forest.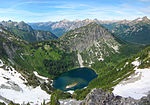 Okanogan-Wenatchee



Located on the eastern side of the Cascade Range, this forest stretches from the Canada–US border to the Columbia and Okanogan rivers. There are 1,285 mi (2,068 km) of trails in the forest, including part of the Pacific Crest Trail.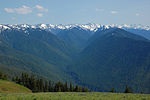 Olympic



Olympic National Forest surrounds Olympic National Park on the Olympic Peninsula of Washington. There are five wilderness areas, occupying about 14% of the forest. This part of Washington receives more rainfall annually than anywhere else in the United States.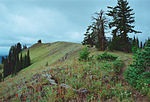 Umatilla



Located in the Blue Mountains of northeastern Oregon, Umatilla National Forest includes three wilderness areas, occupying over 20% of the forest. The forest has over 715 mi (1,151 km) of trails, 2,000 mi (3,200 km) of roads, and one of the largest elk herds of any National Forest. This national forest is also partially located in the state of Oregon.
National Parks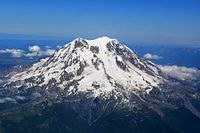 Mount Rainier



Mount Rainier, an active stratovolcano, is the most prominent peak in the Cascades and is covered by 26 named glaciers including Carbon Glacier and Emmons Glacier, the largest in the contiguous United States. The mountain is popular for climbing, and more than half of the park is covered by subalpine and alpine forests and meadows seasonally in bloom with wildflowers. Paradise on the south slope is the snowiest place on Earth where snowfall is measured regularly.[86] The Longmire visitor center is the start of the Wonderland Trail, which encircles the mountain.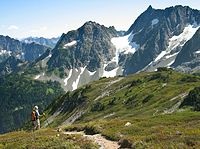 North Cascades



This complex includes two geographically distinct units of the national park, as well as Ross Lake and Lake Chelan National Recreation Areas. The highly glaciated mountains are spectacular examples of Cascade geology. Popular hiking and climbing areas include Cascade Pass, Mount Shuksan, Mount Triumph, and Eldorado Peak.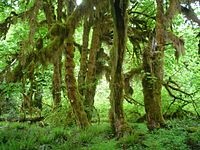 Olympic



Situated on the Olympic Peninsula, this park includes a wide range of ecosystems from Pacific shoreline to temperate rainforests to the alpine slopes of the Olympic Mountains, the tallest of which is Mount Olympus. The Hoh Rainforest and Quinault Rainforest are the wettest area in the contiguous United States, with the Hoh receiving an average of almost 12 ft (3.7 m) of rain every year.
National Monuments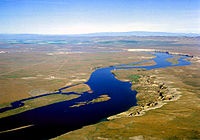 Hanford Reach



Created from what used to be the security buffer surrounding the Hanford Nuclear Reservation, this area has been untouched by development or agriculture since 1943. The area is part of the Columbia River Plateau, formed by basalt lava flows and water erosion, and is named after the Hanford Reach, the last free flowing section of the Columbia River.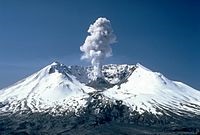 Mount St. Helens



Following the 1980 eruption of the now-8,363-foot-tall (2,549 m) Mount St. Helens, the environment was left to respond naturally to the disturbance. The volcanic crater is surrounded by a pumice plain with deposits from the landslide, wind-blown trees, and the Ape Cave lava tube.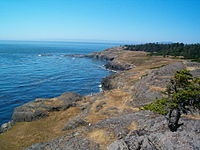 San Juan Islands



The San Juan Islands in Puget Sound have several historic lighthouses as well as rugged landscapes. They are the habitat for orcas, eagles, and seals and provide opportunities for kayaking, birdwatching, and other activities.
Travel America
Olympic National Park


(

Beginner

- Listening, reading)

A video lesson which shows you an interesting place in America.
The English is

spoken at 75% of normal speed

.
Great English listening and reading practice.
This video is all about Olympic National Park.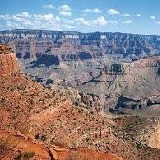 Travel America

Do you love America and American English? Learn before you travel. Facts and other cool stuff about your favorite U.S. state. Visit the Fun Easy English Travel America pages. Read about the beautiful National Forests, Parks, and Monuments. Great English reading practice.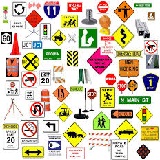 Drive America

Planning to drive in America? Learn the rules and regulations. Great English reading practice.
Additional Information
Study Tips


(

Beginner

- Listening)

Avoid Ineffective Study Methods. An audio lesson to help you study English more effectively. The English is

spoken at 75% of normal speed

. Great English study tips.
Click here to visit the lesson page with the written script for this audio program.