Classroom
Today

Learn about


past perfect



Today in the classroom you are going to learn about

past perfect

an important part of English grammar.

Hey if you cannot understand something on this page,


then use the Fun Easy English dictionary (opens in a new window)
Grammar: Past Perfect



Definition of

past perfect

.
Past perfect: "I had gone." Expresses that an action was completed prior to some other event.
tense & aspect
aspect
simple
perfect
progressive
perfect progressive
tense
past
simple
past
past
perfect
past
progressive
past
perfect
progressive
present
simple
present
present
perfect
present
progressive
present
perfect
progressive
future
simple
future
future
perfect
future
progressive
future
perfect
progressive
Past Perfect Examples
Past perfect

:
I had painted the house.
I had eaten breakfast this morning.
I had gone to the bookstore with my best friend.
Fun Easy English Grammar Lessons

From YOUR Teacher:

Past Perfect



Notice in the examples above the action in each sentence was completed before another event began.
Additional Lessons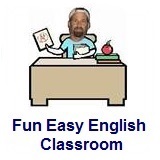 About These Lessons

The following classroom lessons are great for students who want additional listening and reading practice.
Travel America

-

Beginner Level

. Do you love America and American English? Learn before you travel. Facts and other cool stuff about your favorite U.S. state. Great English reading practice.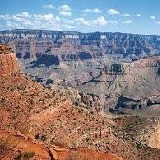 Travel America - U.S.A.


(

Beginner

- Reading)

Learn some interesting facts about the United States of America.
United States of America



The United States of America is located on the continent of North America. There are 50 states in the U.S. Forty-eight of the states form the contiguous United States. The U.S. borders on Canada to the north, and Mexico and the Gulf of Mexico to the south. On the east coast, the U.S. is bordered by the Atlantic Ocean, and on the west coast it is bordered by the Pacific Ocean.

To the northwest of Canada is the state of Alaska. The state of Hawaii is located in the Pacific Ocean, southwest of California.

In addition to the 50 states, the U.S. has several territories and possessions, located in the Caribbean Sea and the Pacific Ocean.
United States of America Facts
Capital
Washington D.C. - District of Columbia
Nickname
America
Motto
In God We Trust
National Independence
July 4, 1776
Origin of Name
The name America was coined by Martin Waldseemüller from Americus Vespucius, the Latinized version of the name of Amerigo Vespucci (1454–1512), the Italian explorer who mapped South America's east coast and the Caribbean Sea in the early 16th century.
Largest Cities
New York, Los Angeles, Chicago, Houston, Philadelphia, Phoenix, San Antonio, San Diego, Dallas, San Jose
Border Countries and Oceans
Canada, Mexico, Atlantic Ocean,
Gulf of Mexico, Pacific Ocean
Area
3,615,123 sq. mi. (9,375,720 sq. km.)
National Bird
Bald Eagle
National Flower
Rose
National Tree
Oak
National Anthem
The Star-Spangled Banner
Population
325.7 million (2017)
Highest Point
Mt. McKinley, Alaska, 20,320 ft. (6194 m.) above sea level
Lowest Point
Death Valley, California, 282 ft (86 m.) below sea level
Largest State
Alaska
Smallest State
Rhode Island
Additional Information
Study Tips


(

Beginner

- Listening)

Avoid Ineffective Study Methods. An audio lesson to help you study English more effectively. The English is

spoken at 75% of normal speed

. Great English study tips.
Click here to visit the lesson page with the written script for this audio program.