Additional Lessons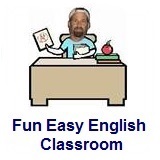 About These Lessons

The following classroom lessons are great for students who want additional listening and reading practice.
Travel America

-

Beginner Level

. Do you love America and American English? Learn before you travel. Facts and other cool stuff about your favorite U.S. state. Great English reading practice.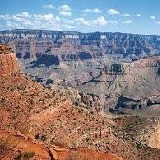 Travel America - Alaska


(

Beginner

- Reading)

Learn some interesting facts and read interesting stories about Alaska.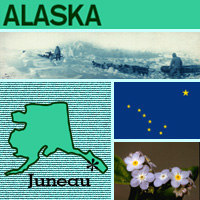 Alaska



The nickname of the 49th state, Alaska, is the "Last Frontier." Purchased from Russia for $7 million in 1867, Alaska is the largest state in area and is the largest peninsula in the Western Hemisphere. Mt. McKinley in the Alaska Range is North America's highest peak at 20,320 feet and one of the greatest challenges for mountain climbers. Juneau is the state's capital, and the state flower is the pale-blue forget-me-not.
Alaska State Flag




Alaska's state flag features The Big Dipper ("Ursa Major" or "Great Bear" constellation) as a symbol of strength, and Polaris (the North Star ) as a symbol of Alaska's northern location and "the ever constant star for the mariner, the explorer, hunter, trapper, prospector, woodsman, and the surveyor..." (quote from legislation). The blue background represents the sky, sea, lakes, and wildflowers of Alaska (the official state flower is also blue).



History of Alaska's Flag



The Alaska state flag (selected for its simplicity, originality, and symbolism) was created by Benny Benson, a 13-year-old 7th grader from an orphanage in Seward, Alaska (John Bell Bensona; 1913-1972). Seward honors him with a monument on 3rd Avenue. Alaska's state song is titled "Alaska's Flag."



Notes:

The North star is also found on the state flag of Maine. The Big Dipper constellation also contains "The Delaware Diamond" (state star of Delaware).
Source: State Symbols USA
Alaska State Facts



Picture:

state seal of Alaska
State Capital
Juneau
Nickname
Last Frontier, Great Land, Land of the Midnight Sun
Motto
North To The Future
Statehood
January 3, 1959 (49th)
Origin of Name
Russian version of Aleutian word "Alakshak" meaning "great lands" or "peninsula."
Largest Cities
Anchorage, Fairbanks, Juneau, Sitka, Soldotna
Border States
None
Area
570,374 sq. mi., Largest state
State Bird
Willow Ptarmigan
State Flower
Forget Me Not (myosotis alpestris)
State Tree
Sitka spruce (picea sitchensis)
State Song
Alaska's Flag
Travel and tourism site for Alaska - This state travel and territorial tourism site provides ideas for your vacations, meetings, and more.
Alaska Stories
The Alcan Highway in Alaska Opened First full day of traffic in November of 1942



Have you traveled on any memorable highways in the U.S.? You would surely remember the Alcan Highway. Following chilly festivities held the day before with a temperature of 35 degrees below zero, the Alaska-Canadian (Alcan) Highway opened for its first full day of traffic on November 21, 1942. This important overland military supply route, a 1,522-mile roadway through the wilderness, connected Dawson Creek, British Columbia, with Fairbanks, Alaska. The threat of Japanese invasion through Alaska made the road a World War II priority. Over the Alcan Highway, the military could transport troops, food, and supplies to strategic points in Alaska. How long do you think it took to construct?

When the Japanese invaded the nearby Aleutian Islands, completing the highway became even more urgent. More than 10,000 U.S. troops worked in cooperation with Canadian troops and independent contractors to accomplish this remarkable engineering feat in just over eight months! Among those soldiers building the Alcan Highway were four units of the Army's Black Corps of Engineers. All troops worked under extreme conditions. Mosquitoes and flies swarmed them in the summer heat, and temperatures near 40 degrees below zero chilled them to the bone in winter for weeks on end. To build the Sikanni Chief River Bridge, men waded chest deep into freezing waters to place the trestles. To keep themselves going, some of the men sang. Some African American soldiers, mainly from the South, sang old work chants like this "Steel-Driving Song."

In addition to military personnel, about 2,000 civilians worked to construct the Alcan Highway. One advertisement stated, "THIS IS NO PICNIC! Working and living conditions on this job are as difficult as those encountered on any construction job ever done in the United States or foreign territory. . . ." But workers signed on anyway. Known by the men who built it as "The Road," the Alcan Highway is still Alaska's main link to the "lower 48" states. It is considered quite a challenge to drive, but a magnificent journey. If you traveled it, you might agree with an 1888 travel guide to Alaska, which stated, "Our trip to Wonderland will remain to the end of our lives a bright chapter in our experience."
Marilyn Jordan George, Following the Alaskan Dream



Have you ever been on a boat? Can you imagine living on one? In 1946 Marilyn Frink Jordan George left her home in the Iowa farm country to marry a U.S. Navy veteran who became a fisherman in southeast Alaska. She and her husband lived on a fishing boat and raised four children. Marilyn Jordan George was a writer, and her decision to move to the Alaskan wilderness provided a lot of material for her to write about.

She wrote a book about their lives called Following the Alaskan Dream: My Salmon Trolling Adventures in the Last Frontier. She described the drastic change in her life -- going from a corn-fed Midwestern upbringing to the rough challenges of frontier living on a boat. Imagine how different the wide-open spaces of Iowa are from the confining space of a boat. During their early years, the four George children always wore life preservers. While Mrs. George looked after the children, her husband trolled (a kind of fishing) the coast of Alaska for salmon.

In addition to writing the book about her family life, Mrs. George had a successful journalism career writing articles for many Alaska magazines.
The Alaska Native Heritage Center



How many ways can you think of to say "Welcome"? In Alaska there are at least 11different ways! That's because there are 11 distinct cultural groups of Native Indians who live in Alaska and have their own languages, customs, and hunting and fishing practices.

The Athabascans say "Chin'an gu nin yu," which literally means, "Thank you, you came here." They come from the interior of Alaska, from Fairbanks to south central Alaska near Anchorage. The Yup'ik and Cup'ik come from southwest Alaska, and they, as well as the Athabascans, were a nomadic people. They traveled from place to place rather than settling in one area. When the Yup'ic welcome you they might say "Waqaa" or "Quyakamsi."

The Eyak, Tlingit, Haida and Tsimshian live in south central Alaska and the southeast Panhandle of the state. They depend upon the ocean and rivers for their food and means of travel. Although they have similar cultures, their languages are different. If you go to Saxman Village in Ketchikan, you might be greeted with "Yak' ei haat yigoodee," which means, "It is good that you have come." Think of how many ways you know to say "Welcome." Do they have slightly different meanings?
Anchorage Fur Rendezvous



What do you think the woman in the photo is doing?

She is competing in the Inuit Blanket Toss. As you can see from the picture, it's sort of like jumping on a trampoline, except the people who are holding the blanket are raising and lowering it to toss the woman. This is a game often played at festivals and other Inuit celebrations. The "blanket" for the game is usually made from seal or walrus skins, so it can handle the pounding that results every time a player lands on it after a "toss." The winner is the player who bounces the highest.

This game started when mountain men, Inuits and fur traders used to meet in a pre-arranged place in the early spring each year to trade their winter's kills (furs) for cash and supplies. In the early 1900s, these meetings stopped happening because modern trappers and fur buyers had no use for them. But in the 1930s, a group of people who wanted to preserve their history brought back these meetings in the form of a 10-day celebration where games like the Blanket Toss are played.
Alaska's High Point



Do you know the name of the highest mountain in the United States? What about in North America?

The answer is the same: Mount McKinley. At 20,320 feet Mount McKinley is the highest mountain peak in the United States as well as North America. It is part of the 600-mile-long Alaska Range of mountains. Named for U.S. President William McKinley, the mountain is called "Denali," meaning "The High One," in the native Athabascan language.

Mount McKinley National Park was created in 1917 as a wildlife refuge. By 1980, it had been enlarged and renamed Denali National Park and Preserve. The park is enormous. At more than 6 million acres, it is larger than the state of Massachusetts. The park continues to be a refuge for wildlife such as caribou, moose, and grizzly bear.
Iditarod Trail Sled Dog Race



Have you ever been in a race? How long was it?

How would you like to be in a race that is more than 1,000 miles long, involves treacherous climbs, and lasts for nine to 20 days in sub-zero temperatures, much of it in darkness and blinding winds? Sounds incredible? Well, that is what some people do every year in the Iditarod Trail Sled Dog Race in Alaska.

Called "the last great race on Earth," the Iditarod (pronounced eye-DIT-a-rod) consists of teams of 12 to 16 dogs pulling a sled driven by a man or woman, called a "musher." The race, which begins on the first Saturday every March, runs from Anchorage in the south to Nome on the western Bering Sea. The journey takes the mushers over mountains, through dense forests, and across frozen rivers and tundra. Each year 50 to 80 mushers leave the starting gate, and for many of them their main goal is just to complete the race. The Iditarod is the ultimate test of humans and animals against nature.
Lore of Fishing and Marine Harvesting in Kachemak Bay



Wow, that's a pretty big fish! In fact, a halibut can grow to more than 700 pounds! How do you think fisherman catch a fish like that? In Kachemak Bay, there are many different methods of fishing.

Kachemak Bay, Alaska, is one of the richest fishing grounds in the world. People have lived there for thousands of years. Even though it's in Alaska, its climate is fairly mild. The many land and sea animals provide a source of food as well as income for the locals. After the coal industry died out in the 1900s, the locals turned to fish to make a living, and Homer became the commercial and transportation hub of the area.

Because there are so many different kinds of fish and marine life, there are many different vessels and nets to catch them with. "Pots" are used to catch crabs, nets are used to catch salmon, and "trawlers" (boats with nets that drag the bottom of the sea) are used to catch shrimp. Vessels used in fishing include "seiners," (such as canoes from which nets are pulled in by hand and transferred to larger boats with powerful net-handling equipment), and "gill-netters," which range in size and often have sails to keep them moving with the wind.
Source: Library of Congress

National Forests, Parks, and Monuments of Alaska



The following is a description of national forests, parks, and monuments in the state of Alaska. If you plan to visit or live in Alaska for awhile then you should definitely plan to visit some of these fantastic places.
National Forests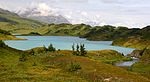 Chugach



As the third largest National Forest, Chugach covers three unique landscapes: the Copper River Delta, Eastern Kenai Peninsula, and Prince William Sound. Many of the streams contain salmon and trout, and glaciers still carve the land here. Over half of the forest is tundra and glaciers.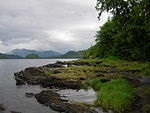 Tongass



The largest National Forest, Tongass spans 500 mi (800 km) in southeast Alaska from the Canada–US border to the Pacific Ocean. Nearly one-third of the forest is covered by 19 wilderness areas. The forest includes Misty Fiords and Admiralty Island National Monuments.
National Parks
Denali



Centered on Denali, the tallest mountain in North America, Denali is serviced by a single road leading to Wonder Lake. Denali and other peaks of the Alaska Range are covered with long glaciers and boreal forest. Wildlife includes grizzly bears, Dall sheep, caribou, and gray wolves.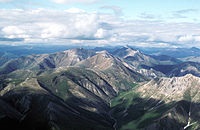 Gates of the Arctic



The country's northernmost park protects an expanse of pure wilderness in Alaska's Brooks Range and has no park facilities. The land is home to Alaska Natives who have relied on the land and caribou for 11,000 years.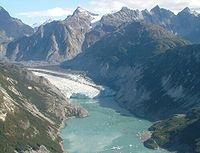 Glacier Bay



Glacier Bay contains tidewater glaciers, mountains, fjords, and a temperate rainforest, and is home to large populations of grizzly bears, mountain goats, whales, seals, and eagles. When discovered in 1794 by George Vancouver, the entire bay was covered by ice, but the glaciers have since receded more than 65 miles (105 km).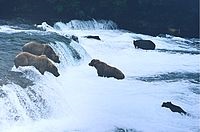 Katmai



This park on the Alaska Peninsula protects the Valley of Ten Thousand Smokes, an ash flow formed by the 1912 eruption of Novarupta, as well as Mount Katmai. Over 2,000 grizzly bears come here each year to catch spawning salmon. Other wildlife includes caribou, wolves, moose, and wolverines.
Kenai Fjords



Near Seward on the Kenai Peninsula, this park protects the Harding Icefield and at least 38 glaciers and fjords stemming from it. The only area accessible to the public by road is Exit Glacier; the rest must be viewed or reached from boat tours.
Kobuk Valley



Kobuk Valley protects 61 miles (98 km) of the Kobuk River and three regions of sand dunes. Created by glaciers, the Great Kobuk, Little Kobuk, and Hunt River Sand Dunes can reach 100 feet (30 m) high and 100 °F (38 °C), and they are the largest dunes in the Arctic. Twice a year, half a million caribou migrate through the dunes and across river bluffs that expose well-preserved ice age fossils.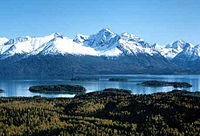 Lake Clark



The region around Lake Clark features four active volcanoes, including Mount Redoubt, as well as an abundance of rivers, glaciers, and waterfalls. Temperate rainforests, a tundra plateau, and three mountain ranges complete the landscape.
Wrangell–St. Elias



An over 8 million acres (32,375 km2) plot of mountainous country—the largest national park in the system—protects the convergence of the Alaska, Chugach, and Wrangell-Saint Elias Ranges, which include many of the continent's tallest mountains and volcanoes, including the 18,008-foot Mount Saint Elias. More than a quarter of the park is covered with glaciers, including the tidewater Hubbard Glacier, piedmont Malaspina Glacier, and valley Nabesna Glacier.
National Monuments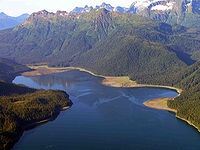 Admiralty Island



Occupying most of Admiralty Island, the 7th largest in the United States, this monument is part of Tongass National Forest in Southeast Alaska. The monument protects the densest known population of brown bear on Earth, along with habitat for the Sitka black-tailed deer. Most of the monument has been designated as the Kootznoowoo Wilderness, restricting future development. The Greens Creek mine lies within the monument.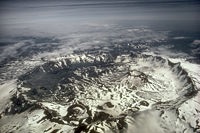 Aniakchak



Mount Aniakchak, which erupted 3,500 years ago, and the surrounding region make up one of the least visited NPS sites. Surprise Lake, within the volcano's 6-mile (9.7 km) wide, 2,500-foot (760 m) deep caldera, is the source of the Aniakchak River.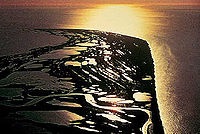 Cape Krusenstern



Co-located with the NHLD Cape Krusenstern Archeological District, this coastal plain contains large lagoons and rolling hills of limestone. The bluffs record thousands of years of change in the shorelines of the Chukchi Sea, as well as evidence of some 9,000 years of human habitation.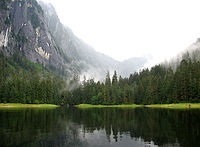 Misty Fjords



Located within the Tongass National Forest and called The Yosemite of the North for its similar geology, it also contains the Quartz Hill molybdenum deposit, possibly the largest such mineral deposit in the world. Throughout the monument is light-colored granite, about 50 to 70 million years old (Eocene Epoch to Cretaceous Period), that has been sculpted by glaciers that gouged deep U-shaped troughs. Mountain goats live in the higher elevations, while brown and black bear are also common.
World War II Valor in the Pacific



Valor in the Pacific encompasses nine sites in three states associated with World War II: The Attack on Pearl Harbor, including the USS Arizona, Utah, and Oklahoma memorials in Hawaii; the Aleutian Islands Campaign on Attu Island, Kiska Island, and Atka Island in Alaska; and the Japanese American internment at Tule Lake War Relocation Center in California. This national monument is also partially located in the state of Hawaii and California.
Travel America
Denali National Park


(

Beginner

- Listening, reading)

A video lesson which shows you an interesting place in America.
The English is

spoken at 75% of normal speed

.
Great English listening and reading practice.
This video is all about Denali National Park.
Gates of the Arctics National Park


(

Beginner

- Listening, reading)

A video lesson which shows you an interesting place in America.
The English is

spoken at 75% of normal speed

.
Great English listening and reading practice.
This video is all about Gates of the Arctics National Park.
Glacier Bay National Park


(

Beginner

- Listening, reading)

A video lesson which shows you an interesting place in America.
The English is

spoken at 75% of normal speed

.
Great English listening and reading practice.
This video is all about Glacier Bay National Park.
Lake Clark National Park


(

Beginner

- Listening, reading)

A video lesson which shows you an interesting place in America.
The English is

spoken at 75% of normal speed

.
Great English listening and reading practice.
This video is all about Lake Clark National Park.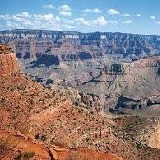 Travel America

Do you love America and American English? Learn before you travel. Facts and other cool stuff about your favorite U.S. state. Visit the Fun Easy English Travel America pages. Read about the beautiful National Forests, Parks, and Monuments. Great English reading practice.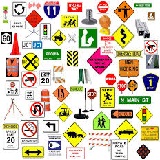 Drive America

Planning to drive in America? Learn the rules and regulations. Great English reading practice.