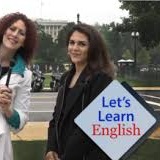 Lesson 42 - I Was Minding My Own Business

In this lesson Anna sees a crime and tries to help find the robbers. She hurts her arm. The news reporter wants to know, "How did she hurt herself?"
Lesson Video



Watch the video and then do the activities on this page.
Video Script



Guy: Hello. I'm Guy Newsman with News Channel XYZ. I'm here in Washington, D.C. at the scene of a crime.
Guy: We are talking with this woman.
Guy: She saw the crime during her lunch break. It looks like she hurt herself while she was trying to stop the crime.
Guy: Tell us your name.
Anna: Hi, Guy. I'm Anna.
Guy: Anna, what did you see and what happened to your arm?
Anna: Guy, I was minding my own business. See, I work over there.
Guy: Um-hum
Anna: I left work to get some lunch. Then suddenly, I heard a woman yelling. She was yelling like this ... "Help! Help!"
Guy: Um-hum
Anna: Two robbers were grabbing her bag like this. She was hitting them with her umbrella.
Guy: Is that when you hurt your arm?
Anna: No. At that time, I was not fighting the robbers.
Guy: Um-hum.
Anna: See. I was too far away and I didn't have my own umbrella.
Guy: So, what happened next?
Anna: They grabbed her bag and ran away! So, I grabbed her umbrella and ran after the robbers.
Guy: Then that is the time that you hurt your arm?
Anna: No. I was yelling, "Stop, robbers! Stop!" She was yelling, "Hey, come back with my umbrella!"
Guy: Were you afraid?
Anna: I had no time to be afraid, Guy. Well, I had time while I was resting on a bench. I had a lot of time.
Guy: Then what happened?
Anna: The robbers got on a bus. So, I ran after the bus.
A VO: While I was running, I tripped and fell.
Guy: And that is the time that you hurt your arm?
Anna: No. While I was lying on the ground, someone stepped on my arm!
Guy: Ouch. That's too bad.
Anna: Yeah. And they didn't apologize. Well, then the robbers got themselves kicked off the bus.
Guy: Why?
Anna: They didn't pay. You've got to pay when you get on a bus. The police came and took them away.
Guy: And that's when you hurt your arm!
Anna: No.
Guy: Then, when did you hurt yourself?
Anna: Well, Guy, by this time, I was feeling very hungry. So, I went to my office to get a snack.
C: Anna, I'm calling for help right now.
C: (on the phone) Hello? Yes, please come right away. My co-worker is stuck in a vending machine.
Guy: You hurt your arm in a vending machine buying a bag of chips?
Anna: I was really hungry and the bag was stuck. I had to -
Guy: That's all from News Channel XYZ. This is Guy Newsman saying goodbye.
Guy: Okay, we have to find ourselves another story, guys.
Anna: Until next time! Hi Mom!
Listening



Now practice listening to only the audio portion of the conversation.
Speaking



In this video, learn how to say the new words. Then learn how to use reflexive pronouns like herself, ourselves, and yourself.
Pronunciation



Use this video to understand how English speakers pronounce the words "did you" quickly and learn to say them as /didjə/.
New Words
arm

-

n.

either one of the two long body parts that join the top of your body at the shoulder and that end at the hand or wrist

chips

-

n.

thin, hard, and usually salty pieces of food

crime

-

n.

an illegal act for which someone can be punished by the government

fall (past tense: fell)

-

v.

to come or go down suddenly from a standing position

grab

-

v.

(past participle: grabbing) to quickly take and hold (someone or something) with your hand or arms

ground

-

n.

the soil that is on or under the surface of the earth

kick off

-

phrasal verb.

(past tense: kicked off) force (someone) to leave

lie

-

v.

(gerund: lying) to be in a flat position on a surface

minding my own business

-

idiom.

doing what you normally do and not bothering anyone

robber

-

n.

a criminal who steals money or property or a thief who robs people

snack

-

n.

a small amount of food eaten between meals

step

-

v.

to put your foot down - usually + in or on

stuck

-

adj.

difficult or impossible to move from a position

trip

-

v.

(past tense: tripped) to fall or nearly by accidentally hitting your foot on something as you are walking or running

umbrella

-

n.

a device that is used for protection from the rain and sun

vending machine

-

n.

a machine that you put money into in order to buy food or drinks

Activity



In this lesson, Anna hurt herself in the vending machine. Did you ever hurt yourself by accident? What were you doing when you hurt yourself? Write about it in the Facebook Comments section below. Then practice writing and using the past continuous tense and reflexive pronouns. Click lesson activity to get the printable PDF version. The page opens to a new window.
Source: Voice of America
Additional Conversation Lessons

Conversation

English conversation lessons.

30 lessons

focusing mostly on communication and grammar topics....these lessons are for

intermediate students

.
Conversation

This is a collection of

30 situational conversations

which focus on a wide variety of communicative and natural encounters in English....these lessons are for

beginning students

.
Conversation

This is a collection of

36 situational conversations

which focus on spoken American English in a relatively natural way....these lessons are for

intermediate students

.
Conversation

This is a collection of

30 situational conversations

. Each conversation is accompanied by language notes....these lessons are for

advanced students

.