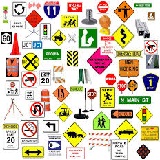 Recreational Destinations



Recreational and cultural interest area signs for destinations provide information about interesting places to visit in a designated area. Some of these places might be famous national monuments, while others are very small and typically known only to the local residents.
Viewing Areas

Viewing area.

Bear viewing area.
Deer viewing area.
Environmental Areas
Environmental study area.
Fish hatchery.
Points of Interest
Point of interest.

Dam.
Tunnel.

Lighthouse.

Lookout tower.