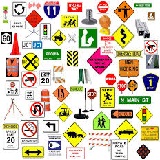 Recreational Activities



Recreational and cultural interest area signs for activities provide information about sports and activities in a designated area. These signs are very helpful if you plan to spend some time outdoors and get involved in the many activities offered in United States National forest, parks, and recreation areas.
Land Activities

Trail - automotive interpretive.

Trail - pedestrian interpretive.

Trail - bicycle.

Trail - hiking.

Trail - horse.

Trail - trail bike.
Trail bike area to the left.
Trail and road - 4-wheel drive vehicle.
4-wheel drive vehicle area to the right.
All-terrain vehicle.
Climbing.

Rock climbing.

Rock collecting.

Spelunking.

Archer.

Hunting.

Hang gliding.
Water Activities

Swimming to the left.
Marine recreation area.

Swimming.
Diving.

Wading.

Fishing.

Fishing pier.

Surfing.

Wind surfing.

Scuba diving.

Water skiing.

Hand launch.

Ramp launch.

Boat tours.

Row boating.
Canoeing.

Kayak.

Sail boating.
Motor boating.
Snow Activities
Winter recreation area.
Snowmobiling.
Sledding.

Snowshoeing.

Ice skating.
Cross country skiing.

Downhill skiing.

Ski Jumping.

Skiing - bobbing.
Chairlift.