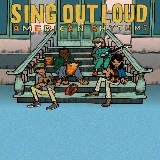 Sing Out Loud American Rhythms



American Rhythms -

70 pages

- Do you love music? Want to use it to learn English? Check out the hip-hop inspired song "Peace" from Sing Out Loud American Rhythms. American Rhythms includes a variety of musical genres from many different artists in the U.S.A. These songs will appeal to teens and young adults.
Sing Out Loud American Rhythms

Audio Note:


The following songs contain audio programs.



Instructions:




1.

Click the song links in to open the written text in a new window


2.

Then click the

play button

on the audio player to listen to the audio version
American Rhythms: Lessons in Life -

6 pages

- "Lessons in Life" is a song from the upcoming album American Rhythms. The singer Bridgette Bryant and songwriter Daniel Ho present a song with a lesson: life lessons are not always easy. The song encourages respect for all creatures—large and small.
American Rhythms: Lessons in Life -

5 pages

- Additional activities.
American Rhythms: A Lot of Days Are Gone -

13 pages

- The Arizona-based band Hacienda Brothers describes their music as "western soul", as they blend together country music and R&B (rhythm and blues). The song "A Lot of Days Are Gone," written by Jeb Schoonover and Dave Gonzalez, illustrates this style of music with the steady drums and cymbals, the electric guitar, and the bass. But perhaps most noticeably, the pedal steel guitar is featured in this song.
American Rhythms: El Paso -

14 pages

- In the song El Paso, folk/indie singer, songwriter and internet sensation Danielle "Ate the Sandwich" Anderson thinks back on the experiences she had in a place that she now has to unfortunately leave behind: El Paso (Texas). In the song, it is clear that the singer is grateful for the experiences she went through in El Paso and is sad to have to leave.
American Rhythms: Further Down -

13 pages

- In "Further Down" singer Kris Gruen combines catchy lyrics (and an especially catchy chorus) with the soft sound of the acoustic guitar, making this song an endearing example of what is called indie-folk music. In addition to the acoustic guitar that we hear in the first part of the song, we can also hear in "Further Down" a beautiful combination of different instruments, such as the acoustic guitar, the violin, the banjo, accordions and drums.
American Rhythms: Supertalents -

7 pages

- "Supertalents" is one song from the upcoming album American Rhythms. The group Mista Cookie Jar and the Chocolate Chips, along with guest artist Gregory Brown, sing that every person is born with a unique gift or talent, which he or she should practice and use every day. According to the song, everyone is good at something!
American Rhythms: Localvore -

14 pages

- From a young age, Zach Ladin developed a liking for music and the outdoors. Ladin's love and gratitude to all things natural and his musical talent come together in the music he writes and performs. Many of his songs are written to help children understand the beauty and value of nature. In the folk song Localvore, in which we hear the sounds of the banjo and the bandolin, Zach sings about appreciating locally grown food. Localvore, part of the larger project called Nature Jams, is about supporting local foods, businesses, and ultimately our communities and people. In a rapidly changing world, Ladin calls on individuals to have a huge role in reducing their impact on the environment by supporting the growing "local" movement.
American Rhythms: Peace -

14 pages

- In this song, hip-hop singer, humanitarian, motivational speaker and entrepreneur Chen Lo makes an appeal for peace in the world. As is typical of many hip-hop/rap songs, this song not only criticizes and describes an unfortunate state of affairs, but also puts forward a call for change. As our world experiences wars, global warming, injustice, inequality and growing individualism, Chen Lo calls on all of us to stand together and build a world in which each person can have their peace of mind.
American Rhythms: America -

13 pages

- Baltimore-based ukulele player Victoria Vox writes honest, heartfelt lyrics. This song, America, is part of the album Vox Ukulele Cello, which won the 2011 Wammie award for Folk Contemporary Album of The Year. In this song, the artist sings about taking a road trip across American and using the time to reflect on life and to follow intuition. In the contemporary folk acoustic America, we can hear the sounds of the ukulele and the cello in addition to Vox's enchanting voice and reflective tone.
Sing Out Loud American Rhythms
American Rhythms: Good Morning New Orleans -

17 pages

- Kermit Ruffins, a jazz musician from New Orleans, Louisiana has decided in this song to sing about the grandiosity of his native city. Sometimes we simply love a certain place and all the things associated with it. This is how Kermit Ruffins feels about New Orleans. In this song, we can listen to Ruffins sing in his low-pitched, jazzy voice about how much he and other people love New Orleans, which is considered the birthplace of jazz music.
American Rhythms: Hey, Little Minivan -

24 pages

- The Texas-based bluegrass-folk group Austin Lounge Lizards defines themselves as "the most laughable band in showbusiness". The group uses humor in their songs in order to discuss various social and political topics such as love, politics, health care and religion. In their song Hey, Little Minivan, the group has decided to talk about a different topic: the passing of time and of our young years, and the new responsibilities that come with having a family. Despite the upbeat rhythm of the song, the lyrics indicate a certain feeling of nostalgia on the part of the singer and the fact that he is no longer young and fancy free. Many things have changed and the singer has now a different lifestyle, with its own advantages and disadvantages. In any case, his little minivan is now an integral part of this new life, and the fast muscle car is a thing of his past.
American Rhythms: Simple Down -

18 pages

- In Simple Down, California-based artist Lael Neale uses guitars and the banjo to sing about living a simpler life. Many of us have probably at some point in our lives desired a simpler life, in which we give importance only to the things in life with a deeper meaning. For the singer, who started playing her guitar at the age of 12, these include things such as love, nature and a life without excess.
American Rhythms: Can't Stop -

14 pages

- Some bands have an incredibly broad set of musical genres. Ozomatli is certainly one of those bands. The Los Angeles-based group, which has been named a U.S. Department of State Cultural Ambassador, has written songs belonging to a variety of musical genres: hip hop, salsa, cumbia, samba, funk, merengue, Jamaican ragga and others. Many of the genres are Latin genres, which has become increasingly popular in the United States.
American Rhythms: Stronger and Stronger -

13 pages

- Daniel Ho, a musician native to Honolulu, Hawaii, has helped bring Hawaiian music to the popular scene. In Stronger & Stronger, the singer has a clear and empowering message in his voice and lyrics. The song, which is part of the award-winning album Simple as a Sunrise, is based upon the artist's own life and a way that Ho has found to share his personal experience. In this song, the artist sings about his decision to chase his dreams without being brought down and discouraged by people who do not think he has what it takes to achieve them. It is a song about believing in yourself and about fighting to reach your full potential. In this song, we hear the beautiful sounds of the slack key guitar, which is commonly used in Hawaiian music.
American Rhythms: Not Afraid -

11 pages

- In their song Not Afraid, Turning Pointe wants people everywhere to know that each of us has the strength to fight for our dreams and continue on our journey through life. The implicit message in the song lyrics is one of hope and perseverance. We all come across obstacles in our lives, and may feel like giving up at some point. However, as Turning Pointe sings, if we step up to our challenges and believe in ourselves, we are going to succeed.
American Rhythms: Just Like Everyday People -

12 pages

- This song was written by Honolulu-based Hawaiian singer Kelli Heath. In the song, Heath discusses some of the problems she sees in the way a large number of people live their lives nowadays. The singer talks about our tendency to only feel strong when we make others weak, our incapacity to learn from our mistakes, our constant need to get defensive, and our occasional avoidance of social contact. Heath is clearly not happy with this state of affairs and urges her listeners to live "like everyday people", who simply seek to lead a good and peaceful life. A peaceful life can be said to be a life with few worries and a decent level of understanding and care for each other.
American Rhythms: You Made Me Laugh -

19 pages

- The song You Made Me Laugh by Omar Kent Dykes, a blues guitarist and singer, is an engaging example of Texas blues-rock. Texas is one of the places (in addition to cities such as Chicago and Memphis) where the original blues became very popular before spreading to other parts of the U.S.A. Blues music is easily recognizable by its rhythms and combinations of chords. In addition, when you hear the electric guitar, the harmonica, the bass and drums together, you can almost certainly bet that someone is playing the blues. Blues-rock is all that, with the addition of a faster-paced rhythm dictated by the drums.
Sing Out Loud American Rhythms
American Rhythms: Champion -

11 pages

- In this song, Hawaiian singer and pastor David "Kawika" Kahiapo sings about having done the best he can in his life and always having the strength to fight for his dreams. Kawika invites those listening to his song to also believe in themselves and fight for their dreams, without being discouraged by those who do not believe in their success. In this song, Kawika plays the slack key guitar (ki ho'alu), which is a guitar that has had its strings "slacked", or loosened, to create a different chord.
American Rhythms: Into the Garden -

28 pages

- Zach Ladin, who grew up in a family of musicians in New England, has been involved with music his entire life. His passion for all things nature-related has led him to bring together his love of music, his love of nature, and his background in ecology and education in his environmentally themed children's music.
American Rhythms: The Time is Now -

11 pages

- Travis Haddix's song The Time is Now is another soul-searching examples of blues music. Blues guitarist Travis "Moonlight" Haddix was born in Walnut, Mississippi, only 30 miles south of Memphis. Memphis was a very important city for the development of blues music, and from an early stage Haddix's blues style was influenced influence by big-name blues artists such as B.B. King. In The Time is Now, we can hear instruments such as the keyboard, the electric guitar, drums, the bass and the saxophone.

American Rhythms: The Time is Now -

13 pages

- Additional activities.
American Rhythms: Count Your Sheep -

13 pages

- The song Count your Sheep involves a partnership between Honolulu-born ukulele player and singer Daniel Ho and singer Bridgette Bryant. The song talks about counting your sheep, which is something many children in the USA and around the world are advised to do when they are having trouble letting go of the excitement of the day and going to sleep.
American Rhythms: We Dig Worms -

22 pages

- The folk song We Dig Worms is one of the ways that singer Zach Ladin has found to remind listeners young and old of the importance of all creatures in nature. Ladin, who has an academic background in urban ecology, uses his music to educate children about nature, as well as promote an appreciation for all the things that Earth and nature gives us – even worms and bugs!
American Rhythms: Breakfast Lunch and Dinner -

20 pages

- Jazz musician Kermit Ruffins performs along with a talented group of children in Breakfast Lunch and Dinner. In the song, listeners can hear two points of view about eating right: a group of children who claim that they only need sweets and other unhealthy foods, and the adult perspective of the need for balanced meals. Back-and-forth between Ruffins and the children in the song is accompanied by some typical jazz instruments: the trumpet, drums, and piano.