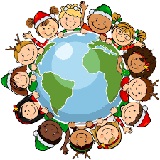 Reading Comprehension

This is a reading comprehension lesson to test your ability to understand information written in English. Read the information below and then answer the 5 test questions.
Hey if you cannot understand something on this page,


then use the Fun Easy English dictionary (opens in a new window)
Holiday:



An equinox occurs twice a year (around 20 March and 22 September), when the plane of the Earth's equator passes the center of the Sun. At this time the tilt of the Earth's axis is inclined neither away from nor towards the Sun. The term equinox can also be used in a broader sense, meaning the date when such a passage happens. The name "equinox" is derived from the Latin aequus (equal) and nox (night), because around the equinox, night and day are about equal length.

The equinoxes are the only times when the subsolar point (the place on the Earth's surface where the center of the Sun is exactly overhead) is on the Equator. The subsolar point crosses the Equator moving northward at the March equinox and moving southward at the September equinox.

On the day of the equinox, the center of the Sun spends a roughly equal amount of time above and below the horizon at every location on the Earth, so night and day are about the same length.

The March equinox (or Northward equinox) is the equinox on the earth when the Sun appears to cross the celestial equator, heading northward. The March equinox is the vernal equinox in the Northern Hemisphere and the autumnal equinox in the Southern Hemisphere.

The equinox can be as early as March 19 or as late as March 22, the precise time being about 5 hours 49 minutes later in a common year, and about 18 hours 11 minutes earlier in a leap year, than in the previous year. It is the balance of common years and leap years that keeps the calendar date of the equinox from drifting more than a day from March 20 each year.

Source: Wikipedia: Equinox
Source: Wikipedia: March equinox

From YOUR Teacher:



Spring is very possibly my favorite season of the year. The temperatures begin warming up, the flowers are blooming, and there is a fresh scent in the air. A nice time to go out and enjoy the natural world.
Test:

Reading Comprehension



Read the information above. In the test questions below choose which is the best answer for each question. There are 5 questions. Good luck.
1. How many times a year does an equinox occur?

a. once a year
b. twice a year
c. three times a year
d. four times a year
2. The equinoxes are the only times when the center of the Sun is exactly overhead in which location?

a. on the Equator
b. at the North Pole
c. at the South Pole
d. at both poles
3. On the day of the equinox, the center of the Sun spends a roughly equal amount of time above and below which of the following?

a. the Equator
b. the North Pole
c. the South Pole
d. the horizon
4. The March equinox (or Northward equinox) is the equinox on the earth when the Sun appears to cross the celestial equator, heading in which direction?

a. towards the Equator
b. towards the horizon
c. southward
d. northward
5. The March equinox can be which of the following?

a. as early as March 19 or as late as March 22x
b. as early as March 22 or as late as March 19
c. as early as March 20 or as late as March 20
d. as early as March 1 or as late as March 31