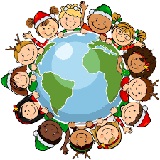 Reading Comprehension

This is a reading comprehension lesson to test your ability to understand information written in English. Read the information below and then answer the 5 test questions.
Hey if you cannot understand something on this page,


then use the Fun Easy English dictionary (opens in a new window)
Holiday:



Day of the Dead (Spanish: Día de Muertos) is a Mexican holiday celebrated throughout Mexico and around the world in other cultures. The holiday focuses on gatherings of family and friends to pray for and remember friends and family members who have died. It is particularly celebrated in Mexico, where the day is a bank holiday. The celebration takes place on October 31, November 1 and November 2, in connection with the Christian triduum of Hallowmas: All Hallows' Eve, All Saints' Day and All Souls' Day. Traditions connected with the holiday include building private altars called ofrendas honoring the deceased using sugar skulls, marigolds, and the favorite foods and beverages of the departed and visiting graves with these as gifts. They also leave possessions of the deceased.

Scholars trace the origins of the modern Mexican holiday to indigenous observances dating back hundreds of years and to an Aztec festival dedicated to the goddess Mictecacihuatl. The holiday has spread throughout the world: In Brazil Dia de Finados is a public holiday that many Brazilians celebrate by visiting cemeteries and churches. In Spain there are festivals and parades, and, at the end of the day, people gather at cemeteries and pray for their dead loved ones. Similar observances occur elsewhere in Europe, and similarly themed celebrations appear in many Asian and African cultures.

The Day of the Dead celebrations in Mexico can be traced back to a pre-Columbian past. Rituals celebrating the deaths of ancestors had been observed by these civilizations perhaps for as long as 2,500–3,000 years. In the pre-Hispanic era skulls were commonly kept as trophies and displayed during the rituals to symbolize death and rebirth.

The festival that became the modern Day of the Dead fell in the ninth month of the Aztec calendar, about the beginning of August, and was celebrated for an entire month. The festivities were dedicated to the goddess known as the "Lady of the Dead", corresponding to the modern Catrina.

Source: Wikipedia: Day of the Dead

From YOUR Teacher:



This holiday is celebrated primarily in Mexico. After spending many years growing up in New York, I moved to San Diego, California which is located in the southwestern United States. San Diego is on the border of Mexico and has a very large Mexican population. You can see evidence of this holiday being celebrated throughout the city.
Test:

Read the information above. In the test questions below choose which is the best answer for each question. There are 5 questions. Good luck.
1. What does the Day of the Dead holiday focus on?

a. communicating with the dead
b. visiting cemeteries
c. gatherings of family and friends
d. enjoying parties
2. Day of the Dead is which of the following?

a. bank holiday
b. post office holiday
c. paid vacation holiday
d. international holiday
3. Which of the following is NOT connected to the Day of the Dead holiday?

a. All Hallows' Eve
b. All Deceased Day
c. All Saints' Day
d. All Souls' Day
4. The deceased are honored with which of the following?

a. marigolds
b. money
c. poetry
d. tacos
5. Scholars trace the origins of the modern Mexican holiday to which of the following?

a. a Pagan festival
b. an Aztec festival
c. a Christian festival
d. a Chinese festival