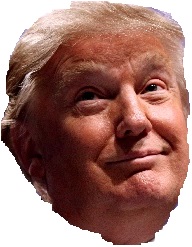 Donald Trump

This video is a parody of the famous holiday song Jingle Bells. In this video the President of the United States of America, Donald Trump, is slammed for his scheming ways as he drives through the streets in his expensive Phantom Rolls Royce, and makes a joke out of American democracy on election night, with the eventual realization that this guy will be in the White House someday.
Give this video to a friend for the holidays (Facebook, Twitter, etc.)
Copy This YouTube Link:

https://youtu.be/tfRkTwOEi8E
Embed this video on your website or blog
Copy This YouTube Embed Code:

<iframe width="640" height="360" src="https://www.youtube.com/embed/tfRkTwOEi8E" frameborder="0" allowfullscreen></iframe>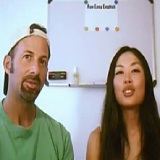 Video Script: Lyrics

The actual script for the video and for the karaoke version.
DONALD TRUMP - LYRICS



Dashing to the show
In a brand new Phantom Rolls
Through the streets he goes
Scheming all the way
Folks hitting the polls
Trying to make things white
Such a joke this democracy
On this election night....oh
Donald Trump, Donald Trump, Donald all the way
Really sucks to see this guy in the white house someday....hey
Donald Trump, Donald Trump, Donald all the way
Really sucks to see this guy in the white house someday
Dashing to the show
In a brand new Phantom Rolls
Through the streets he goes
Scheming all the way
Folks hitting the polls
Trying to make things white
Such a joke this democracy
On this election night....oh
Donald Trump, Donald Trump, Donald all the way
Really sucks to see this guy in the white house someday....hey
Donald Trump, Donald Trump, Donald all the way
Really sucks to see this guy in the white house someday
Dashing to the show
In a brand new Phantom Rolls
Through the streets he goes
Scheming all the way
Folks hitting the polls
Trying to make things white
Such a joke this democracy
On this election night....oh
Donald Trump, Donald Trump, Donald all the way
Really sucks to see this guy in the white house someday....hey
Donald Trump, Donald Trump, Donald all the way
Really sucks to see this guy in the white house someday
Actual Song Lyrics





JINGLE BELLS - LYRICS



Dashing through the snow
On a one horse open sleigh
O'er the fields we go
Laughing all the way
Bells on bobtail ring
Making spirits bright
What fun it is to ride and sing
A sleighing song tonight
Jingle bells, jingle bells, jingle all the way
Oh, what fun it is to ride in a one horse open sleigh
Jingle bells, jingle bells, jingle all the way
Oh, what fun it is to ride in a one horse open sleigh
Dashing through the snow
On a one horse open sleigh
O'er the fields we go
Laughing all the way
Bells on bobtail ring
Making spirits bright
What fun it is to ride and sing
A sleighing song tonight
Jingle bells, jingle bells, jingle all the way
Oh, what fun it is to ride in a one horse open sleigh
Jingle bells, jingle bells, jingle all the way
Oh, what fun it is to ride in a one horse open sleigh
Dashing through the snow
On a one horse open sleigh
O'er the fields we go
Laughing all the way
Bells on bobtail ring
Making spirits bright
What fun it is to ride and sing
A sleighing song tonight
Jingle bells, jingle bells, jingle all the way
Oh, what fun it is to ride in a one horse open sleigh
Jingle bells, jingle bells, jingle all the way
Oh, what fun it is to ride in a one horse open sleigh